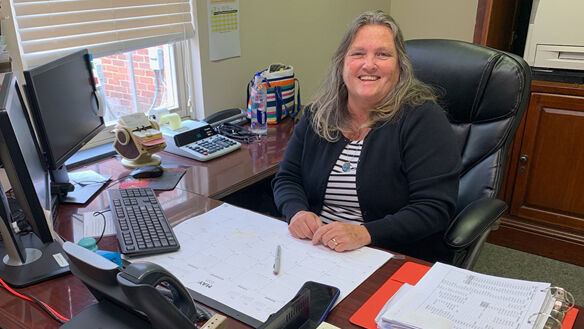 POWHATAN – For Faye Barton, every penny was worth chasing.
In her 20 plus years as Powhatan's treasurer and nine years as a county employee in the office before that, Barton said she has never been even a penny off. She always made sure her numbers balanced.
Doing the job Powhatan citizens have elected her to do since she first ran for office in 1999 is a point of pride for Barton. That is why it was such a hard decision for her to retire before her current term is finished.
Barton informed county officials and staff in January that she would be retiring effective July 1, but she has since moved up that plan and now her last day will be Friday, May 28. Barton offered an apology to the public for leaving office more than two and a half years before the end of her term but said she had to put family first.
"The reason I am leaving is my husband is really sick. It is bittersweet. I love the community and I love my job. I feel like I have done a lot for this office, and I really want to thank the people who have supported me in the elections," she said.
Barton appointed her chief deputy, Rebecca "Becky" Nunnally, to serve as interim until a special election in November 2021 that will include races for the treasurer's office and the District 2 supervisor seat.
During her time with the county, Barton has worked with two prior treasurers, seven county administrators, seven finance directors, and numerous staff members. She has run in five elections – two with opponents.
Powhatan County has changed a great deal during that time, she said. When Barton first started working for the county, the population was closer to 8,000 people. The treasurer's office had four employees, including Barton, who worked part-time in those days. The county collected real estate taxes and personal property taxes once a year, and, at the time, the treasurer's office wasn't as persistent about collections as it is today.
"It was only 8,000 people and it is hard to collect from your neighbor," she said.
As the county has grown and the treasurer's office took on more responsibility, the staff has changed along with it. The office now has one part-time and seven full-time employees who stay busy collecting taxes twice a year and doing proration on a monthly basis, she said.
In her time as treasurer, Barton said she came to understand that while her office deals in hard numbers, the job is often about working with people, especially those going through a difficult time.
"That is the hard part of this job but it is part of this job. It is important, because, if you don't collect it, you have to write it off and that falls as a burden on other taxpayers," Barton said.
At the same time, the treasurer said she was willing to work with people who were struggling with bills so they didn't lose their homes.
"You have to be a servant to do this job because you are going to meet all kinds of people that walk through that door. Whether you agree with what they believe in it is your job to help them to the best of your ability," she said.
Barton credited her staff members with so much of that work in serving the public.
"I wish I had more time here because I do think the world of them. I think I am going to miss them even more when I am gone than I already am. I haven't had time to think about it. But I am excited about this next chapter because I will have more time with my husband," she said.
Pauline Evans, deputy treasurer III, has worked for Powhatan County for 36 years. She started out in 1985 in the building inspector's office and transferred to the treasurer's office in 1995. Evans said it has been wonderful working with Barton since coming to the office.
The two have butted heads through the years, Evans said, but she described Barton as "one smart lady."
"She stands her ground when she knows it is right and she knows what is good for this office. She will stand up to anybody and fight for her girls in this office," Evans said.
Evans agreed with Barton's self-assessment about being precise about her figures down to the last penny.
"If it takes her a day and a half to find that penny, she is going to find it. If anything is off, she will find it. She doesn't stop until she finds it. We all know that," Evans said with a smile.
When Barton announced she was retiring, Evans said she was initially sad but was still happy that her boss would have more time with her husband. Barton asked Evans, who was considering retirement, to stay until her term was up back when she thought she would be there until July 1. Evans' last day will be June 30, which will take her to 36 years and one month of service to the county.
"It has been wonderful. We had some rough patches but we got through it and I am still here. You have your bad days. People don't always agree. You've got to put it behind you," Evans said. "I have enjoyed working with all the people and the knowledge I am coming out with of how an office is supposed to be handled."
Linda Jones, former human resources manager, worked for the county from 1999 to 2018. She said Barton was very welcoming when she first started with the county – almost aggressively so.
"She was almost like a Mack truck. She wouldn't take no for an answer. She was like come on we are going to lunch," Jones said with a laugh.
The two women worked closely together through the years on payroll issues. Jones said she could tell Barton made her decisions with the county' financial interest as her top priority, but she was also reasonable when it came to working with people going through a rough patch.
Outside of work, Jones said she is also happy to count Barton as a friend and recalled a number of fun trips they took with others in the office.
"She just was very generous and a great hostess. I really can remember just rolling on the floor laughing," Jones said.
Karen Alexander, director of elections, said she has known Barton for 12 years. She worked with her whenever it was election time and Barton would need to come in and take care of paperwork.
"As a candidate working with her, it was very smooth and easy because she understood the process and was very grateful from whatever help she received from me," Alexander said.
On a personal level, Alexander added that Barton is laid back, funny, and makes everyone around her feel important.
"She would engage with you and took interest in you and was just incredibly friendly," Alexander said.