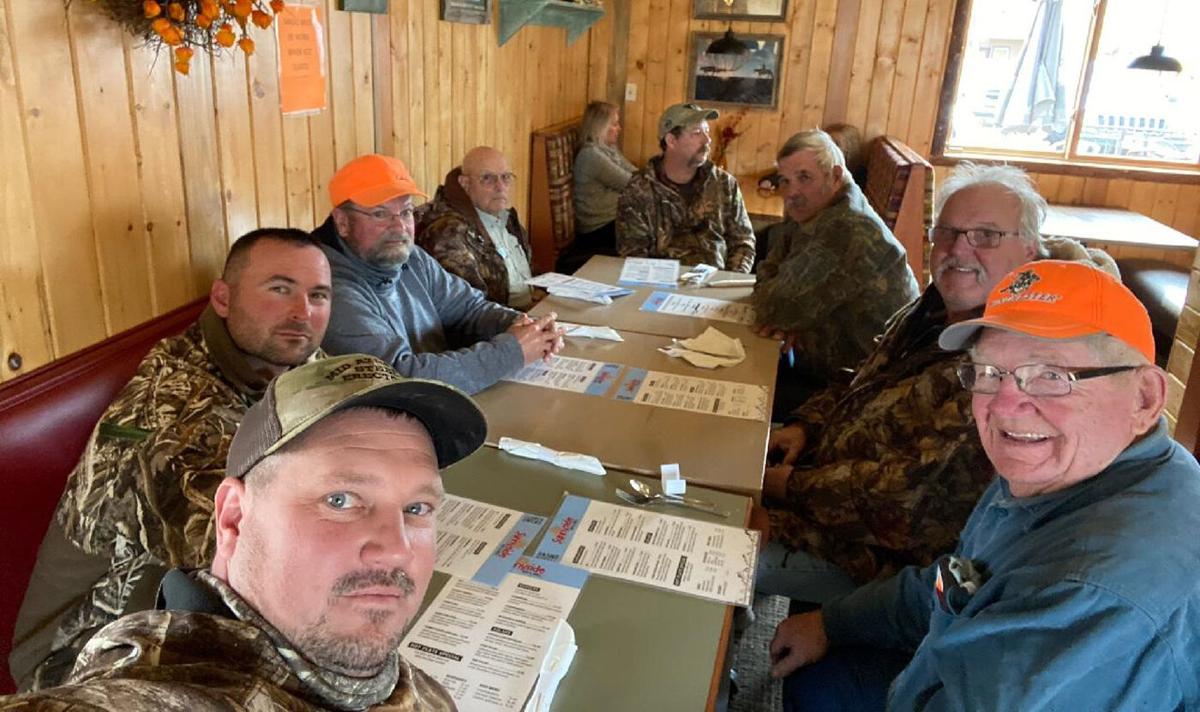 Editor's note: The second half of this story was erroneously omitted from the Nov. 11, 2020, print edition of the Powhatan Today, The full story has been included here and will also run in full in the Nov. 18, 2020, print edition of the Powhatan Today. We apologize for the error.
John Agee had never been in Missouri, Nebraska or Wyoming before. He'd flown over those states in the past, but never drove through Nebraska's corn fields for miles and miles and miles, or saw hundreds of wind turbines along the way in Kansas, or observed how flat certain parts of Wyoming actually are.
That all changed this past October.
For the first time, Agee joined Elwood Yates, Jr., and six other local hunters in traveling more than 1,800 miles from Powhatan County to Hayden, Colorado to hunt cow elk and mule deer.
That, too, was definitely different from hunting white-tailed deer in Virginia, Agee said. You're at a higher elevation, so it's a little harder to breathe when you're out there walking in the mountains.
That gets harder when you involve snow. The hunters dealt with that over the last few days of the hunt after a front came through from the Northwest on a Sunday, dropping at least six inches of snow on the area.
The temperature also slipped to eight degrees below zero with a wind chill of negative-21, making it probably the coldest of the seven trips that fellow hunter Ray Avery IV could recall being a part of. Another one of the hunters, Cory Fridley, said that, when you're walking up the mountain, you can feel it crystallizing in your nose when you're breathing in.
But the differences, and the weather, did not keep Agee from enjoying a successful first hunt with the group.
He got his first cow elk on Monday in the late afternoon; they were sitting up on one ridge and watching another ridge about 400 yards across; the elk were coming along, and Agee wasn't planning on taking a shot that was more than a couple hundred yards out. But when the time came, the guy sitting with him had a rangefinder and asked him, "You want to take a shot?"
"How far is it?" Agee asked. The reply came: 360 yards.
"Well, why not take a shot?" Agee said. He took one.
The cow elk dropped right where he shot her.
The real challenge came in retrieving her. It took about an hour for a couple of the younger guys to walk up to where she was – 60 to 70 yards up on the side of a mountain, without a road to get to her and also with snow on the ground – and put her on a sleigh.
Darkness had fallen by the time they had sledded her down the hill, across the field and to the truck.
"But it was pretty cool," Agee said.
While it was Agee's first time out, everyone he went with had previous experience going on the hunt, a Powhatan County tradition for more than half-a-century.
It was started by the late Shirley Reynolds, former Powhatan Sheriff, in 1955, and it's remained a staple through the organization of Yates, 91, who has been going on the trip for at least 28 years.
Also partaking in this year's hunt along with Agee, Avery, Fridley and Yates were Brian Gregory, Ralph Lineweaver, Bill Nixon and Scott Thorpe. Four flew and four drove.
With this particular season being pushed back, and the weather being colder, Avery felt that, as a result, they saw a whole lot more elk this year than any of the years that he could recall.
"It was a boatload of elk around," he said, "which was really nice to see."
Avery said he just happened to be in the right place at the right time when he killed a cow elk, making it at least four years in a row where he's done so on the trip.
Fridley killed his first trophy mule buck, a 4x4, on the first day of the hunt. At 9 a.m., he spotted the buck and two other deer. He crept up on them; they winded him and ran off, but his buck stopped about 170 yards out.
Fridley dropped the hammer on him at 10 a.m.
He estimated the body weighed around 300 pounds, and he said it was bigger than anything he remembered seeing out there before. The rack measured 25 inches in width and 20 inches in height.
Fridley also got his first coyote on the trip on Saturday, which he called the nicest day of the hunt.
With snow on the way – he recalled that it snowed when they woke up the following morning – he went to the top of a mountain and got in a blind.
It was snowing sideways, so he zipped up the blind to about an inch. When he peeked out, he saw two coyotes across the field.
One of them trotted away when he stuck the barrel of his gun out of the blind, but the other stayed.
He got him from about 100 yards out.
Nixon, for whom it was his third time going, also killed his first mule buck.
They were actually going back to the stand on Wednesday, and the buck, an eight-pointer, crossed the road right in front of them. He stopped, and Nixon shot him.
Gregory killed his first bear.
He saw it running about 800 yards away, and the bear ended up running by him – about 250 yards out – when he shot.
"Awesome experience – just wish my grandfather-in-law (Shirley Reynolds) could have seen it," Gregory said.
It was another hunt to remember for Gregory, who four years ago killed his first trophy mule buck, the biggest buck in history for unit 13 in Colorado.
"I've had some amazing blessings hanging out with Elwood," Gregory said.
While the annual hunt remained undeterred by the ongoing COVID-19 pandemic, the many restrictions on businesses and areas across the country did lead to changes for those driving up. But while they weren't able to do the same amount of sightseeing they usually do – "Elwood's always been really good about finding something for us to do on each day," Avery said – they did manage to tour The Archway in Nebraska, and while they didn't visit The Gateway Arch in St. Louis, Agee said they still got to see the towering landmark during their travels.
Avery added: "Going cross-country and seeing ... just the scope of how big some of these farming operations are, it doesn't get old for me."
There were no fast food stops as far as dining-in options went, but instead they set their sights on finding local mom-and-pop restaurants (like the FireSide Grille in West Virginia), and that got them off of the big roads and took them into some new places.
They also did see evidence of this year's terrible wildfires while driving through Colorado and Wyoming.
In years prior, Avery said they'd seen "bits and pieces" and patches of burned timber in the national forest, but this year, it was still smoldering in some places, and there was some uncertainty about whether or not they'd have to take a detour if the pass they were going to take at Rabbit Ears was to close or remain closed because of the fires.
But Avery said the pass reopened a day or so before they drove through.
They also had some consistency in some of the places where they stayed overnight and had dinner.
"We always look forward to being in Kansas and getting that big steak dinner in Russell, Kansas," Avery said. "That's definitely something we look forward to and remember."
Yates continued the planning process for the trip, with Avery describing him as "probably the most technologically capable person that goes in that vehicle."
"He certainly has his preferences of where we stay, and that's for a reason, just because it's close to the interstate or we know that there's a decent restaurant really close that we can go to, or that we've just stayed there before and people have treated us well," Avery said. "It's a ton of work that he puts into it, and we're just kind of hoping that he's going to keep on being able to do this, because it sure is nice to be able to be included with that group."
As they all get a little bit older, Avery said it continues to amaze him, especially with Yates and Lineweaver, how they don't really seem to be deterred by the freezing temperatures, or by another year.
"They just go after it really hard, and I know that cold weather had to be hard on those guys, but you wouldn't have known it," Avery said. "He and Ralph both, they're just troopers. They're tough, they don't complain, they have a good time, they're fun to be around, and I feel extremely fortunate. I just enjoy being around them."
The only real hiccup in the trip for the group driving back occurred when a broken spring and tire blowout on the meat trailer brought them to a stop on I-70 near Salina, Kansas.
Avery and Agee stayed with the trailer on the side of the road while Yates and Lineweaver went into town to get parts for repairs.
There wasn't much traffic on the off-ramp where they were – "in the middle of nowhere," as Agee put it – but a few locals did stop by to ask if they were doing okay.
A woman driving a bus stopped and talked to them, then came back by to bring them a couple bottles of water.
Another one of the individuals who stopped, a young man who lived close by, actually went back to his house to get them some additional tools. The young man also talked with them about hunting – he was a hunter himself – and he stayed with them to make sure they got everything put back together.
"That was something I'll remember," Avery said. "It's nice to see that there's still some nice folks out there."
The breakdown took six hours off of the driving crew's return trip, but they were able to reach their hotel by midnight. They arrived safely at Yates' home in Powhatan early in the evening on Oct. 31.
Outside of the trailer incident, it was, to Agee, a great trip.
"It was a good experience and a lot of fun, and the guys were great that I traveled with," Agee said.
"I would absolutely go back."