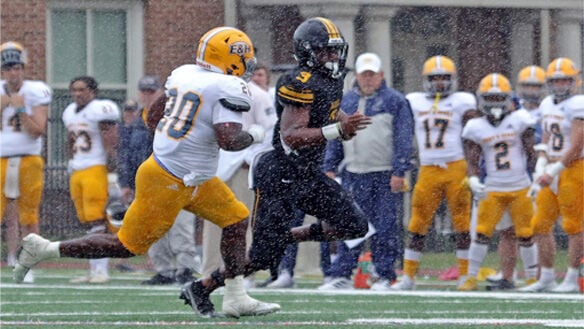 A familiar name for Powhatan football fans is racking up accolades after a monster season.
Justin DeLeon, a Powhatan graduate and senior at Randolph-Macon, was named the J. Stokeley Fulton Offensive Player of the Year and Touchdown Club of Richmond Offensive Back of the Year. DeLeon was also listed on the D3football.com All-Region 3 Second Team.
Coming into the 2021-22 season with 114 carries, DeLeon became the lead back for the Yellow Jackets and took full advantage of the extra action. The Powhatan graduate led the ODAC with 1,005 rushing yards and 15 rushing touchdowns while being 17th in the nation in rushing touchdowns.
While it's easy for DeLeon to take credit for the honors he's receiving, he's been adamant all season long that these accomplishments wouldn't be possible without his teammates and the supporting cast around him.
"It's hard for me to not give credit to the people who are around me," DeLeon said. "I can take a little bit of credit for it, but I'm still going to give most of the credit to my teammates and my coaches because without them none of this is possible."
In DeLeon's breakout campaign, he finished with four 100-yard games and six multi-touchdown performances as the Yellow Jackets ran through their ODAC competition to close the season with a 9-1 record.
Arguably his best performance of the season came on Oct. 9 in a matchup with Emory & Henry where DeLeon dominated the Wasps defense to the tune of 202 yards on 29 carries along with two rushing touchdowns in a 34-31 Yellow Jackets win.
"There were a lot of turns of emotion that game," DeLeon said. "We were fighting our butts off against a really good team. That game might be the funnest game I've had since I've been here."
Randolph-Macon head coach Pedro Aruzza, who recruited DeLeon, had plenty of positive things to say about his star running back's on-field performance, but he was even more excited to discuss the type of person DeLeon has become in his time with the Yellow Jackets.
"I've known Justin for a long time now, and I knew he was a great young man when we recruited him, but over the last four and half years, his growth and maturity and the way he's taken on a leadership role in our program has been tremendous," Arruza said. "He's a high-character young man, he's a hard worker and I think that he was a really good player when he came here, but he's developed into an outstanding player and a lot of that I would contribute to his work ethic and commitment and just the way that he goes about things."
DeLeon feels his time at Randolph-Macon has been a blessing, and ending his collegiate career on a high note that leaves him with one of the best individual seasons in school history has him looking forward to what's next in his journey.