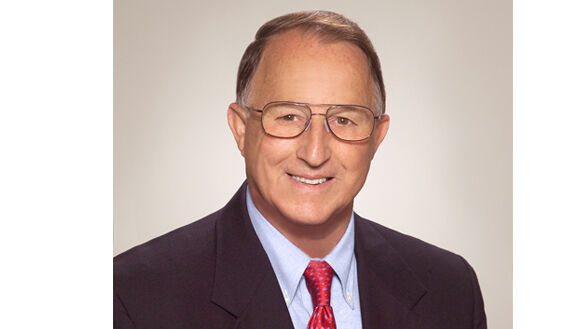 POWHATAN – Powhatan native Robert "Bob" Cosby, a former dairy farmer who served on the board of supervisors for four decades, died over the weekend at the age of 83.
Cosby, who died on Saturday, Dec. 5, was well known in Powhatan for serving as a supervisor from 1972 until 2011, when he decided not to run for re-election.
Being a supervisor was a job Cosby aspired to when he was young and stayed devoted to over his many years of service, said his son, Hank Cosby. His dad told him that, from an early age, his two goals in life were to be a farmer like his own father and a supervisor.
"I believe that my dad was in office for as long as we was because he truly cared about Powhatan. He listened to people and he had to make hard decisions, but he always tried to do what was best for Powhatan. I believe people recognized that, that he did have Powhatan's best interest at heart because Powhatan was in his heart. He grew up here, he worked here, went to school year. He simply loved Powhatan," Hank Cosby said.
Former county administrator Carolyn Bishop said Bob Cosby was instrumental in encouraging her to apply for the job in 2002, when she was serving as the county's director of finance, IT, and human resources. She worked as county administrator for 10 years and witnessed firsthand how seriously Cosby took his role as a supervisor.
"He would always make sure with the board packets he understood every agenda item that was coming to the board, he understood the zoning cases, he understood where the planning commission had made their decisions and why. He was extremely dedicated and always well prepared for every single meeting," she said.
While he was serious about the job, Cosby was also kind to the staff and showed his appreciation for their hard work. Working with him closely as the chairman for many years and in the years since, Bishop said Cosby became like a second father, while his wife, Elizabeth, became like a mother to her.
"It just was way more than a work relationship. It grew into such a deep friendship for me. He really was inspirational. He was a cheerleader for me. I loved my job when I was the county administrator and I loved Powhatan, and he was responsible for much of that," Bishop said. "There were a lot of board members and citizens that treated me well and made me love this community, but he was the first.
"He was such an inspirational, kind person that made me really realize what a leader should be, so it is a big loss for the county and the people who loved him," she added.
Del. Lee Ware, R-Powhatan, served on the board with Cosby for eight years and knew him for many years before and after. Ware saw him as a giant, although Cosby didn't think of himself in those terms. The opinion was shared by many neighbors who returned him to office for 10 terms, even though there were some close elections (including one he won by three votes).
Through the years, Ware came to truly appreciate that Cosby came to his position with "a calm that was infectious," which was evident in a phrase he used occasionally when emotions got frayed in a public hearing or meeting: "Powhatan's been around for 200 years, it'll be around a while longer."
"That same calm was evident in his chairing of a meeting. He ensured that each citizen before the board had his say, but at the same time he kept things moving because he would need to be milking cows again early the next morning," Ware said.
As a farmer Cosby knew the importance of frugality; he was, therefore, very careful in his stewardship of the county's finances, Ware said.
"At the same time, though he was economical, he never hesitated to invest in projects that he knew would benefit Powhatan citizens," he said.
Cosby was incredibly proud of his history as a dairy farmer in Powhatan. In a July 2019 interview with the Powhatan Today, he talked about how his father had started a dairy farm in 1949 where he and his brother, Gabe, would help before and after school.
"I have milked 17 cows by hand and gone to school in this building," Cosby said in 2019, referring to the Village Building. "There wasn't any way you can get that smell off of you."
Cosby went to Virginia Tech to study dairy science and graduated in 1959. He went into business with his father, and they were partners until Robert Cosby retired in 1969, at which point Gabe Cosby returned and joined his brother in the business. Bob Cosby said he was a dairy farmer for 45 years, the last two just waiting for his brother to reach retirement age before they got out of the business together in 2004.
Although the dairy farming started in 1949, Cosby's family had been farming in Powhatan since the 1800s, local farmer Max Timberlake Jr. said. In March 2016, Cosby and his wife were honored by the governor at a reception at the Governor's Mansion as one of the 15 Century Farm families in Powhatan. Cosby was also a 30-year member of the Powhatan Farm Bureau, where he served in numerous leadership positions.
"Powhatan has lost another farmer. May this steward of the land rest in peace as we honor his lifelong service to our community," Timberlake said.
Cosby was a devoted husband to his wife of 61 years, Elizabeth, and a father who was supportive of his children, Hank Cosby said. His dad's life centered on family, farm work, his job as a supervisor, and his role as a deacon at May Memorial Baptist Church.
Johns Bailey, who met Bob Cosby in September 1970, added that in addition to supporting his own children, the local farmer supported other youth in the county.
"He was always supportive of not only his own children but other children in the county. A lot of times some of the kids that did not have dairy animals to show, he would loan them his heifers to show. He also provided transportation to the different shows," Bailey said. "He was just a good man who was concerned for people's needs."