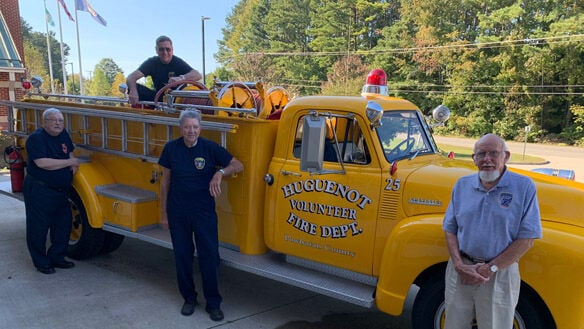 POWHATAN – Being a firefighter isn't what they do, it's who they are.
"It is just something once you start doing it you continue and continue and it builds within you," said Wayne Cosner. "Either you are going to get in and be in here a couple of years and, BOOM, you are gone, or it grabs hold of you and you become loyal to the system and it becomes a way of life for you."
Sitting around a table in the bay of Huguenot Volunteer Fire Department last week were four men for whom being a firefighter grabbed hold. Cosner was there along with Francis "Chuck" Urbine, Sam Llewellyn, and Floyd Greene. All four of them have volunteered in Powhatan's fire service in various capacities for the past 50 years.
Each man had a different reason for getting involved, but all of them agreed on what kept them in – being a Powhatan firefighter became part of their identities.
Three of the men – Urbine, Llewellyn, and Greene – were founding members of Company 2 in 1970, while Cosner got his start at Company 1 the same year and moved to Company 2 in 1984. All of them are lifetime members of Huguenot VFD.
The Powhatan County Board of Supervisors issued proclamations honoring their service at its Sept. 28 meeting, which all four attended. Cosner said the recognition was appreciated, but it wasn't something they were seeking.
"I don't do it to get something from somebody. I do it because it is what I want to do," he said. "I certainly appreciate it and it is a nice gesture, but I am not into accolades and trophies. I don't think any of us are. We appreciate it but we don't go out looking for rewards. We get our rewards in other ways."
"We have gotten them through the years. People have been good to us," Urbine added.
Urbine, the oldest of the group at 86, said he would still be riding today if it weren't for COVID-19. He stopped going out on calls in February because of his age, but it is obvious he misses being there.
Llewellyn, 82, who was well known for his proficiency as a pump operator, stopped fighting fires about four years ago. Cosner, 69, stopped going on calls about a year ago. Greene, who still drives the apparatus, had gone on a call the day before, but said he doesn't do interior firefighting anymore.
Although they have mostly taken a step back from going on calls, there are still ways they can help, whether it is training younger firefighters, doing administrative work, or helping work on equipment and clean around the station, Cosner said.
At one point or other in their five decades of service, all four men have been officers and served in leadership roles. But they don't volunteer those positions unless asked.
What flowed freely instead was a shared history they obviously value punctuated by memorable incident calls or great acts of kindness. And it is not only a shared history among the four of them. Throughout the interview they are quick to reel off the names of men and women who were integral to the history of the fire service even if they didn't serve in it.
There were the women who helped the station by holding a multitude of fundraisers and the community members who supported them. There was the gas station owner who saved back gasoline for their trucks during gas shortages. When talking about the formation of a centralized dispatch system, they tried to remember the names of the first people who served there.
"So many things were community things. They never joined us as a member but we would have had a hard time surviving without the help," Greene said.
And there were the men, and later women, who served alongside them, some for a season and others for as long as they were physically able, Urbine said.
In many ways while talking to the four men, it became evident that asking them about their years of service is really inviting them to share the history of Company 2.
So much about three of their beginnings is tied to forming and building the company and all that involved. And although Cosner joined them later, he has left his own indelible mark.
The youngest of the group at 65, Greene was only 15 when Company 2 was first organized. He remembers attending a Boy Scout meeting near where the Holly Hills subdivision is now and the event being interruptedbecause there was a brush fire nearby with no one available to respond. All of the Scouts and their leaders rushed to the site and put out the fire.
Not long after, Greene learned that there was talk of forming a new volunteer fire company to fill a need in the east end of the county. At the time, the Powhatan Emergency Crew was responsible for fire and EMS for the entire county.
People in the eastern end recognized that Powhatan was large enough to warrant another station, Urbine said. His brother, Cecil, donated the land where the Huguenot station would be built and still stands today as the new home of Habitat for Humanity – Powhatan.
Interestingly enough, Urbine is a founding member but not a charter member of Company 2 since he and several others who started the station weren't there the night the charter was signed. Greene was there but couldn't sign the charter since he was underage.
The men and boys who formed the company went through General Firemanship training with the Virginia Department of Fire, a class paid for by the state.
But when it came to actually building a fire station, they were on their own. The new fire station was a community project that wouldn't have been possible were it not for the men and women who made it happen, Urbine said. He gives high praise to the women of the community, especially the ladies auxiliary, for the countless number of fundraisers they held to raise money for the project.
"We had a good group of people that worked together. The women, and once again, the people in the community here, are the ones who made the fire department. We are just the ones who fought the fires," Urbine said.
Llewellyn, who worked as a builder, was the overseer of the project to build the station. Listening to him talk and others chime in, it is obvious this wasn't a conventional building project. Working as they could, often on nights and weekends, the members scavenged as many parts as they could from other sites around Richmond, many of them taken out of old buildings and used effectively in Powhatan.
"We used it all," Urbine said.
"There wasn't much left over," Llewellyn agreed.
The members purchased three used fire trucks from Chesterfield County for a total $500 for all three of them, and they were parked at the home of Louis Urbine, another of Chuck's brothers, while the station was being built.
Company 2's first fire was a small house fire that happened on Urbine Road before the station was even operational, Urbine said. They were able to put it out and the house is still standing today. The company officially began responding on Aug. 15, 1971.
Meanwhile, back in 1970, a 19-year-old Cosner recalled driving by and seeing a big farmhouse on fire in the spot where C&F Bank stands today. He parked out of the way and watched as Powhatan firefighters tried to extinguish the fire, but it still burned to the ground.
He decided that night that he was going to become a firefighter to help stop that kind of devastation from happening. The next day, he attended Company 1's regular Monday meeting.
"I went to Company 1 the next night, introduced myself and learned some of the people there. I filled out an application and started right there," Cosner said.
At the time, Cosner was a student at Virginia Commonwealth University. Juggling the responsibilities wasn't too hard, he said, because his classes would end at 1 or 2 p.m. most days, and he would sit at the fire station while he did his homework.
Cosner said he had a rich 14 years with Company 1 and served in various positions before he left. Moving to Company 2 was based largely on him moving closer to the station and feeling he could be more effective there, he said.
Many of the memories the four men shared reflect milestones in the history of fire service in Powhatan County.
When Company 2 started as a completely separate entity, there was a rivalry between their members and the leadership of the Powhatan Emergency Crew, Greene said. But gradually, more and more people on each side figured out that they could be a help to each other.
A major turning point came with a fire on Pilkington Road, he said. A log cabin situated too close to a newer home caught fire and was fully involved. When Company 2 arrived first, the fire was spreading to the back of the newer house.
Company 2 members started to put the fire out on the newer house, but if they couldn't put out the cabin fire, the risk remained. Company 1 arrived with three units they had at the time with extra water. In addition to helping put the log cabin fire out, they also filled Huguenot's trucks so they could keep fighting the fire on the newer house, Greene said.
"If Huguenot hadn't gone, the front house would have burned down. If Company 1 hadn't come the front house would have burned down because Huguenot was out of water," Greene said.
Another ongoing issue was the lack of a central dispatch. The companies handed out stickers with a phone number for residents to call in case of emergency. When a call came in, the word went out via a phone tree system to get enough men to respond, Greene said. In the early months of 1972 the two companies came together and agreed on a single dispatch center, which was built on the second floor of the Richardson building in the county court house.
There were also more personal memories, such as the last words their wives would say as they rushed out the door on a call – "Take care of yourself" or "Please be careful. I love you."
In his own personal history, the memory that stands out to Cosner the most from his early years is the first time he drove a truck to a fire by himself.
"It is about the most nervous I have ever been in my life. My foot was on the clutch peddle bouncing up and down," he said with a laugh.
Cosner recalled a fire in the early 1980s in Central Virginia Bank. He and Llewellyn were inside with a hose line and Urbine was the pump operator. Urbine called into the firefighters to get out of the building. They said they only needed a few more minutes, but Urbine was insistent.
"We got out and it wasn't but about 30 seconds that this big steel beam just caved in. If it hadn't been for Chuck," he said, trailing off.
"We saved that bank… porch," Urbine added with a chuckle.
Many fires and other calls through the years stand out in Cosner's mind, but he figures there are probably hundreds he can't remember anymore. It's been a good life, but also a heavy responsibility.
"You get to see a lot of people at the very worst moments in their life. It is things you don't forget. It sticks with you. You feel sorry for them and those people need help. They need help with something where they can't help themselves," he said.
There is not much these men haven't seen, good and bad – especially the bad, Urbine said. Automobile accidents were always the hardest calls to answer.
"Being a fireman is not a joy. It is work. People think it is a lot of fun to go up the road with a siren blowing but you don't know what is on the other end," he said.