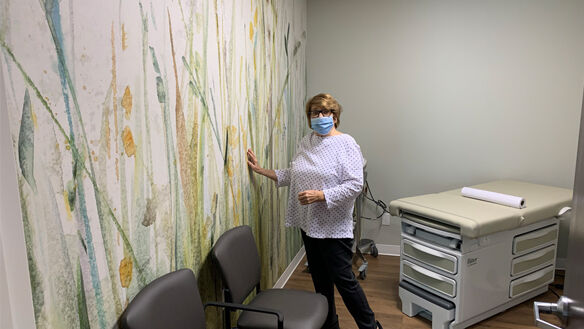 POWHATAN – On a recent tour of the freshly opened new home of the Free Clinic of Powhatan, executive director Connie Moslow paused in the doorway that connects the lobby to the rest of the building.
This view, she said with a sweeping gesture, is the reason this is her favorite spot in the newly renovated building on Skaggs Road. From there she could see the long hallway full of doors leading to rooms where people in need will receive the medical, dental, and mental health services they need in a bright, modern space.
"Every time I go through this building I smile. Truthfully I never thought we would have what we have. To me this is beautiful," she said with a grin.
The Free Clinic officially opened its doors to patients in its new location at 2320 Skaggs Road on Thursday, March 4, and Moslow couldn't be more thrilled. The moment was something she has dreamed about since she started the clinic in 2008.
"I am excited. I can't wait to see our patients when they come in here. This is so different than what they have had," Moslow said two days before opening day. "A lot of work went into making this a patient clinic. A lot of thought with our builders, our architects, our designers – all of it was about our patients and our volunteers."
Other than its initial seven months as part of a Bon Secours caravan, the Free Clinic had spent the rest of its existence up until now using several rooms in the Powhatan County Health Department. While the Free Clinic always appreciated the space the county let it use, it had long outgrown it, making it a struggle to offer the services and environment they wanted to bring to clients, Moslow said.
"I am not going to miss the space but I will miss the people from the health department and what we accomplished there. It was our home for 13 years and we helped a lot of people there in 13 years," she said.
The clinic helped its last patient in its old location on Feb. 25, she said. Now a new chapter is beginning, and the capacity to assist those in need will be even greater because of the increased facilities.
The new 3,300-square-foot clinic includes a waiting room, two registration rooms, a dental unit with two dental chairs, a doctor and nurse station, a lab room, two mental health rooms, and two examining rooms that will serve patients. The space also includes three offices, a food and personal items pantry, a small kitchen, and a conference room. Upstairs is being used for additional storage and a back patio is being outfitted to allow staff and volunteers a space to take breaks.
While the main clinic is now open, the dental clinic is still about six to eight weeks from launching because of training and backordered dental equipment, Moslow said. In the meantime, patients are still being served through the dental program with Goochland Cares and at local dental offices.
The dental program operating in-house along with an expansion of hours and services will increase the Free Clinic's annual operating budget a minimum of $200,000 a year. But thanks to the clinic's ongoing $2 million capital campaign, it is debt free with the building, Moslow said.
"Financially we could have moved out sooner if we wanted to go into debt. But we never had debt and we wanted to wait until we could be part of a county facility and it has worked out very well," she said.
Moslow was ecstatic to see the reactions of some of the first patients to come through the clinic's new doors on March 4, and said patients, volunteers, and staff members were overwhelmingly positive about the new location.
The first patient on March 4, Charles Brinkley, described the clinic as beautiful. All of the patients scheduled to be seen on opening day received a Starbucks giftcard and a plant.
Bettsy Maeda, another patient, said she really liked the new space.
"It looks beautiful – a really nice place," she said.
Diane Daniels, who has been a volunteer with the clinic for nine years and is the Access Now coordinator, said being in the new building felt unreal and that she can't believe they are there.
Sharon Alexander Feggins, who has worked for the clinic for eight years and is the patient case manager, simply said, "Wow! Connie knew just what the community needed."
Betsy Blanford, who has been a volunteer for one year and is the clinic volunteer coordinator, said, "It is a joy to see this resource to the community."
For more information about the Free Clinic of Powhatan, call 804-598-5637.