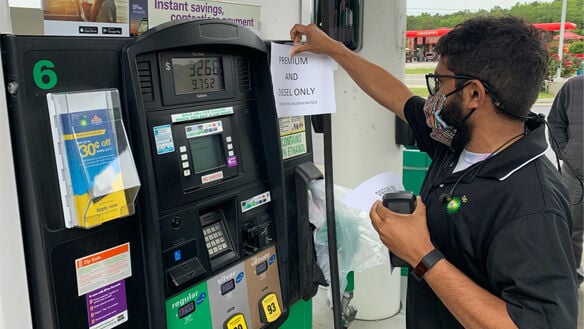 POWHATAN – A panic run on gasoline sparked by the six-day shutdown of the Colonial Pipeline because of a ransomeware attack saw Powhatan County gas stations slammed last week and lines out to the streets to reach the pumps.
Several gas stations reported empty tanks starting on Tuesday, May 11 and long lines when they did get deliveries. Many gas stations tried to telegraph the empty reserves with yellow caution tape, out of order signs, and bags over gas pump handles.
But that didn't keep the phones from ringing. Al Patel, owner of Dorset Market, said he received phone calls constantly with people asking if he had fuel or when he would be receiving his next shipment. When he still had gas, he said the lines were out of his parking lot onto both Dorset and Genito roads at one point.
Patel said he ran out of regular gasoline the first time on Tuesday and then out of premium the next morning.
"It was all the way across the railroad track on Genito and on the Dorset side it was by the church," he said.
Sadiq Sajwani, owner of Valero on Anderson Highway, described basically the same situation. He had heard the Friday before there would be shortages, so he was expecting lines, and he got them. His gas station ran out of fuel for the first time on that Tuesday and he put "Out of Order" signs on the pumps until he got another fuel delivery a few days later.
Like the other gas stations, Sajwani said that while the parking lot was packed, the store was not.
"It was not as good inside as it should be. Everybody was concerned with outside and focusing on the gas," he said.
Sajwani also said he regularly got calls during the day or people stopping by to see if he had gas or would be getting it soon. He said midweek that he was a little worried, but hoped that the promise of the pipeline restarting operations soon meant they could get back to normal.
Chubbys gas station on Anderson Highway was mostly empty inside and out midmorning on May 12. Manager Prerak Patel said the station had run out of gas the previous day, but even when they had gas, people weren't coming inside as much because they were aware of the people waiting in line.
Chubbys had a truck delivering premium and diesel fuel while he spoke and Patel predicted – correctly – that his outside business would soon be hopping again.
Within minutes of the first car lining up a little after 10:50 a.m., every pump had a vehicle waiting to fill up and some a few in line behind them. They waited patiently as the delivery truck finished unloading the 4,000 gallons of diesel and 4,000 gallons of premium and then a few minutes more while Patel turned on the pumps.
Mary Kernstine of Powhatan was one of the first in line. She was running on empty and had to fill up one of several vehicles used for her business, Budget Blinds. She didn't even balk at having to put premium in the tank.
"Right now I need gas. Sure it bothers me to pay more, but when it comes down to it, we still have to keep our people employed and our people on the road working," she said.
Kernstine said she had just come back from a stay in the Outer Banks and realized there was a shortage when she had to search for gas for 45 minutes to fuel up for the trip home.
"We were watching the news Monday and saw about the pipeline, but we didn't realize there was a problem until we started driving and saw the lines at the gas pumps," she said.
On May 7, the Colonial Pipeline Company learned it was the victim of a cybersecurity attack. Staff determined the incident involved ransomware and proactively took certain systems offline to contain the threat, which temporarily halted all pipeline operations, and affected some of its IT systems.
Colonial Pipeline issued a statement on Wednesday, May 12 saying that it had initiated the restart of pipeline operations but that it would "take several days for the product delivery supply chain to return to normal. Some markets served by Colonial Pipeline may experience, or continue to experience, intermittent service interruptions during the start-up period. Colonial will move as much gasoline, diesel, and jet fuel as is safely possible and will continue to do so until markets return to normal."