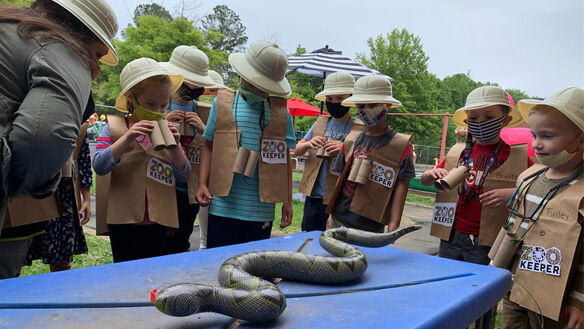 A lion. A tiger. No bear? Oh my.  It's OK, I like the penguin better anyway.
So, I went to the zoo last week in the middle of my work day, and I was accompanied by some intrepid little zookeepers.
More specifically, Powhatan Elementary School held its very own zoo on May 12 for kindergarten and Head Start students, and I was invited to stop by and join in the fun – and it was definitely fun.
One of the kindergarten teachers had spotted me at the school a week earlier when I was there to do a video and a short story about the administrators kissing Tucker the Pig as part of the school's Boosterthon. All she said was they were going to have a Zoo to You experience and asked me to stop by. So I did.
Sitting down with kindergarten teachers Joy Daniel, Amy Hintz, and Robyn Hall on their lunch break that day, I got to hear how the zoo came about. Taking a field trip to the zoo is an annual tradition for the kindergartners, but that didn't happen this year because of COVID-19 restrictions.
So Lori Preston, who is the kindergarten instructional assistant, suggested they hold a zoo of their own. She wrote a proposal and submitted it to the principal, Constance Deal, to get a small amount of funds to purchase inflatable animals of all kinds to have at their zoo.
The teachers created informational signs that could be placed next to each animal so they could learn a little something as they were visiting the stations. Did you know that an alligator can go two years without eating? A giraffe can run 30 miles per hour. Penguins eat krill. Lions can jump up to 40 feet. The bright pink color of flamingos comes from beta carotene, a red-orange pigment found in large numbers in the shrimp the birds like to eat.
Cutest of all, Cindy Pruitt and Christyn Ryman, who both work in the school office, used items from the STEM (Science Technology Engineering Mathematics) Lab to help the kindergartners become zookeepers. The two women made little vests from paper grocery bags and binoculars out of toilet paper rolls glued together and tied with a string. The PTO also ordered plastic safari hats for each kindergartner.
The zoo was held in a fenced-in playground that the educators are trying to revamp into an outdoor classroom space. They received a grant from the Powhatan Education Foundation to do some of the work and were going to have some outside partnerships with community groups, but both of those have been slowed by COVID-19 as well. Still, it is a work in progress and they are excited about the possibilities it will hold for their students. (One of the teachers did mention in an aside that donations are welcome.)
I got to visit the zoo with Hintz's class. As I waited for her class to get ready to go outside, a little boy in the classroom informed me: "If you run faster than a cheetah, it will electrocute your body." Good thing I'm not that fast.
I have never been with any of the local classes when they went to the real zoo to see the students' excitement, but the squeals of delight when those kindergartners came into the school zoo and first spotted the animals were still pretty real, even if the animals weren't. The class went and visited each animal together at first but then broke up into pairs and trios to go and take a little more time at each station.
I loved how excited the kids were – how they couldn't help but touch the inflatable animals even after being told repeatedly not to touch them. I loved the wonder in their voices as they were exploring as a class and visiting each animal's station for the first time. It's not every day you hear "Please don't touch the tiger."
Hall said her class had a blast and did a scavenger hunt. They had a worksheet with the animals on it, and, when they found one, they could color it in. Then they wrote about their favorite animal on the back of the worksheet.
Daniel said she loved hearing the sounds of amazement her students made when they visited the zoo earlier in the morning and the joy in their voices.
I got a chance to speak with Preston during the visit about why she was so happy to see this simple inflatable zoo experience unfold for the children. She said she has been the instructional assistant for kindergarten for a number of years and seen plenty of zoo trips and the pure enjoyment the students had on those field trips. 
"There are so many things that these kids are missing out on that they didn't know they were missing out on," she said.
But she and the other staff members there knew, and, like educators all over this county and country, they tried to give them a piece of what they were missing.