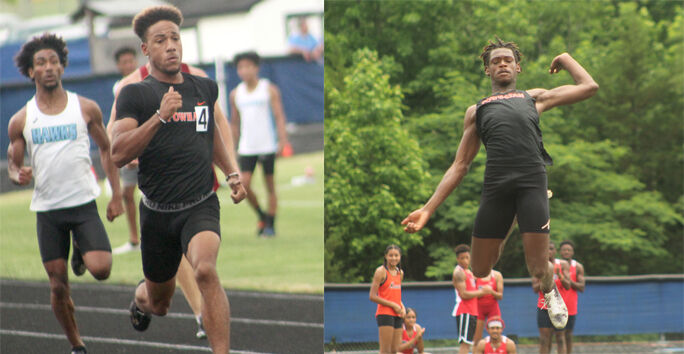 MECHANICSVILLE -- After getting the chance to contribute to Powhatan's boys basketball team this winter - and also after helping lead his football team to a 4-2 record - Powhatan High School senior Aaron Nash really wanted to push himself in his final outdoor track and field season. He had yet to compete in a postseason this athletic year, and in Thursday's regional meet at Mechanicsville High School, Nash embraced that chance to vie for a state tournament berth.
"Since we couldn't really make it to the playoffs or even get a chance to go to states...I just had to push myself and make sure I made it to states for track."
He did just that by winning the Class 4, Region B championship in the boys long jump.
Nash qualified for the finals on a huge preliminary jump of 23 feet, 7 1/2 inches, then surpassed that jump in just his first attempt of the finals when he cleared 23 feet and 8 3/4 inches to secure the 4B title.
He also built on his regular-season jump of 22 feet, 3 ¼ inches.
Nash credited his winning mark to "just having a great long jump coach" in Keilah Tyson. In practices for the long jump, he noted how they would mainly focus on his approach.
"And she said: everything else is just going to come natural."
While he was excited to get the title-winning jump, he added: "It really didn't meet my standards that I really wanted for myself."
"I really just pushed myself to the max," Nash said. "I really wanted to get 24 (feet), but 23-8 is pretty close."
He'll look to either reach or clear 24 feet in the Class 4 state tournament.
The momentous season for Nash's teammate and fellow senior Anthony Greenhow continued as he won regional championships in both the boys' 100-meter and 200-meter dash events, punching his ticket to his final varsity state meet.
The University of South Carolina signee and AAU indoor national champion in the 200 this past March set another school record when he crossed the finish line in 10.63 at the end of 100 meters on Thursday. His personal record in the distance, which he ran last July during an electronically timed event at Powhatan High School, is a 10.49.
"The 100, I feel like I could've done a lot better, but practice makes perfect, that's all," Greenhow said. "It was just like indoor - during the season, my races weren't as good as I wanted them to be, but at states I showed out, so I've still got a week left in me to train and critique everything."
While he said he wasn't 100-percent when running the 200 since he was coming off of the 100, he felt he still did very well finishing. And just as he had done the week before in Powhatan's Senior Day meet on June 2, Greenhow reeled off a blistering opening corner in the 200 before leading the field to the finish line with an incendiary time of 21.39 - a mere .08 off of both his personal record and his school record.
After winning his first indoor two state championships in both the 55 and 300 earlier this year, Greenhow has his sights set on winning his first outdoor state titles when he runs both the 100 and 200 next Saturday, June 19, at Liberty University. He'll look to work on his starts and on relaxing for the 100 in his upcoming events.
"I'm happy with my performance for the circumstances it was...my running schedule and delays...weather," Greenhow said. "But I'm going into states as first, ready to do the same thing I did in indoor: finish states as first."
Through placing in the top four, both Nash (long jump) and Greenhow (100, 200) will represent Powhatan in the state meet.
Several athletes from Powhatan earned fifth-place finishes at Thursday's regional meet. Of those fifth-place finishers: Nash ran a 22.66 in the boys 200; Asher Timberlake threw for a distance of 130 feet, 10 inches in the boys discus; Hanna Vosburg ran a 1:04.65 to win her heat in the girls 400; senior Gavin Timmons ran a time of 10:03.54 in the boys 3200; and freshman Olivia Goodrich ran a 12:59.64 in the girls 3200.
Ian Timmons and Eli Timmons finished seventh and eighth, respectively, in the boys 1600, with Ian running a 4:56.75 and Eli winning his heat with a time of 5:02.04.
Mayson Jenkins took eighth in the girls 400 in 1:05.93.
Timberlake added a ninth-place throw of 38 feet, 9 ½ inches in the boys shot put.
Additional finishers for Powhatan in Thursday's Class 4, Region B meet were Jack Altieri (boys discus, 90 feet, 7 ½ inches, and boys shot put, 32 feet, 4 inches), Madeline Barnswell (girls discus, 42 feet, 10 inches, and girls shot put, 17 feet, 11 ¼ inches), Liam Clancy (boys 800, 2:33.03), Amanda Eacho (girls 400, 1:26.34), senior Alexis Elzey (girls 800, 3:07.51, and girls 1600, 6:38.8), Katlyn Foltyn (girls 800, 3:11.64), Joshua Holland (boys 1600, 5:27.88), Ricky Huber (boys discus, 87 feet, 4 ½ inches, and boys shot put, 34 feet, 7 inches), Tane Jeffs (boys 800, 2:34.16), senior Marissa Lampkin (girls 1600, 6:49.68), Leyla Sakrisson (girls discus, 70 feet, 11 inches, and girls shot put, 22 feet, 11 ¼ inches) and Sean Seibel (boys 3200, 11:26.26).
Hanover won the girls regional championship, and Patrick Henry won the regional title for the boys meet.