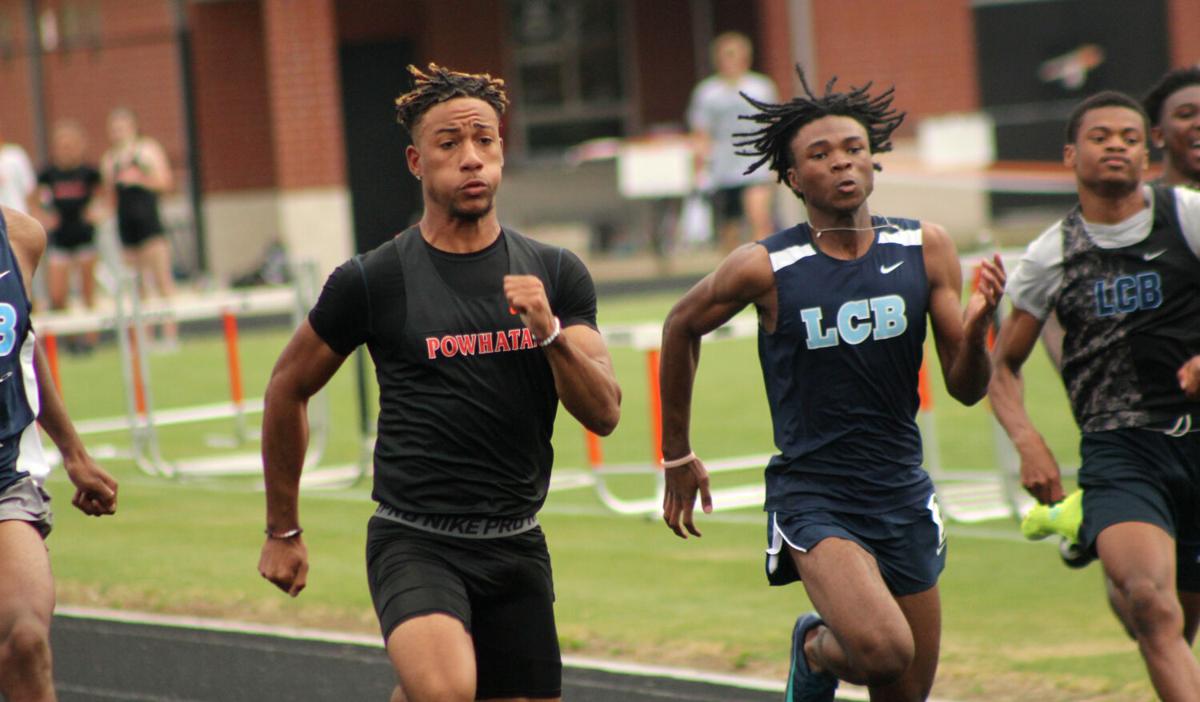 POWHATAN -- Last July, Anthony Greenhow ran a blazing personal-record time of 21.31 seconds in the 200-meter dash during an electronically timed run on Powhatan High School's track.
While that time - along with an incendiary 10.49 that Greenhow ran in the 100 dash on the same day - helped increase schools' interest in him, it didn't go down as a Powhatan High School record because it wasn't run during an official meet.
Nearly a year later, Greenhow made sure that it did.
Barreling past his competitors at a blistering pace through the corner and setting sail down the front straightaway on his home track, the Powhatan High School senior and University of South Carolina signee ran yet another 21.31 to take first in the 200-meter dash during Powhatan High School's Senior Day track and field home meet, which was held Wednesday.
Making Greenhow's win even more special was the 1-2 finish that he and fellow senior teammate Aaron Nash delivered in the 200. Nash, who was a standout player for Powhatan football and also made a positive impact on Powhatan basketball this past winter, ran a time of 22.86.
Earlier in the day, Greenhow ran another school-record time of 10.64 to win the boys 100 dash. Nash added a fourth-place finish of 11.33 in the 100.
Also winning first place for Powhatan was senior Gavin Timmons, who dominated the boys 3200 run with a PR of 10:11.36. Also from Powhatan, freshman Sean Seibel took third place in the 3200 in 11:18.35, and sophomore Liam Clancy finished fourth in 14:06.98.
Asher Timberlake earned two podium finishes for Powhatan, placing third both in the boys discus with a throw of 112 feet, 8 inches, and in the boys shot put with a throw of 39 feet, 8 ¾ inches. Timberlake's teammate and fellow junior Jack Altieri placed fifth in the shot put with a throw of 36 feet, 6 inches.
Mayson Jenkins led the girls with a podium finish as she took third in the girls 200 dash in 28.42. Also from Powhatan, Hanna Vosburg finished fourth in the 200 in 28.55, and Ari Taylor ran the race in 32.96. In the girls 100, Jenkins, Vosburg and Taylor ran respective times of 13.85, 13.93 and 15.45.
Freshman Ian Timmons led Powhatan's runners in the boys 1600 with a fourth-place time of 4:54.06. Freshman Eli Timmons won the first heat of the 1600 in 5:08.69. Also running in the boys 1600 for Powhatan were sophomore Joshua Holland (5:19.52) and freshman Tane Jeffs (5:27.97). Eli, Holland and Jeffs also ran respective times of 2:18.21, 2:21.27 and 2:32.56 in the boys 800.
Freshman Olivia Goodrich led Powhatan's runners in the girls 1600 run with a time of 5:52.99. Sophomore Raquel Iga and seniors Marissa Lampkin, Alexis Elzey and Carly Dolan ran respective times of 6:35.63, 6:36.54, 6:37.22 and 7:47.58 in the 1600. Goodrich, Lampkin, Elzey and Dolan also ran respective times of 2:45.51, 3:02.58, 3:04.38 and 3:37.92 in the girls 800.
Additional boys discus competitors from Powhatan were Altieri (88 feet, 8 inches), sophomore Richard Huber (87 feet, 1 ½ inch) and Jack Dennis (79 feet, 11 inches). Huber also competed in the boys shot put with a throw of 33 feet, 3 inches.
In the girls field events, freshman Leyla Sakrisson had throws of 61 feet, 6 inches in the girls discus and 24 feet, 8 ½ inches in the girls shot put. Also from Powhatan, freshman Madeline Barnswell had throws of 44 feet, 5 ½ inches in the discus and 17 feet, 6 ¾ inches in the shot put. Sakrisson also ran a time of 1:00.83 in the girls 300-meter hurdles.
Amanda Eacho ran a 1:21.83 in the girls 400.
Powhatan's Senior Day meet honored the efforts and contributions of seniors Carly Dolan, Alexis Elzey, Anthony Greenhow, Micah Holt, Marissa Lampkin, Aaron Nash and Gavin Timmons.