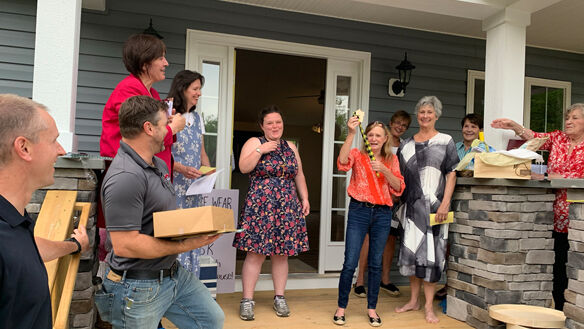 POWHATAN – Even as Habitat for Humanity-Powhatan celebrated a wealth of major milestones last week, the nonprofit is already looking ahead to the future.
In less than a week, the local nonprofit held a full weekend of events to celebrate its 20th anniversary in existence and dedicated its 15th house since being founded in 2001, said Susan Winiecki, executive director.
"I have been calling this the crescendo of 20 years. No way did we actually think that we would be doing a house dedication this week, our anniversary this week, and a huge sale at the (Habitat ReStore) this week. It was because of timing and COVID delaying things," she said.
Winiecki was tired but triumphant that the hard work of so many people paid off with the mix of public and private events that celebrated Habitat for Humanity's mission to serve the Powhatan community.
On Thursday, June 10, a group made up of Winiecki, Habitat board members, volunteers, and community partners gathered at the 15th house Habitat has built in Powhatan County.
Sheila Hayes stood next to her daughter Shannon as she accepted the key, a moment she said she will never forget.
"Getting that key was indescribable. It was just a wonderful feeling. I was ready to cry coming into our new home," she said.
After an incredibly difficult 2020 with far too much loss, the experience of stepping into her own home was more than she could imagine, Hayes said. She was thrilled to move in and said she felt so blessed to see many of the people who helped her get to this point at the dedication ceremony.
"Powhatan is a great community to be in. The people are just wonderful and so kind," she added.
Last week's house dedication marked the end of an 18-month journey for the Hayes family, starting with the application process and then through planning, classes, applying for a mortgage, breaking ground on Nov. 24, 2020, and the construction of the home. Committing to offer 200 hours of sweat equity is one of the requirements of being a Habitat family.
Winiecki added that it was also a journey for her as she has helped Hayes navigate the process since last summer when she was hired.
"To get out on the other side with a beautiful home through COVID and with such community support, I can just take a big sigh of relief now," Winiecki said after the dedication.
She pointed to a long line of businesses that were essential to the build as they offered materials, services, or both. She added that although the build days were limited to eight people each time, she was determined to honor the tradition of relying on volunteers to help build the house.
"It took a little longer because we wanted to incorporate volunteers… so that stretched it out a little bit, too. But it is important because we had this great group of volunteers who wanted to help," she said.
20th anniversary celebrations
Winiecki was highly appreciative that the Powhatan community showed up for the kickoff event, the 20th anniversary Sale-A-Bration held on Saturday, June 5 at the Habitat ReStore. The celebration included games for adults and children, a raffle, and tons of new merchandise for sale.
"We had our biggest sale day at the store ever on June 5 for the Sale-A-Bration. We couldn't be more pleased, and I think there are going to be a few more sales in our future because of how well people responded to this one," she said.
On Sunday, June 6, dozens of people who have supported Habitat in various ways gathered under a tent outside the store for an anniversary celebration. The event was a recognition event that allowed the nonprofit to honor both the people who have built the local Habitat from the ground up and the individuals and business partners who have lent their support in some way through the years.
Among those honored were seven special recognitions for people or businesses that helped Habitat through a challenging year: Bill Rush, Barrett Wright, Clay Street Builders, Home Lighting, Independence Golf Club, Theresa Fields, and Jayne Lloyd.
"We couldn't do our work without all of you and many, many others," Winiecki said.
The event included the debut of a video that looked at the history of Habitat for Humanity-Powhatan and the impact it has had on local residents' lives, whether it was getting them in new homes or helping them stay in their own home through the critical home repair program.
But it was also a celebration that looked to the future as Winiecki announced four overarching goals for the next two years: creating a land fund so Habitat can move quickly on purchasing larger pieces of property or existing properties that can be renovated; expanding Habitat's critical home repair program to have two dedicated teams so they can help more older residents age in place safely; increasing inventory at the ReStore with the goal of opening every Saturday in 2022, and creating more awareness about housing challenges in Powhatan.
One strategy to meet the last goal about awareness is the creation of the new Young Leaders Guild, an initiative created by the nonprofit to focus on what it can do for the community's younger generation and introducing them to Habitat.
Throughout the country, Habitat for Humanity plays a key role in the advancement of affordable housing, said Eric Carter, assistant director of single family default with the Virginia Housing Development Authority. Whether through public or private financing or fundraising, Habitat for Humanity-Powhatan has played a key role in this community to help advance affordable housing to those that would not qualify by means of conventional banking.
The Virginia Housing Development Authority has been honored to partner with the local nonprofit in making sure the loans are serviced within mandated standards, he said. The agency also offers prospective Habitat candidates homeownership classes that teach them how to maintain homeownership once they achieve it.
"We are within an extraordinarily difficult time for homeownership as the market is experiencing the highest appreciation levels in decades, making housing unaffordable for many," he said.