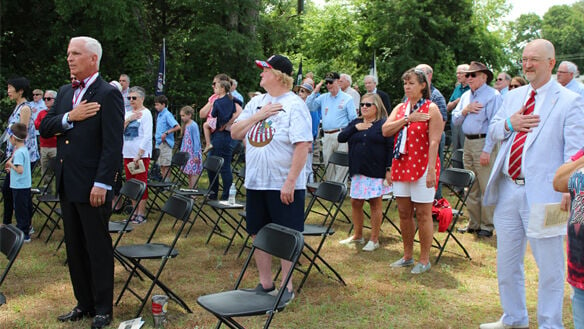 POWHATAN – The men and women who served in the armed forces and paid the ultimate price for freedom were honored last week at a Memorial Day service held on Monday, May 31.
The lives of all American service members, with a special emphasis on those who died during the Civil War, were honored at the 40th annual Huguenot Springs Cemetery Memorial Day Service.
Retired Army Maj. Peter Amico of Powhatan was the special guest speaker at the event, which drew more than 50 people. Amico attended West Point and was commissioned a 2nd lieutenant in the Armor Branch in 1976. He served in various posts in the U.S. and overseas until he retired in 1995. He also served several years as the Senior Army instructor of the Cumberland High School JROTC program.
Memorial Day is not, as some believe, the unofficial start of summer vacation or a reason for businesses to hold sales, Amico said.
"It is a day set aside to honor those who fell in defense of this great nation and the values we hold dear," Amico said, before sharing some ways he feels people can continue to honor that sacrifice every day.
People can honor the fallen by remembering that they represent every region, race, ethnic group, and religious faith, he said.
"They embodied one of the great strengths of this country – its diversity, its ability to take people from other nations and assimilate them as Americans while honoring their heritage," he said. "Yes, we have to do a better job of keeping our borders safe and enforcing the current laws, but I hope we never get to the point where we slams hut the gates on what Ronald Reagan so famously called the 'shining city on a hill.' To do so would be a disservice to those we honor today."
Amico talked about the origins of Memorial Day in relation to the Civil War as families and friends of those who died came and decorated the graves of the fallen on both side in an event first known as Decoration Day. More than 100 years later, Memorial Day officially became a federal holiday in 1971.
Despite these origins, he pointed out that some people might object to honoring the estimated 250 Confederate dead buried at Huguenot Springs Cemetery and those that fought alongside them. But the study of history is complicated, he said, and can't only be looked at through a modern day lens.
"Whatever the cause they fought for, they sacrificed their all for it," he said.
Amico also spoke about the men and women who rest on foreign soil, where they went "to free the oppressed, end tyranny, and bring peace to the world."
They gave their lives so the United States could become "a more perfect union," Amico said. He challenged those listening to honor their sacrifice by shutting out the "polarizing invective of the fringe elements of both the left and the right" and being willing to accept the best ideas for moving forward, "no matter where those ideas come from."
"Let us remember that our two greatest documents – the Declaration of Independence and the Constitution – came into existence on clouds of compromise because the founding fathers realized there were more important things than themselves or their individual agendas," he said.
In addition to the guest speaker, the annual Memorial Day Service sponsored by the J.E.B. Stuart Camp #1343 of the Sons of Confederate Veterans was full of traditions those in attendance embrace every year. The event included guests signing "Carry Me Back to Old Virginny"; a special musical tribute of the different branches of the armed forces given by the Virginia Scots Guard Pipes and Drums; a laying of wreaths from various groups in Virginia and beyond, and a four-cannon salute offered by Knibb's Battery, Artillery Regiment, 1st Division, A.N. V.