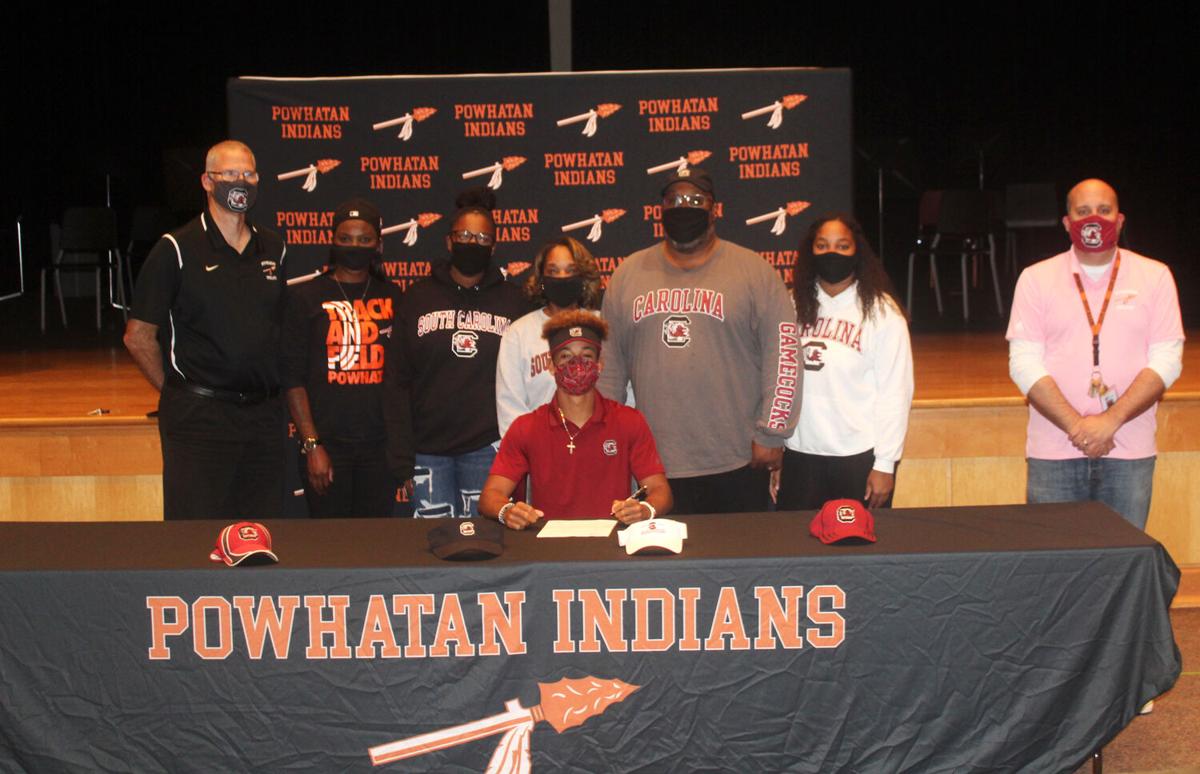 POWHATAN – Anthony Greenhow was a little nervous going up to sign his National Letter of Intent today, as he had never done anything like that before.
Still, it was an exciting day for the Powhatan High School senior. Surrounded by family, school leaders and his coach, Keilah Tyson,  Greenhow officially penned his decision to attend and run track for Division I school and SEC powerhouse South Carolina.
"This is a huge accomplishment," Greenhow said. "Can't wait to start my journey."
For Tyson, getting to see Greenhow sign "means everything."
"The hard work definitely paid off thus far."
While Greenhow had been fast in the past – he holds multiple school records and ran his way to multiple state placements in both the indoor and outdoor seasons – he turned in arguably his best timed performance this summer at Powhatan High School.
Running on the PHS track by himself with no competitors around him, Greenhow notched personal bests of 10.49 in the 100-meter dash and 21.31 in the 200.
It wasn't just that those times eclipsed his still-standing school records – it's that they also would have been fast enough to win the state championships in both events across all six divisions in 2019. Greenhow noted that his performance that day in July helped increase schools' interest in him.
It's anticipated that Greenhow, in addition to competing on South Carolina's relay teams, will run the 60-meter and 300 dashes during the indoor season and the 100, 200 and 400 events in outdoor.
Since the start of 2019, Greenhow, an All-Metro runner, has earned VHSL Class 4 state finishes of second in the 300 (2020 indoor, 34.2), third in the 100 (2019 outdoor, 11.13), fourth in the 200 (2019 outdoor, 22.25) and fourth in the 55 (2019 indoor, 6.58). Also, in his first time running against people following the shutdown due to COVID-19, Greenhow won the 100 (10.68) and 200 (21.44) at the Virginia Commonwealth Games at Liberty University on July 25.
With 2020-21 Virginia High School League sports on track to return this December, Greenhow should have two more seasons – one for indoor, one for outdoor in the spring – to try and win one or more state championships.
Coach Tyson – whom the Virginian-Pilot in 2011 said "will long be remembered as one of the greatest sprinters in Virginia High School League history" – has been crucial to helping Greenhow reach this point in his young career.
When she first started working with Greenhow two years ago, Tyson saw his natural ability and raw talent, but she also saw the need for guidance – the need for him to know what he needed to do to succeed.
"He just didn't know as much as he should," she said, "but now his track IQ is super-duper high, so I'm excited to see how his senior year will go despite all of the drama that's going on in the world right now."
She praised his aggressiveness and spoke highly of the way in which he responds to adversity now.
"I've thrown everything you can possibly throw at an athlete to try to make him break, and at this point, it's not working anymore, which is a great thing," she said. "It's something that I've always been wanting him to do, like when it hurts, it's uncomfortable, push past it, and now, mentally, he's a better athlete than he's ever been."
Greenhow called Tyson "the best coach I ever had in any sport."
"She definitely knows her stuff," Greenhow said of Tyson, who was a high school state champion herself, as well as an SEC medalist and standout sprinter for the University of Kentucky. "She knows what it takes. She's just helping me get there."
Tyson described Greenhow as "two different athletes" when comparing where he started to where he's gotten through sheer improvement.
"I think I've always been able to inspire him from an athlete standpoint because I've been there – I've been in his shoes before. I know what to say and how he's probably feeling, even though it's been like eons ago," Tyson said with a laugh. "I can also get in his head by saying, 'Man, if I get on the track and I beat you, then it's a problem,' and that usually always gives him the extra push because he doesn't want to lose to me in any way, shape or form.
"I think me having the experience, it allows him to trust me, that I actually do know what I'm talking about, so he'll execute it to the best of his ability."
As for his future coaches at South Carolina, Greenhow described them as "old-school" coaches.
"They're really good coaches," he said. "They're really good people not only just for track and field, but they will help me when I graduate in life as well – just helping me become a young man and a successful man in life."
He's kept in touch with some of South Carolina's athletes, including one jumper who gave him a tour when he went down there.
"It's a big campus, but it's really nice, and I'm really excited – can't wait to go down there," Greenhow said.
And with a smile and a chuckle, he added, in response to a question about South Carolina's track, that "it definitely is the fastest track in the SEC – I can't wait to run there."
Once he arrives in the fall, he wants to work his way up to the top while staying healthy.
"This is another chapter that I have to start," he said. "It's not the end. It's going to be even harder. I'm ready to start."