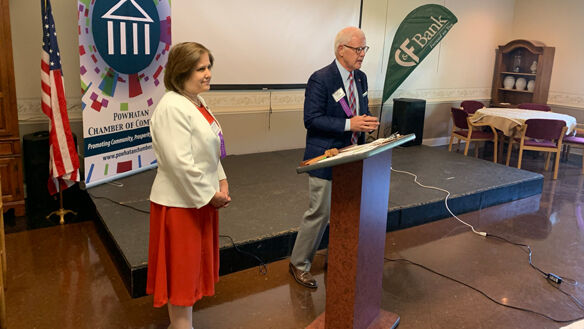 POWHATAN – Powhatan's representatives in the General Assembly recently spoke to local business leaders about what was accomplished or failed to move forward in the busy short session during a Powhatan Chamber of Commerce lunch.
State Sen. Ghazala Hashmi, D-Chesterfield, and Del. Lee Ware, R-65, easily shared the stage to talk about the recent session in a luncheon that has become an annual tradition, although it didn't happen in 2020. The chamber luncheon was held on Thursday, May 20 at The County Seat Restaurant.
Speaking for about 40 minutes, the representatives took turns touching on issues they dealt with this year, sometimes from opposing sides but still respectfully. Some of the key issues they highlighted included the increasing minimum wage, tax conformity, funding K-12 and higher education, workforce demand, environmental protections, and evictions.
Although Ware is now in his 12th term and Hashmi is in her first, both legislators agreed that the last two sessions have been a whirlwind of activity unlike any they have experienced. The issues they touched on during the chamber luncheon veered more toward business and education and away from many of the session's more high profile and controversial issues faced by the General Assembly this year.
In a setting like a chamber meeting, the legislators were sure to talk about several issues that impact Virginia businesses. One of the first issues Ware talked about was the increase in the state's mandatory minimum wage. As of May 1, Virginia's minimum wage went from $7.25 per hour to $9.50 per hour — a 31% increase.
The 2021 change is the first of three scheduled increases that will raise minimum pay for most non-farm jobs in Virginia to $11 in Jan. 1, 2022, and $12 per hour in January 2023. The goal is for the increases to continue annually until the minimum wage reaches $15 per hour on Jan. 1, 2026, contingent on future actions by the General Assembly.
Ware pointed out that the issue of the minimum wage is being discussed at the federal level as well, so many things could change in the next few years.
Education was talked about in several ways, including in relation to the increase of the minimum wage. When the gap between minimum wage jobs and jobs that require higher education, such as teaching, are being closed so dramatically in just a few years, one person was concerned it is sending a message to the latter that their efforts aren't valued.
Ware said he agreed with the need to increase teacher salaries but also pointed out the effort this year toward that goal with the state funding its portion of a recommended 5% raise for school employees. The localities are responsible for making up the difference of the positions not covered by the state.
Hashmi also agreed with the need to increase education funding and said the General Assembly has been working to restore previous level of standards of quality (SOQ) funding. For her and many others, education is a passion and a priority, she said.
In his role on the House Finance Committee, Ware was involved in discussions about the annual tax conformity legislation, which this year was hotly debated in the General Assembly. The big question this year was to determine to what extent Virginia would follow Congress' intention to provide exemptions for Paycheck Protection Program (PPP) loans.
"In the House, the preference was for a much lower threshold of $25,000. The Senate – and I will say the republican minority in the House – favored the $100,000 exemption, which I think is far more realistic for businesses who were facing what they were facing this year," Ware said.
After much debate, legislators voted to allow businesses whose PPP loans were forgiven last year, or who received a Rebuild Virginia grant, to deduct up to $100,000 on their 2020 tax returns for eligible expenses paid for by the loans and grants. Ware said he was pleased with the final decision.
One piece of legislation that was Powhatan specific allowed a reduction in the number of members who serve on Powhatan's Economic Development Authority (EDA). Ware, who patroned the bill, talked about how difficult it could be to reach a quorum, so the lower number was meant to ensure they could keep working on local issues even in times of lower membership.
Education was talked about in a number of ways, which is no surprise given both Ware and Hashmi have backgrounds as teachers. Hashmi, a former English professor and the founding director of the Center for Excellence in Teaching and Learning at Reynolds Community College, sponsored a bill to establish an Office of Education and Labor Market Alignment to align data analysis on workforce needs with high education offerings. The goal would be to provide guidance on what to expect with Virginia's future workforce development needs so higher education institutions are being proactive about providing courses of study that will create the workforce to meet those needs. The office will also help to make sure that we have effective collaboration across community colleges, careere and technical education (CTE) centers, business and economic development partners, and four-year institutions. The governor approved the bill on March 31.
"We have been caught off guard in some instances in the past where we have had wonderful job opportunities and new growth … but we haven't had the workers who were skilled and ready to take those jobs," she said.
Hashmi also spoke about her support of the "Get Skilled, Get a Job, Give Back," or G3, program that was signed into law on March 29. The program makes tuition-free community college available to low- and middle-income students who pursue jobs in high-demand fields.
The G3 program includes $36 million to cover tuition, fees, and books and provide wraparound support for eligible students at the Commonwealth's two-year public institutions.
Having worked with students for so long and knowing the issues they face, Hashmi said she was one of the patrons of the bill because she knew it would be transformative for them.
The General Assembly passed the Virginia Residential Landlord and Tenant Act to extend pandemic-era protections for renters until July 1, 2022. The bill requires landlords to offer a tenant a payment plan to catch up on back rent before pursuing an eviction. Lawmakers also agreed to expand a tenant's "right of redemption." Both chambers endorsed a measure cracking down on landlords who illegally evict tenants. It would require courts to intervene sooner when tenants file emergency petitions.
Ware, who voted against the bill in the House, pointed out that landlords with four or fewer rental units, after they give written notice, cannot begin the eviction process for 14 days. Landlords also have to notify the tenants of rent relief opportunities offered by the government or nonprofits, he said.
Hashmi said she supportive the bill because the state was facing a catastrophe of evictions in the midst of the pandemic because of lost jobs.
"When we were telling people to stay safe at home in order to put a stop or control over the pandemic, to have this massive eviction crisis on our hands was going to be counter to the efforts that we were trying to make to secure the health and safety of our people," she said.
Of the 12 bills Hashmi said she was allowed to introduce at the short session, five were focused on environmental concerns and all failed. Hashmi said she was influenced in her decision to introduce these bills by Powhatan residents who are concerned about a "megalandfill" that is proposed in Cumberland County near the Powhatan border.
One of the bills would have prohibited the construction of any new municipal solid waste landfill within 3 miles of any designated historic district, building, structure, object, or site. Another bill would have required that any application to store, provide treatment for, or dispose of hazardous waste or for a new solid waste management facility permit would have to include certification from the governing body for each locality within a 5-mile radius of the facility, other than the locality in which the facility is or will be located, granting approval of the facility or activity.
Ware lauded Hashmi for advocating on Powhatan's behalf against a "significant headwind." He also talked about how environmental issues will be, referencing efforts to the state's planned phase out of disposable plastic bags, single-use plastic and polystyrene food service containers, plastic straws and cutlery, and single-use plastic water bottles.