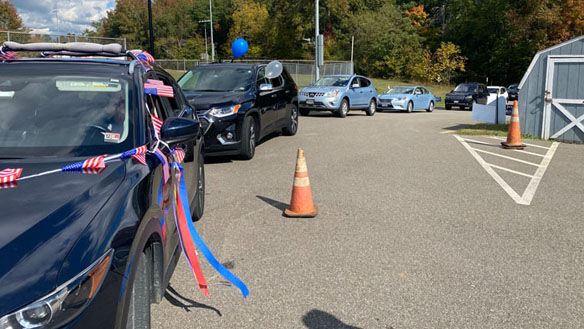 POWHATAN – Two local organizations banded together this weekend to promote the power of voting in a fun and festive way.
The Powhatan Chapter of the NAACP and the Powhatan Anti-Racism Coalition (PARC) joined together on Saturday afternoon for its first joint Parade to the Polls event.
Participants in the event met up at Powhatan Snack Shack, decorated their cars in red, white and blue, and paraded through the Village on their way to the early voting tent. About 15 cars participated in the event, which the two organizations are already talking about making an annual event.
Organizers made sure to let people know ahead of the Parade to the Polls that the event was nonpartisan and they had no intention of promoting particular candidates, said Allison Dunaway, who coordinated the event with Robert Kelly and Ronald Mack. The main goal was to encourage excitement about voting.
"We used all three colors, red, white and blue, because (voting) is an American activity, not a democrat or republican activity," said Dunaway, who is a PARC member.
Voter turnout is essential, so it important to encourage people to exercise that right and get excited about voting, said Chiara Hoyt, secretary of PARC and NAACP.
"We know more people vote when they have a plan of how they are going to vote and when they are going to vote," she said.
Hoyt added that the event was also a great opportunity for those who participated to come together and socialize. Many of the events held by PARC and the NAACP have been virtual, so this was an opportunity for them to come together as neighbors and build up a greater sense of community, she said.
Oct. 23 was the first of two Saturdays that the Powhatan Office of Elections offered for people to cast their ballots early. The tent is open from 9 a.m. to 5 p.m. on Monday – Friday, through Oct. 30, and the final Saturday, Oct. 30.
All Powhatan polling places will be open from 6 a.m. to 7 p.m. on Tuesday, Nov. 2.