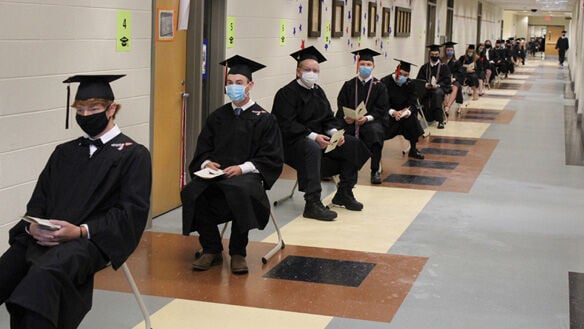 POWHATAN – Class of 2021 seniors in Powhatan County will be honored at in-person graduation ceremonies this year. What it will look like beyond that is still unknown.
Governor Ralph Northam announced on Wednesday, March 17 that K-12 schools, colleges, and universities may hold in-person graduation and commencement events this spring. He expects the preliminary guidance on how those may occur to be included in an April 1 update to Third Amended Executive Order Seventy-Two.
Graduation events held outdoors will be capped at 5,000 people or 30% of the venue capacity, whichever is less, according to the governor's office. Graduation events held indoors may have up to 500 people, or 30% of the venue capacity, whichever is less.
Attendees must wear masks and follow other guidelines and safety protocols to ensure proper distancing.
"I appreciate the work that our schools, students, and teachers have put in to get back into the classroom safely, and the efforts of public health officials and education leaders in developing guidelines for safe graduations and commencements this spring," said Northam. "We are releasing this guidance early to allow schools to begin planning for this year's events. While graduation and commencement ceremonies will still be different than they were in the past, this is a tremendous step forward for all of our schools, our graduates, and their families."
Dr. Eric Jones, superintendent, said last week's news opens up additional possibilities for Powhatan High School doing an outdoor graduation ceremony "where the Class of 2021 can be together and we can celebrate them as a group."
"We are excited about that possibility. I do not think it will help us in terms of the indoor requirements because of the 500 person capacity. We will be focusing and seeing if we are able to meet the mitigation measures in place and do something outdoors at James Woodson Stadium," he said.
Paula Ledbetter, head of schools, confirmed that Blessed Sacrament Huguenot Catholic School will hold graduation on June 5, but the school is still working on what exactly it will look like. The school is waiting to receive additional guidance from the Diocese of Richmond, she said.
In 2020, Blessed Sacrament did both a virtual ceremony and then spent an entire day doing individual graduation ceremonies in 20-minute increments, Ledbetter said.  
Powhatan High School could not hold an on-time, in-person graduation for the Class of 2020, but instead held five consecutive graduation ceremonies on July 25. Jones said he is proud of that effort and is not entirely discounting the possibility of multiple graduations held indoors because there are still so many things to plan, but he hopes the school can have a combined graduation.
"This opens up some possibilities of both outdoor and possible multiple indoor (ceremonies) and we will consult with our students and our parents and come up with the best plan we can to take advantage of this new flexibility," Jones said.
Preliminary guidance from the governor's office shows schools will have to adhere to guidelines such as posted signage; spacing requirements for individuals and groups; no food or beverage sales; no social congregation before, during or after the event; mandatory crowd control measures in place; requirements on spacing of any live music groups; queue lines with proper social distancing, and creating a guest flow plan.
The news of the governor's decision to allow graduations came on the crest of a rising wave of frustration across the state. Jones said he and other superintendents in Virginia had been advocating with the governor's office.
The advocacy started with the restrictions on 250 spectators at athletic events, which he felt was too restrictive in terms of how many parents could come and watch their students play. He sent letters to the governor and other elected representatives talking about how the restrictions treated school events differently than for-profit businesses.
"For instance, telling us that we could only have 250 people at our football game, but if somebody rented out our football stadium and held a concert there the next night, they could have 1,000 people. That just didn't seem fair and equitable to our community," he said.
Then divisions got word that the governor's office was considering graduations a social event and that they would be limited to 25 people if done indoors and 250 if done outdoors, Jones said. All superintendents were advocating for relief with that and were frustrated that there was no additional word until last week's announcement.
A committee at the high school had already been looking at different options before the governor's announcement, Jones said. They were already considering a drive-thru event like the senior celebration that was held for the Class of 2020 but adding a presentation of the diploma at the end for each senior.
"While that was popular in terms of being able to get together and show spirit and celebrate students' success, we prefer not to do that or do that in conjunction with a more traditional graduation ceremony," he said.
The drive-thru, one large outdoor event, or multiple smaller indoor events were the main options being considered before last week's announcement.
"We have heard from our students that they want to do something together as a class, which isn't surprising because it is the same thing we heard last year. That is why we waited to do the graduations until the middle of July. But we have also heard that they would like to graduate on time this year, which is all of our goals," he said.
Before last week's announcement, Jones said it felt like the governor's office was listening to the pleas about what these types of events mean to the community, but they weren't actually hearing. This was especially felt in Powhatan, where the public schools had been safely operating with about 80 percent of their students in-person since the beginning of the school year, he added.
Division leaders weren't the only ones advocating for graduations to be held. Lynn Stephens of Powhatan is a PCPS special education coordinator but is also a mother of a college senior. This spring she was part of a group of other parents across the state who began advocating for graduations to be held at the high school and college level.
The petition, which can be found at http://chng.it/vbxk59NK, received more than 2,500 signatures before the governor's announcement last week.
Stephens said when she teaches history to her students, she talks about civic duty and being the peaceful voice of change when they see something they don't like. So she started the online petition aimed at having graduations in Virginia designated an event, not a social gathering, which has much more restrictive guidelines. They also wrote to the governor's office and other legislators asking for the change.
Stephens said they were especially frustrated by the inconsistency of the governor's office allowing concerts and sporting events but not graduations.
"It is also about choices. If you as a parent or faculty member do not feel safe attending, that is your right not to attend an in-person graduation. They can make an alternative virtual graduation occur for those who don't want to attend in-person. But everybody should have the choice, I feel," Stephens said. "That is the logical facet of it.
"The mom in me comes out and it is the emotional piece of this. This Class of 2021 in high school and college have been impacted in ways that significantly altered their entire school experience. Graduation, what do we hear? It is a rite of passage. It is a time-honored tradition. These kids have been working so hard. They have endured so much. That light at the end of the tunnel is graduation," she said.
More information about the two graduations will be shared as it is made available.