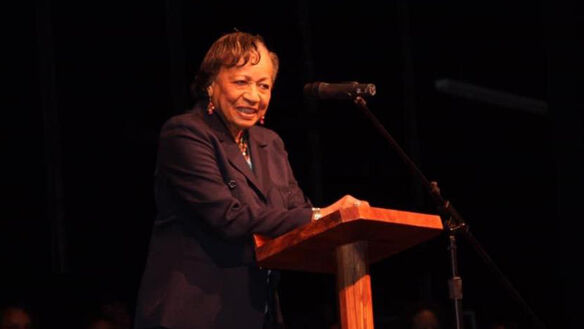 POWHATAN – Margaret Harris Manning, a long-time educator, local activist, and the first black woman to be elected to the Powhatan County Board of Supervisors, was remembered recently by friends and family for her dedication to others and to her community.
Manning, 95, a Powhatan native, died on June 2, leaving behind a legacy as a woman who felt a call to serve others, to teach, and to lead with love, her niece Cheryl Lewis Burke said.
Manning was born and raised in Powhatan and was a graduate of the Pocahontas High School Class of 1942. She left the county to attend college and then pursue a 39-year career in education. She returned in 1991 after retiring as a Richmond teacher, the last post in a long career dedicated to educating youth. About a year later, she successfully ran for the District 5 seat of the board of supervisors and became the county's first and only black supervisor, a position she held through December 2002.
Manning's involvements and accomplishments in Powhatan and elsewhere were wide and varied, but even more than the many committees and organizations she belonged to and the honors she received, she was known as a woman who genuinely loved and cared for people, whether she knew them or not.
She was also remembered for living life with gusto, whether she was competitively playing games, performing for family and friends, heading off for a lively casino trip, traveling with friends or family, participating in church events, or picking out a new pair of one of her favorite accessories – stiletto heels. She liked dressing well and always looked glamorous, her niece said.
"She was the type of woman that when she walked into a room, no matter what age she was, it was evident she was there," Burke said.
Manning was born on Nov. 9, 1925, to Octavia Wood Harris and James Harris, Powhatan farmers, and grew up with her two brothers and three sisters, Burke said.
"They ate well but financially they were not a thriving family. Their immediate needs were met," she said.
To entertain themselves, the family would put on shows on their front porch, and Manning was known for loving to entertain a group, Burke said. Church life was also an integral part of Manning's social and spiritual life all her life. Hollywood Baptist Church in Powhatan was the family church, although later in life she also went to Greenbrier Baptist Church, where she was a deacon.
The Rev. Darnell Carruthers, pastor of Greenbrier, said that when he thinks of Manning, her smile and sense of independence come to mind.
"There was an unwavering strength about her that was always coupled with dignity and an amazing grace. In many ways, she was a surrogate grandmother to me during our time together. I will always consider it one of my greatest privileges to have served as her pastor. Truly, she was an incredible soul and sweet spirit to me," he said.
From her parents Manning learned some essential life lessons that stayed with her throughout her life and were passed on to later generations, her niece said. Manning's parents taught their children the value of hard work, education, serving others, and holding their heads high.
"My grandfather, James Harris, made sure that every one of his children knew you walked like your head was extended to a string to the ceiling," Burke said. "We all learned not to hold our heads down. That is something we as people of color had to remind each other –that it is OK to have eye contact. That goes back to the history of having been enslaved. That was not always a right."
Manning was taught that if she had a concern, she should share it, and if she knew something wasn't right, she should speak up. But first she needed to do what she was supposed to do and exceed expectations, Burke said.
Manning's mother pushed for a strong education for her children, believing it was essential for people of color, Burke said. Like her older sister Octavia, Manning attended St. Paul's College in Lawrenceville, graduating with a bachelor's degree in elementary education. Their youngest sister, Gladys, soon followed in their footsteps.
Manning's career in education took her from Amelia County to Richmond City, up to Maryland, and back to Richmond, where she retired, Burke said. During that time, she worked as a teacher, in central administration, and as a math specialist. She also was an adjunct professor at Virginia Commonwealth University. Even after she retired from Richmond, Manning continued to tutor math three to four days a week.
While in Richmond, she was the president of the Richmond Urban League Guild, active with the Richmond Education Association, and a member of the Cosmopolitan Club.
In her years in Powhatan she was just as busy. She was a board member for the Free Clinic of Powhatan, active in the Powhatan Chapter of the NAACP, a member of James River Baptist Association, and attended Senior Connections and Powhatan TRIAD.
Gail Hairston, president of the local NAACP, talked about serving with the organization alongside Manning, who was vice president, and Rovenia Vaughn, who was president. She recalled how passionate they were about fighting injustice in its many forms.
Carson Tucker of Powhatan, who was a longtime friend of Manning, said she and Vaughn advocated for awareness of issues such as civil rights, affordable housing, criminal justice, and domestic violence.
"Margaret was a strong supporter of acknowledging we have these kinds of problems in Powhatan and that we have an obligation to do something about it," he said.
Former supervisor Roy Harrison served alongside Manning on the board of supervisors for her entire term. They did not know each other beforehand, but serving beside her for so many years was a joy, he said. During that time, they worked on issues such as Fighting Creek Park, bringing water in from Chesterfield, and approving the construction of Powhatan County Public Library and watching it open in 2001.
Rather than the issues they might have disagreed on, Harrison said he most remembered what it was like to work with her through the years.
"She was an understanding and agreeable individual. I thoroughly liked her. I felt special and proud that I got to know her during that time and work closely with her," he said.
Although he didn't serve on the board of supervisors at the same time as Manning, Tucker said he got to know her at first because she was his representative in District 5. They served together in the NAACP and she recommended him for several committees. An aspect of Manning's personality that always stood out to Tucker was how dignified and calm she behaved. He said he never knew her to raise her voice in anger in public office.
"She was appropriately assertive. She wasn't strident but she was very strong when she had a position. She tried to find a way forward when the board was stuck on something. She always tried to facilitate forward motion," Tucker said.
Although she was the first person of color to serve on the board, Manning was dedicated to representing people no matter what race they were and regardless of their district.
"She was full of vitality. She was always present, both literally and figuratively. She always returned her telephone calls," he said.
Manning and fellow board member Bob Cosby, who served as a supervisor from 1972 to 2011, were both mentors for Tucker through the years.
"She gave me advice or, in some cases, dressed me down when she thought I was wrong. But she always did it in such a way that I walked away from it feeling as if I had learned something rather than being insulted," Tucker said.
He added that Manning as a former educator was supportive of the school system, but she still took her duties as a supervisor seriously in keeping a critical eye to how money was being spent and asking questions when needed.
"By and large people in the county counted her among the people who could be relied upon to build a good school system over a long term," Tucker said.
Manning was married three times, the last time to Robert Nicholas Burton Jr., whom Burke described as the love of her aunt's life. He died on Sept. 18, 2005.
While Manning had no biological children, she "had hundreds and hundreds of nieces and nephews," Burke said. She cared about people, mentored them, laughed with them, engaged with them, and treated them fairly and respectfully.
When the Rev. Gregory Beechaum came to work at Little Zion Baptist Church in 2000, Manning was one of the first people he met. He said she took him under her wing, teaching him about Powhatan County and introducing him around the community.
Manning was loving but direct and loved by people throughout the community, he said.
"She didn't deal with much foolishness, but at the same time, she was very kind, very loving, and she was always willing to teach and educate others, especially young people," he said.
He appreciated how much of an advocate Manning and Vaughn were to get people – especially black people – involved in the community, whether it was local government, the NAACP, or other committees or service organizations.
The last time he saw her, Beechaum said Manning grabbed his hand and told him to keeping doing what he was doing in the community.
"She was so encouraging and I have grown to love her. She took my kids and they became her grandkids. She was so proud of them," he said.
GaElla Matthews of Powhatan and Rose Oliver of Richmond praised Manning's work with the Southern Belle Rocks Foundation, which held events aimed at uplifting young girls, teaching them etiquette, and offering positive influences in their lives. Manning was the chairperson of the group, which was founded by Pamela Cousins.
"She was always advocating for young ladies. She wanted to teach the young ladies how to carry themselves, how to be respectful, how to speak, how to walk, how to talk, and how to dress. She was very interested in any type of civic duties in the community," Matthews said.
Manning was also full of information about Powhatan and proud to share it, Oliver said.
"Anything in the community you wanted to know, if she didn't know she would find out. But nine times out of 10 she knew what was going on in the community. If anybody needed any kind of help, she knew where to go," she said.
A memorial service will be held in her honor at 11 a.m. on Saturday, June 19, at Manning Funeral Home, 700 North 25th Street, Richmond. Interment will follow at Hollywood Baptist Church in Powhatan.