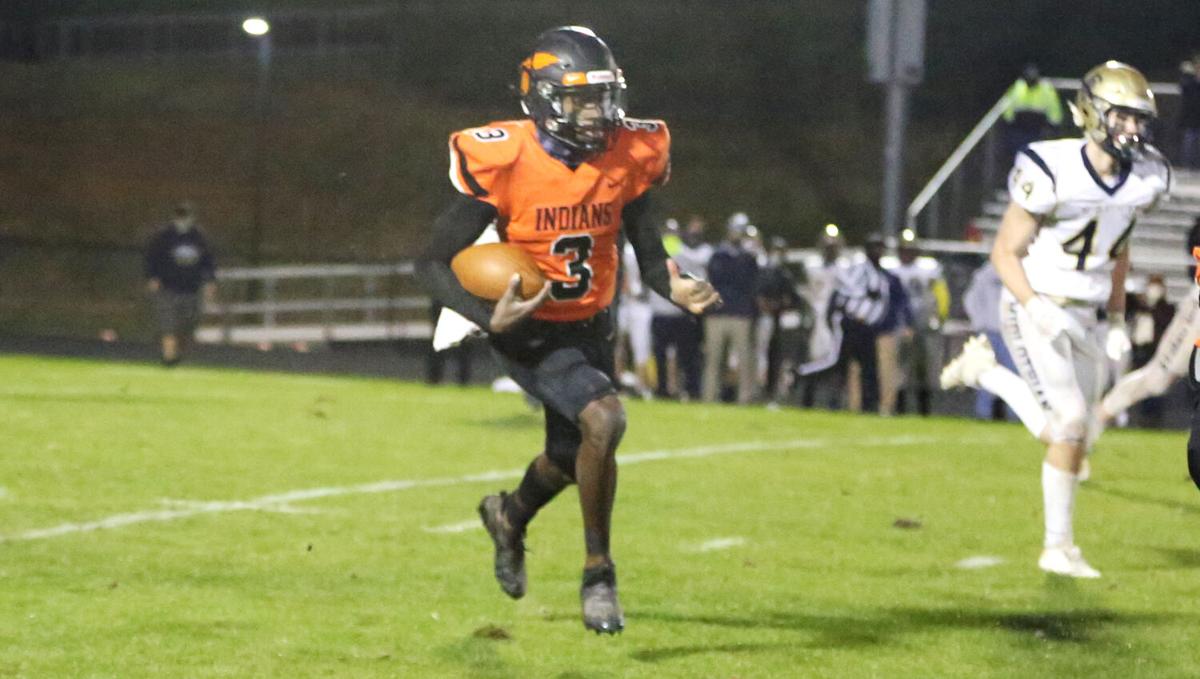 POWHATAN -- The tone for Powhatan's last game of the season was set on the very first play.
Fielding the opening kickoff from the 6-yard line, Powhatan High School senior Aaron Nash followed his blockers along the right side, turned on the jets to pick up speed through open space in the middle, faded to his left to avert the Midlothian kicker's attempted tackle and set sail the rest of the way to reach the end zone.
"That was a really good way to start the game off," Nash said of his 94-yard touchdown. "Every return that I had this year that was kicked to me, we've just had tremendous blocking, and I cannot ask for much more from them."
From there, Powhatan protected its lead for the rest of the game, denying the Trojans 20-13 to conclude the 2020-21 campaign with a record of 4-2.
"It means a lot - the last game of the season, the last game for my senior year," said Nash. "I've been around these guys for a long time, and to cherish it with a win is the biggest thing ever."
"We told the guys: The guys that you come into battle with all season long, this is why you do it...guys that you work so hard with and that you love," said Powhatan head football coach Mike Henderson. "We told them they're going to remember this game forever, and they are."
The Indians' defense terrorized the Trojans' passing game, racking up five interceptions and nabbing two of their five picks in the red zone to stop two strong Midlothian drives. Chase Gayness and Fisher Hamersley each hauled in two interceptions, and Ethan Dowdy caught one.
"We prepared all week for it, Coach (Blake) Derby put them in good spots, but you've got to give those guys credit for making plays," Henderson said. "We were confident coming in, and we were able to make the plays, so it was awesome."
Nash, taking on the role of quarterback in his final varsity football game, rushed for 73 yards and a touchdown to go along with his game-opening 94-yard kick return.
"He's a special athlete," Henderson said. "We wanted to get the ball in his hands one game where he had the ball in his hands every play of the game, and we told him: 'You're going to have the ball in your hands every play; you're going to make some plays,' and he made some for us."
Junior running back Andrew Cheatham complemented Nash in the backfield by rushing for 55 yards and a touchdown.
Powhatan's defense in the first half forced four turnovers: two on downs and two on interceptions. With his team leading 7-3, Gayness picked off a deflected Trojans pass to push Powhatan up to Midlothian's 45-yard line, and with the help of Cheatham and Nash's steady run game and a crucial 11-yard pass on fourth down from Nash to senior JaySun Carroll to get the offense to the Trojans' 4, the Indians capped the 11-play drive with a 2-yard touchdown on Nash's quarterback keeper.
The next time that Midlothian's offense touched the ball, Fisher Hamersley got the ball right back for Powhatan on an interception that he carried to the Trojans' 32.
The next time that Powhatan's offense touched the ball, Andrew Cheatham exploded off the block and barreled up the middle and into the end zone for the 32-yard touchdown.
In the third quarter, Midlothian twice started at Powhatan's 23 by nabbing two turnovers - one on an interception, the other on a fumble recovered by Zachary Phillips - but after both drives, the visiting team was held to a 37-yard field goal after Ethan Dowdy halted the Trojans' first bid on an interception in the end zone.
The Trojans got another short-field try in the quarter when they started at Powhatan's 21 following a punt. They drove to Powhatan's 4, but Gayness got in front of another Midlothian pass and took it to his chest for his second pick of the night.
Hamersley in the fourth quarter would break up a fourth-down pass to force a turnover on downs at the Trojans' 33 with about 3 minutes left in regulation. Powhatan drove the ball all the way to Midlothian's 8-yard line with 24.5 seconds left before the Trojans got the ball back via a turnover on downs. The Trojans' final drive, however, was shut down by Hamersley when he caught his second pick of the game with 7 seconds remaining.
For Midlothian, Jalen Rembert rushed for a 63-yard touchdown, and Maxx Lawton kicked two field goals from 32 and 37 yards out.
With this year's playoffs only taking the top four teams in each region, Powhatan barely missed out on making this year's postseason with setbacks this season to No. 1 Region 4B team Monacan (26-14) and No. 2 Region 5B team Manchester (28-23).
In addition to Thursday's season-ending victory over its rival Midlothian, Powhatan's victories in 2020-21 featured a 53-0 blowout of Cosby, a 16-0 season-opening shutout of L.C. Bird, and a wild, 43-42 triple-overtime thriller of a triumph over Clover Hill.
"We're tough," Henderson said. "I love this football team. I love them."
For Nash, it's meant a lot to have this season.
"I'm going to miss it so much," he said. "I'm going to miss it."