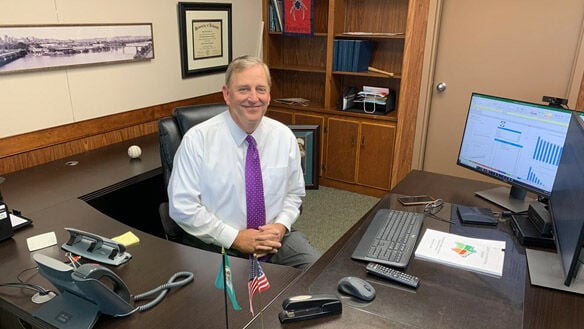 Editor's note: Since starting work as Powhatan County's new county administrator on Aug. 1, Ned Smither has had his hands full learning a new job under extraordinary circumstances. Two months into the role, Smither sat down with the Powhatan Today to discuss his first impressions of the county, getting to know his staff from a distance, and his chief role of directing staff in both day-to-day operations and accomplishing the short- and long-term goals of the board of supervisors.
On his first impressions of Powhatan County…
First impressions? Incredible people. Not only the employees but citizens. … I have been totally impressed by everything Powhatan – even something as simple as people throwing their hand up and waving at you in the car.
On becoming a county administrator for the first time …
Any county in Virginia the job is a challenge because you've got the same number of agencies within a small locality as you do in a large locality. You still have to wrestle with every issue, whether it is public safety, health and human services, finance, community development or social services.
The challenge with the smaller localities is how do you have enough staffing to cover the same amount of topics the larger localities do? That is the fun challenge of being in a role like this – to be able to get into all these other areas on a day-to-day basis.There is a lot to know about Powhatan. I need to spend the first six months getting very familiar with all areas of Powhatan.
On stepping into that first-time role during a pandemic …
Obviously the operations of the county and meeting staff and working with staff have been inhibited by COVID and remote distancing. Remote staff is causing logistical complications everybody is dealing with. To that extent, coming into an organization like Powhatan has had a few challenges, but everything is working out fine. I have gotten to know staff and had numerous conversations with staff, albeit on a remote basis.
The whole world is dealing with these new challenges, so for Ned as county administrator, my challenges aren't any different than anyone else in a COVD world. It is all about communication, being willing to listen, and the exchange of ideas that still go on in our COVID environment.
On his chief role working with the board of supervisors …
I think these five board members are very passionate about the county of Powhatan and they are all working in a direction they feel is best for the county. My job as county administrator is to provide all five of them with as much consistent and timely information as possible so they can determine what is the best path they want to take. My hope is I will do a good job with information flow and keeping them informed so they can all sing from the same song sheet.
On helping the board formulate a 10-year budget and capital improvement plan (CIP) model …
(For context, Smither worked for 17 years in Hanover and Henrico counties, including his last job as director of finance in Henrico, and 15 years as a public finance banker helping local governments issue debt and determine project affordability.)
That is one of the exciting parts I brought to the table for the board. I had the ability to develop that model so that we could utilize it on an annual basis in our financial planning.
One of the challenges in Powhatan is the fact that 92 percent of our assessed value in real estate is residential and 8 percent is commercial. The challenge is how do we provide the services our citizens expect for the least amount of financial impact?
The financial forecast model will help us anticipate the cost of those services and measure the resources we have available to pay for those services. So the board of supervisors will then be in a position to prioritize projects and determine whether the projects are affordable within that 10-year timeframe, as opposed to looking at the budget one year at a time. The CIP in the past here, and for most counties, ends up being a one-year focus and a four-year wish list. We hope to move it to make it a 10-year plan where we are fully expecting to fund the projects in that 10-year plan. … We fully plan on putting the model into place for the upcoming budget season so the CIP process will be 90 percent complete by Christmas. And in spring 2021, the board will be focused on the operating budget with the CIP impact already embedded.
On setting future priorities …
The county is getting ready to implement a new enterprise resource planning (ERP) system. It is a new operating system for all of our day-to-day operations - for county treasurer's bills, tax records. On that system, our financials and the planning information is in one system. It will be a change for all of staff and hopefully the service we provide to the citizens. It will be a phase implementation – hopefully July 2021 for the financial apart of the system, which will be payroll, general ledger, accounts payable, and financial reporting. The tax base part of the system for the commissioner of revenue and treasurer will be January 2022 going live. Every staff member of Powhatan County will do their job differently under the new system. The mechanics of doing their job will change, which will cause improved efficiency, but it will be a challenge for staff to get up to speed on the new system.
The transportation funding and planning is always a challenge in Virginia and Powhatan is no different. We look forward to some new opportunities for some funding from the Central Virginia Transportation Authority and the use of those resources to address certain transportation initiatives here in the county. That will be part of my challenge and the board's challenge. That is about $1.3 million annually but it depends on the amount of tax collected. That is the 2020 number. We have not gotten it yet. We can use that for any projects that are transportation related in Powhatan - road improvements, sidewalk improvements, access management, it is up to us. That is the way the legislation is designed. It is going to be a challenge for the board and staff because it is a resource we haven't had before and we have to prioritize our needs that we allocate that funding to. The nice part about this money coming from CVTA is we can use it for a match for SMART Scale projects. For future applications, we should score higher if we use some of this funding for local match.
Managed economic development in compliance with the comprehensive plan is a priority of the board and certainly a priority of staff.
Continued improvements to public safety. I think we have an excellent public safety system between our sheriff and our fire and safety team. They have a great relationship and we want to keep that going. They are such an important part of our operations here.
On his goal for the coming months …
I want to see the board utilizing staff information that is provided in a timely manner for all their decisions. You know when things are going well when the board is fully informed and making decisions based on hard data. You know you have done a good job based on that data. That is the enjoyable part of the job.