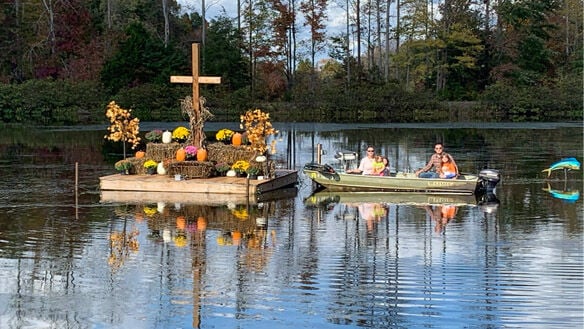 POWHATAN – A driver is traveling down Anderson Highway going west on a beautiful fall day in Powhatan County.
About a minute after passing Academy Road, there is a break in the trees. Maybe the driver knows it is coming or maybe it is a total surprise. But she looks to her right, and there on a platform in the middle of a pond is a tall wooden cross surrounded by hay bales, pumpkins, and bright mums. Nearby, a mahi-mahi is frozen in time in the arc of a jump and a fierce shark looks ready to take a bite out of someone.
It's visible for only a few seconds, but it was enough – she smiles.
That right there is the ideal scenario for Nathan and Heather Nuckols of Powhatan – bringing someone a moment of unexpected joy in the midst of his or her day without receiving anything in return.
They have only owned the 22-acre property, which includes the 4-acre pond, for about 18 months, and Nathan started building his first display on the pond in fall 2019. But even in such a short period of time, the displays have become a regular sight for commuters, adding to a long Powhatan tradition.
And as the displays have continued into 2020, they have come to mean even more to some people, he added.
"We had a lot of people reach out during the pandemic with everything going around saying they love that it is uplifting and a message of hope," Nathan said.
The displays aren't over-the-top, grandiose affairs fueled by an endless budget, although Nathan has made some significant improvements since he started with the first fall display made on a homemade bamboo raft.
But they don't have to be lavish to accomplish their purpose, as the two lifelong Powhatan residents know from experience.
Heather remembers driving westbound by the pond as an elementary student on the school bus and seeing the different fish on poles "jumping" out of the water. Back then, the property belonged to Bobby Yates.
"I looked for them every time, probably because the school bus drive was boring. It was something you looked forward to seeing," Heather said.
Likewise, Nathan, who lived in western Powhatan, remembers regularly looking for the fish when passing by the "double lakes," which face each other across the highway.
"I just love the location. It is iconic. When you talk to anyone who has been through Powhatan it is an iconic place to say they have seen the fish," he said.
The land where the pond sits passed through a few owners after Yates passed away, and the house on it was abandoned. Heather and Nathan have known for years they wanted to own the property, and when it came on the market at a reduced price in early 2019, they bought it, renovated the home, and turned it into an Airbnb called the Bamboo Cottage.
Inspired by the tall grass for which the cottage is named, one day in fall 2019, Nathan decided he wanted to do something with the bamboo he had cut down. So, he constructed a bamboo raft and decorated it with a simple fall scene with mums and pumpkins.
The raft wasn't built to last, and when it came time for his second display, a simple Nativity scene, in December 2019, Nathan built a sturdier floating dock out of wood. That display was completed by one of daughter Finley's baby dolls playing the role of Baby Jesus.
"I think I posted it on Facebook. We got lots of positive feedback. Everybody loved seeing it," Nathan said.
"They said they look forward to seeing it when they drive by. We see lots of posts of people who have gotten out of their cars and taken their own photos," Heather added.
Nathan designs and builds the displays himself, but his older daughters, Ellie, 10, and Finley, 6, help sometimes. Macy, 2, is still too young.
Nathan has built three more displays in 2020. He switched to an Easter display in the spring, complete with three crosses, one of which had a purple cloth and crown of thorns on it. This summer, he had a patriotic display with a 6-foot Statue of Liberty and the American and Virginia flags. Heather's parents found the statue in Pigeon Forge and brought it back for him. When he had an electrician wire the platform for power, the torch actually lit up and the flags could be properly lit.
Nathan gets as much joy out of seeing the finished product as people passing by, his wife said.
"He has been starting to incorporate lights into every one of the scenes, and he says 'I can't wait until it gets dark so we can see what it looks like at night,'" Heather said.
While Nathan thinks the catfish flying over the surface of the pond dates back to Yates' time, the other two are new additions. The late Mike Harris gave him the mahi-mahi to display in memory of Yates, who was his friend. This spring, Nathan traveled to Northern Virginia to buy the 8-foot shark.
The latest display arrived to celebrate fall in mid-September, and it will remain up until December, when it will be time for an expanded Nativity scene to go back on display.
While many of the displays have a faith-based message, Heather said they are not trying to push their faith on anyone.
"We like to use our faith for the float because we like to use our faith to spread joy to other people. Whatever platform we have, that is what we do – use our faith and try to help disseminate joy," she said.