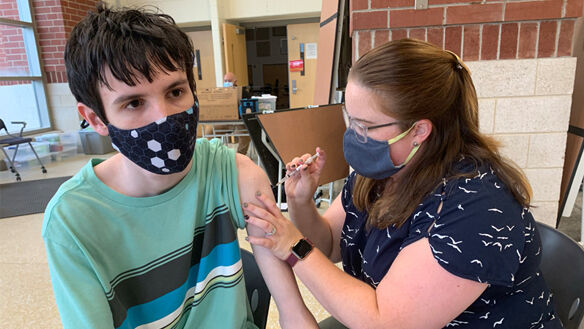 POWHATAN – Powhatan County Public Schools took another action to protect students last week when it held a vaccine clinic for local youth ages 12 to 18.
The school division gave out the first of two Pfizer shots to 184 people in a clinic on Wednesday, June 2 at Powhatan High School. The second shot clinic will be held on June 23.
After the federal and state health agencies announced on May 12 that youth as young as 12 years old could receive the Pfizer vaccine, the Chesterfield Health District reached out to the school division to see if it was interested in holding a clinic, said Lynn Clayton-Prince, assistant superintendent for special education/equity and diversity. Staff decided that was a service they wanted to provide and, with assurance the county would once again help with planning, they began reaching out to the families of eligible students to gauge interest.
Initially, 218 people signed up to receive a vaccine, but 184 actually received the first dose on June 2, Clayton-Prince said. This included 151 students and adults who also chose to receive the vaccine.
Clayton-Prince said she was surprised that more than 900 people initially expressed interest in the student vaccine and then more than 200 actually signed up.
"I figured that it would be a lot lower in the sense that parents would want to wait over the summer to determine if they wanted to get them vaccinated. I would have thought it would be lower but I am happy to see the number that we had that responded," she said.
Ahead of the clinic, the division let families know what vaccine would be available for their children and the benefits of them being vaccinated in the coming school year beyond the overall health protection and the potential benefit of moving the schools closer to a return to normal, she said.
"If they are vaccinated and they come in contact with someone who tests positive, they will not be required to miss time from sports or from other activities," she said.
As a county employee, LaToya Turner of Powhatan had already been vaccinated at a county-sponsored clinic that went well. She brought her son, 14-year-old Deric Cypress, to receive his vaccine after talking to him about it.
"I did ask him how he felt about it. In discussing it with him, we just felt the best alternative was to get it. The main thing was he felt comfortable getting it also," she said.
Robin Duty of Powhatan brought her two sons, Matthew, 15, and William 16, to the clinic to receive their first doses. Although William was eligible earlier because of his age, the family waited until the teens could get them at the same time.
"They are both traveling for a national bowling tournament in Indianapolis, and I know that is sort of a hot spot right now for COVID. We wanted to make sure they were vaccinated," she said.
Duty appreciated that the school division offered the clinic and said the whole process was easy. They also liked that the boys would receive the Pfizer shot, which carried less worry about side effects for them. She added that having had a mild case of COVID-19 that still sidelined her for two weeks, she wanted to protect against it happening again for her or her family.
William said he felt safe getting the vaccine and wanted to be part of the solution of keeping more people from getting sick.
Scott Gordon of Powhatan said he and his wife, Tammy, were already vaccinated through their work with Cumberland County Public Schools and their oldest child had received both doses as well. They were waiting to hear that younger people could be vaccinated so their daughter, Madeline, 15, was eligible and were eager to bring her to the school division's clinic.
"Madeline was the last one standing in our family who was not vaccinated, and we wanted to make sure that Madeline had the same opportunity to get the vaccination protection that the rest of us have. And she was actually eager to be vaccinated," he said.
Madeline said she was a little scared but also excited because of the freedom of movement that is expected to come with more people being vaccinated. The rising sophomore said it will be nice next year to go to school not as worried about catching the virus.