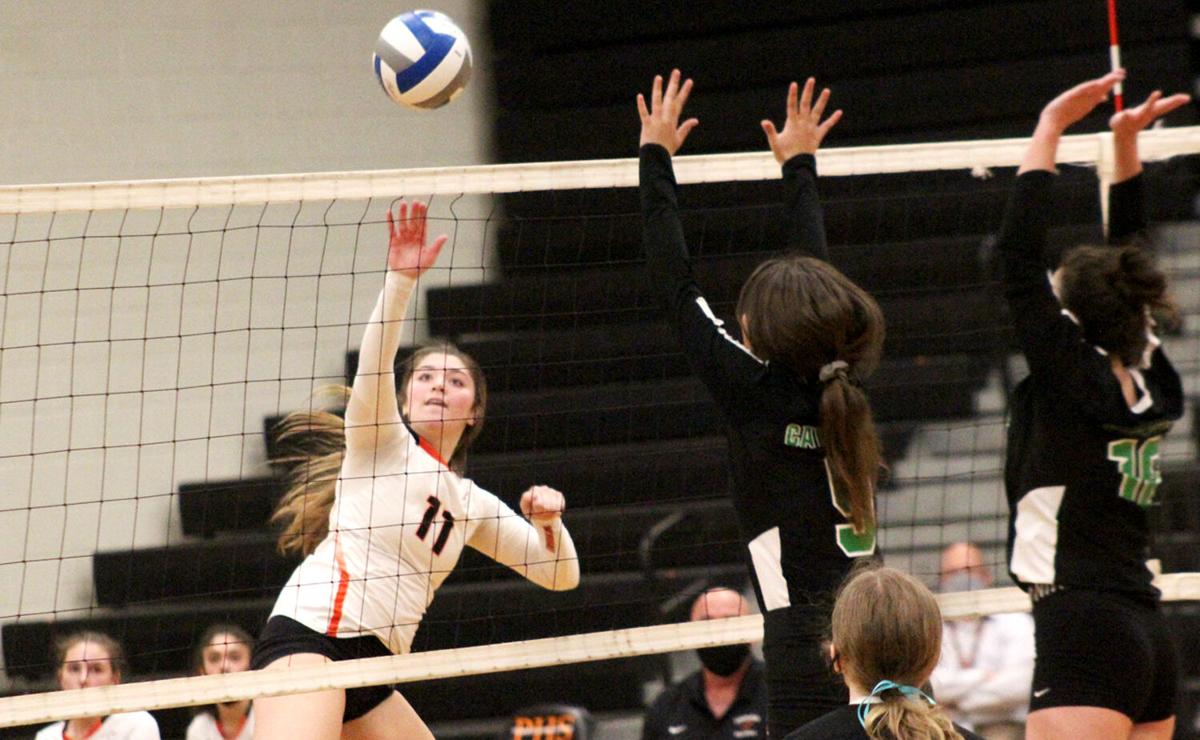 POWHATAN -- When Powhatan's volleyball team had to go on a two-week pause, senior Kenzie Urbine said they used those two weeks as a mental training period.
While the players worked out on their own, head coach Cindy Bryant sent them videos to study, and they all came together over a team group chat, through which they all sent each other photos and kept encouraging each other.
"I think that really helped us keep our bond over the two weeks," Urbine said. "We all held ourselves accountable to that, and we did what we needed to do, and now we're back, and it's awesome."
After one one-hour afterschool practice, Powhatan played its return game on Wednesday against Clover Hill: a team that, earlier in the season, took a set off of the Indians, but still fell to Powhatan 3-1.
"We just came (into Wednesday's game) and did what we did," Urbine said, "and it worked."
Powhatan not only won in its return, but it showed improvement over the last time it played the Cavaliers by beating them in straight sets (25-16, 25-23, 25-21) this time around.
"It felt great to be back," Urbine said, adding of Wednesday's win in comparison to the first time they played the Cavaliers: "We worked better as a team, and that was what made a difference."
Wednesday's win was also crucial to keeping Powhatan in the Class 4, Region B playoff conversation in spite of the two-week pause.
"We're excited to be back on the court and excited to have a very necessary win to head us into potential postseason play," said Powhatan head coach Cindy Bryant. "It's not necessarily the easiest thing to come back after 14 days off the court and play well together, and it wasn't without its moments, but they pulled it out, and they did well."
And Powhatan's goal was to go 3-0 versus Clover Hill.
"We needed to see ourselves do that," Bryant said.
Urbine and her fellow senior Natalie Mueller led the way on offense, as Mueller hammered the ball for a team-leading 14 kills and 3 aces, and Urbine, showcasing tremendous consistency to go along with her power, tallied up 12 kills and secured two of three set points on her attacks.
"My (coaches were) telling me: 'Hey, instead of swinging so hard at this ball, let's do this,' and I just took their advice and started doing that and that helped me stay on top of everything," Urbine said, "and then I knew, when the set was good, to put the ball down, and when I knew the set was off, to just swing to just get it on the court, and that helped me a lot."
"One of the big discussions we've been having…with all of our attackers is about the importance to stay aggressive, but also reduce your errors," Bryant said. "Tonight, we felt like Kenzie did that the best she has all season. She killed the ball that was the perfect-set kill ball, and then she just recycled, or hit smartly, and kept into the court the ball that wasn't, and…most of our hitters did that tonight well, and that was one of our goals coming back."
Libero Kendal McMullin had 16 digs, 3 aces, and three assists, and diving force Allie Dulio had seven digs, 1 ace, and one assist. Mueller once again showcased her versatility by adding nine digs to her strong night on offense.
Powhatan's talented sophomore class also factored into Wednesday's victory, as Chesed Russell delivered 8 kills and brought a strong presence up the middle.
"(It's) not just kills, it's smart reaction times," Bryant said of Russell. "She's bringing a lot to us for us there in the middle."
Olivia Moss moved up from JV and contributed her serving and several strong first touches on the attack-receives and serve-receives to the team's victory. She delivered 2 aces and also had four digs.
"She came up and did exactly what we needed her to do," Bryant said.
Sydney Wade, taking up the mantle of the team's leading setter this season, continued her ascension as she racked up 31 assists.
"Not an easy job to take that role on as a sophomore…it's a tough job and…we're high-expectation coaches expecting her to lead," Bryant said of Wade. "But she's doing it. It's a game-by-game, we're mentoring and training, and she's stepping up."
In the first set, the Cavaliers cut the Indians' lead from 15-4 to 18-13, but after a timeout, Wade's setter dump attack – which Clover Hill hit away on the receive – sparked Powhatan's set-clinching 7-3 run, featuring another booming attack from Mueller that the visitors bumped into the bleachers, as well as a kill from sophomore Carly Rehme that scraped across the top of the netting and hit the Cavaliers' shallow floor.
Urbine kickstarted Powhatan's second-set offense with two straight attacks for a 2-0 lead, and in a back-and-forth stanza that saw the two teams tie up to 22-22, she put away the set point, which was kept alive on a wild save by her teammate Mueller, who went to the ground and made a timely hit to return the ball in a high and powerful arch to Clover Hill's side.
The Cavaliers led 10-7 in the third set, but a kill from Urbine shifted serving duties to Powhatan's Emilie McDaniels, who served for 7 straight points. Russell had the final go-ahead point of the evening when, without hesitation, she slapped a teammate's reflexive return of a Clover Hill attack back over the net and into the Cavaliers' shallow open court for an 11-10 Powhatan lead.
Clover Hill would stay close for the rest of the set, getting Powhatan's advantage down to 23-21. But a Cavaliers' serve hit the net, and on set point, a Clover Hill player, on a low dive, punted Urbine's attack to her left and across the floor, sealing the straight-sets victory for Powhatan.
Powhatan (5-2), who could possibly move on to the playoffs, will close out the regular season today at home versus L.C. Bird at 4:30 p.m.
"Even though we had our two weeks out where we missed a lot of our big games…knowing that we can still move on is amazing," Urbine said, "because we didn't think that we were going to have that opportunity, and we kind of thought, 'Oh, our season's going to be over,' and then to hear that, it just kind of brings more happiness and makes us all more excited to be on the court."
"We've been having some very frank conversations during this time with our volleyball players that, if we make it in there, it's a gift to us," Bryant said, "and we have to go – we're obligated to go and represent for Patrick Henry, and the energy that they displayed on the court and the sidelines tonight…we have been telling them we've got to rise and do that. We have got to have a team energy that's different from what we've had to this point, and you've got to be a difference-maker on the bench…
"Tonight we saw a taste of that, and so we are super excited, because that's going to go a long ways," Bryant said. "Again, Patrick Henry has modeled that for us. I as a coach value that, and I'm saying we're going to represent that if we get this opportunity."