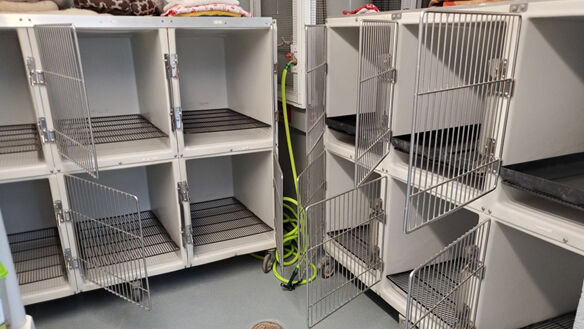 POWHATAN – Being an empty nester, even for a short time, was a great feeling for the Powhatan Animal Control staff.
On Tuesday, April 20, a hound named Dudley and a Beagle named Paprika walked out the door of the shelter with their new families to go to their forever homes. With those departures, the animal shelter experienced a phenomenon Sgt. Christine Boczar, lead animal control officer, said she has not experienced in her 15 years with the sheriff's office – no animals in their care.
"It is amazing knowing that not only do we not have to euthanize anything that is here but everyone got a forever home or was placed in a rescue looking for a forever home," she said.
Staff used the time with completely empty cages to clean the shelter, she said.
"They are power washing cages as we speak so we can do a deep clean," she said on April 20. "Other than that the shelter is pretty updated at this point."
Boczar pointed out that the shelter has been completely empty on one other occasion, but that was for a maintenance issue. The shelter still had animals in its care; other people were watching them.
The number of animals in the shelter has been lower than usual because of the pandemic, Boczar said. In 2020, the shelter took in 299 animals, compared to 335 in 2019.
In the last month, they had taken in about a dozen dogs, three cats, two birds, and a ferret. All of them were either claimed by their owners, adopted into a new home, or sent to a rescue group to help find a new home, she said.
Part of what Boczar thinks is contributing to the lower numbers is that people have been home more during the pandemic, so animals aren't getting out and wandering off at the same rate and families are taking in animals since they won't be alone all day.
In talking with shelters in other jurisdictions, numbers seem to be low across the board, she said. If a shelter needs help dealing with an excess of animals it will often reach out to neighboring localities, but she hasn't noticed that being a need lately.
"I think it is probably going to stay low for a little while. I think people have just rearranged their 'normal,' " Boczar said.