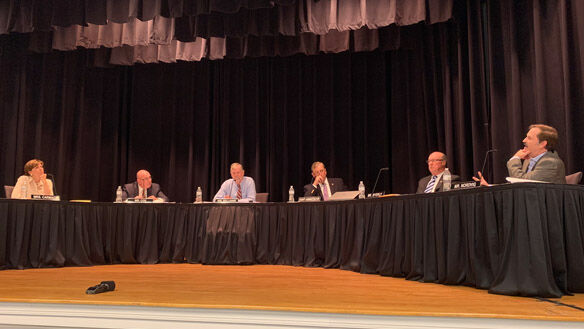 POWHATAN – The Powhatan County Board of Supervisors was divided last week in it is decision to eliminate single cut subdivisions from county ordinances.
During its meeting on Monday, Sept. 28, the board voted 3-2 in favor of removing the capability of property owners to create previously allowed single cuts out of the zoning and subdivision ordinances. The decision was timely with the discussion the board continues to have about tightening up how the county can be developed.
A single cut subdivision involves the division of a parent tract, which is a parcel platted prior to April 18, 1988, that has not been divided or changed. County code previously allowed an additional lot that was at least 2 acres in size to be created as part of a single cut subdivision. In most other instances, except for family subdivisions, the minimum lot area within the Agricultural-10 (A-10) zoning district (where most singe cut subdivisions occur) is 10 acres.
Chairman David Williams, who represents District 1, Bill Cox, District 4, and Karin Carmack, District 5, voted to eliminate the single cut capability. However, they added language to grandfather anyone who was currently going through the application process and completed it by Wednesday, Sept. 30, allowing nine applications to be completed before it took effect. Larry Nordvig, District 2, and Mike Byerly, District 3, voted against eliminating single cuts.
Despite a robust debate on the topic, discourse stayed civil overall until just before the vote, when the board members in favor of eliminating single cuts suggested the amendment for the grandfathering language. When staff read prepared language, an upset Nordvig questioned why it was not dispersed to all board members. He insinuated the decision "was in the can" with himself and Byerly on the outside.
Williams said he alone had staff prepare the language in case it was needed, and Cox and Carmack agreed they hadn't seen it before the meeting. But Nordvig retorted with "sounds good, smells bad." Discussion continued for a few more minutes before the vote was taken.
In addition to a spirited debate among board members, the topic, which took up more than an hour and a half, also saw eight people speak during the public hearing held on the ordinance change. All eight people asked the board not to eliminate single cuts.
Most of the residents talked about the elimination taking away property rights and a useful tool for residents who may need to sell off a portion of their land because they needed money for issues such as a bad crop year or a parent needing nursing care.
The residents argued: eliminating flag lots previously already helped decrease single cuts; land is a farmer's investment for the future and the county is trying to micromanage that investment; questioning the need and timing of the change; the county can't make all of its decisions based on a theoretical worst-case scenarios; it would eliminate charitable donations of land used for nonprofits, and there was no visible support of the change.
While single cuts might have once been used chiefly as a tool to help landowners who needed money but didn't want to sell large swaths of land, more recently it has been used by developers as a way to not have to cut off 10 or more acres of a property in the A-10 zoning district, Carmack said.
"I believe historically there has been a basis of that where the farmer didn't do well on soybeans and he needed to cut 2 acres off. But as of more recently, it has been a tool used by local builders. If we are going to do that, let's just have the honest discussion of how we want the development to happen," she said.
Powhatan has 136,200 acres in the A-10 zoning district with the average lot size being 17.85 acres, Carmack said. Of those, staff has no idea how many of these are parent tracts that would be eligible for single cuts because doing a title search on all of those properties would be too time consuming.
With that huge unknown on the horizon and the board and staff trying to better control how the county grows, leaving the door open for so many smaller, nonconforming developments to pop up all over would be, as one staff member has poitned out in the past, "death by 1,000 cuts," she said.
Staff provided the board with a map of the county showing how many single cut applications were received by year: 15 in 2016; 13 in 2017; five in 2018, and three in 2019. As of the meeting date, the county had 12 applications, but nine of those were done in the month of September after notice had gone out about single cuts possibly being eliminated.
On the opposing side, Nordvig sided with the residents, agreeing that single cuts could help people dealing with life events who don't want to sell large portions of their land. People who have invested in the land need to have that legacy respected. For many it is their retirement fund, or "dirt 401K," he argued.
Nordvig also argued fervently that eliminating single cuts took away their property rights by essentially not letting them use their land as they wanted.
"Although I am in favor of keeping Powhatan rural, I think this is overstep," he said.
If Powhatan wants to stay rural, why would it provide a pathway to cutting rural preservation areas into smaller and smaller pieces, Cox asked. He argued against assertions made in favor of single cuts, saying they are a justification to allow legal non-conforming lots; previous sales show they are not a tool for creating affordable housing; they do not provide diversity of homes since they are all single-family homes, and eliminating them does not take away property rights.
Cox asked county attorney Tom Lacheney to lay out what the U.S. Supreme Court has said about property rights, "which is that you have a right to a beneficial use of your property" not a right to develop or subdivide it.
Byerly returned to the issue of the unknown number of parent tracts, pointing out how important of an issue it was to many residents who consider their land a legacy and an investment. He acknowledged there were valid points for both keeping and eliminating single cuts and recommended finding a compromise. He said he didn't think 100 to 300 extra pieces of property would take away the county's rural atmosphere. He asked the board to look at more options than straight elimination, including restrictions on the single cuts such as how long they must be owned or how much residual property must be kept in the parent tract.
Byerly also questioned why the county was even considering the cuts, saying "we are spending a lot of time on it when we don't have the time to invest and find out how many parcels there are in this county that are parent tracts."
Several times, Williams pointed to staff as the zoning experts and asked them why they recommended this change. Bret Schardein, assistant county attorney, said that in the life of the county's comprehensive plan and looking at its vision for how Powhatan grows, single cuts do not represent a good planning tool "because we have no control over it. The public has no say in where these things are, what they look like, or how they are landscaped - those things we hear every single month are important to the county and are top priorities in our comp plan."
Discussion continued on single cuts for another 30 minutes with the board touching on a few more topics, including problems with conflicting language within the subdivision and zoning ordinances that needs to be addressed; how the planning commission advertised notices for the change; and good general planning practices.