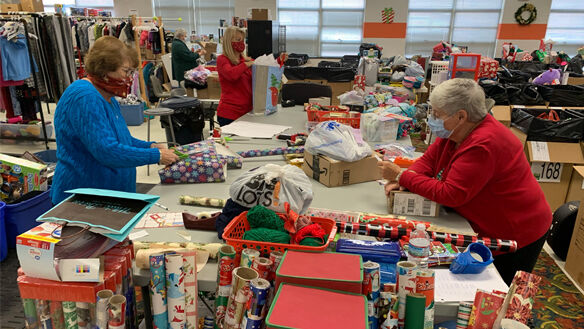 POWHATAN – The Powhatan Christmas Mother Headquarters was as busy as Santa's Workshop last week as volunteers worked to put the finishing touches on this year's Christmas offerings.
With clients scheduled to pick up presents on Dec. 8 and 9 and the final presents being delivered on Dec. 11, the headquarters has been a hive of activity the last few weeks preparing for the final push getting the presents out the door, said 2020 Powhatan Christmas Mother JoAnn Woodson.
Woodson, whose husband Jim is the Christmas Father, was overjoyed as she talked about the amazing last few months in their roles despite the restrictions caused by COVID-19.
Chief in her praise is the volunteers who make the Christmas Mother program possible by putting in countless hours processing applications, buying gifts, wrapping, sorting, and more. The Powhatan Christmas Everyday Committee is a force to be reckoned with and they know how to make Christmas special for people, she said.
Woodson said she lost count of the times she was told not to worry, to enjoy her time as Christmas Mother, and that they would tell her what she needed to do.
"They all said that – 'we'll tell you what to do.' And they do and then we just do it and it works," she said with a laugh.
Woodson also praised her husband, who has been a great Christmas Father who jumped in with both feet. She is balancing work, family concerns, and her Christmas Mother duties, and when she has to focus on one, he has stepped up in the other areas to help lighten her load.
"I have not done this by myself. He has been 50% of all of this so I have to give him credit. … He has been invested in this. I don't think I could have done it unless it was a partnership," she said.
Like most Christmas Mothers, JoAnn Woodson was new to the organized chaos of the program, and she has been amazed to see how it all works. Sitting in Christmas Mother Headquarters with Christmas music playing and shoppers excitedly talking about fulfilling the orders and wrappers working to make them look beautiful, it is a completely joyful experience, she added.
"It is like this atmosphere of this is what Santa's Workshop is really like. It is very festive and filled with love. It is just very bustling and happy and everyone is very into what they are doing with their whole heart. There is no politics or even talk about the weather. It is all about getting these families what they need with a lot of love," she said.
The happiness of the volunteers in making Christmas special for so many people magnified Woodson's excitement coming into this week.
"I am excited. I think I am going to bring a tissue box," she chuckled.
Having another Christmas Mother season successfully coming to a close is always a proud moment for the group, but it is especially so this year as they have had to make so many adjustments to make it work, said Mary Harrison, publicity chair and Christmas Mother 2006.
The differences started with the application process, which couldn't be done at the library in person, as it is usually done. Instead, it was all done through the mail, she said. Once the application process was through, the approved applicants' requests were given to volunteer shoppers, local churches, and families to fulfill their needs as usual.
However, the impact of the pandemic has been felt in other ways on the program. The Woodsons' schedules would normally have been packed in the last few months, starting with the Labor Day Parade and going on weekly as they visited civic organizations and clubs to raise awareness and funds for the Christmas Mother program, Harrison said.
"We had several groups want to honor JoAnn and Jimmy by doing either a tea or an evening event, but it just wasn't possible to do them this year," she said.
The one exception was a Spaghetti with Santa fundraiser held Nov. 30 at Four Seasons Restaurant, which was successful and fun while still meeting social distancing guidelines, Woodson said. The event included an opportunity to take a photo with Santa Claus.
Despite the lack of in-person fundraisers, the community has still been extremely generous this season, with the program already at $34,000 toward the Woodsons' $40,000 goal.
The group had to put restrictions on themselves as well. They set a limit of people who can be in the headquarters working at one time, and they have to wear masks.
"We can't hug each other and we are not standing close to one another. It is not as jovial as usual, but it is determined and focused and we have found ways to serve those in need at this time," Harrison said.
In addition to the presents, clients will also receive COVID kits with personal protective equipment that was paid for using a CARES Act grant.
Despite the restrictions and changes organizers had to make, Woodson said she has felt good about everything the program has accomplished this year under trying circumstances. She added she doesn't feel like she has missed anything.
"The people that have come before me said 'well you didn't get to do this and you didn't get to do that,' but I feel like I am experiencing all of the excitement and the cheer and the festive feelings. It comes through. COVID can't stop that," she said.