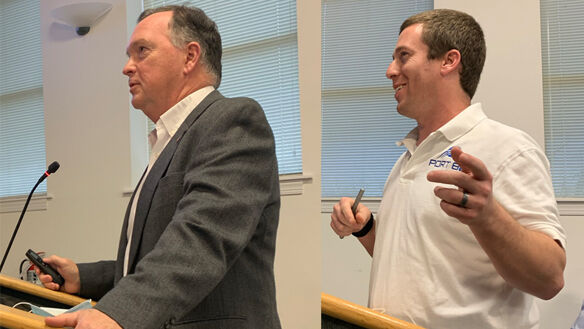 POWHATAN – Powhatan County is expected to substantially increase broadband connections for its residents to build on recent victories, but the level of connections that may be possible is dependent on some upcoming news.
The Powhatan County Board of Supervisors held a workshop on Tuesday, March 23 focused entirely on broadband initiatives, which included one currently underway and other options being explored to make more progress in increasing connections in the county.
The biggest update came from Firefly Broadband, which the county has been partnering with on efforts to increase connectivity in the Western end of Powhatan. Several plans were laid out that show how the county could work toward bringing those connections.
The board also heard an update on the progress made by Hosted Backbone LLC to lay infrastructure in a county-led broadband project and Port 80, an internet provider, to hook up customers.
At the end of the presentations, the board members expressed appreciation to the internet providers and excitement about the projects they described.
Bill Cox, who represents District 4, said it is "daunting still but exciting to feel like we are actually beginning to move."
"All we found were barriers for so many years. Everywhere where we turned was another barrier or a failure or a defeat," he said.
Mike Byerly, District 3, reaffirmed the board of supervisors' commitment to bringing broadband to unserved residents and thanked the internet providers for helping them accomplish that mission.
However, he clarified that while the board will do the best it can do, "all we can do is the best we can do. We don't control everything that happens, but we are going to put our best foot forward collectively as a board."
Firefly Broadband is a wholly-owned subsidiary of Central Virginia Electric Cooperative that was formed in 2018 to address the very real need they saw for people to have broadband access, said Gary Wood, Firefly president and CEO. Firefly has been working with localities across Central Virginia to create broadband projects, including Goochland and Cumberland counties.
Today, the company has 7,600 subscribers, but Wood said they estimate they will have 15,000 accounts by the end of 2021.
In December 2020, through its partnership with Firefly, Powhatan was awarded FCC Rural Digital Opportunity Fund (RDOF) Auction funds worth $1.75 million. The amount, which will be paid out over 10 years, will serve roughly 1,300 homes in Western Powhatan, Wood said.
But while this is good news, the word his company and county staff are hoping to hear will come with the results of the latest round of the U.S. Department of Agriculture's (USDA) Rural Development Broadband ReConnect Program.
Powhatan County and Firefly had previously applied for a ReConnect grant but the application was denied last fall because they forecasted an "overly optimistic" take rate of 50% of homes in the impacted area choosing to connect, Wood said. That original project proposed to lay 140 miles of fiber to reach about 1,650 locations, which could be homes or businesses. The cost estimate for the project was $9 million.
The partnership resubmitted its application in December 2020 for a much smaller area but still used the same take rate because they believe the desire is there in Western Powhatan for homes to be connected, he said. Since COVID-19, any time Firefly has come to an area, the sign up rate was always a minimum of 50% to 60% and sometimes as high as 75% when they first start. The take rate only increases over time, he added.
Because of the RDOF funding the county already knows it can count on, Wood said that if they also receive the ReConnect grant, he believes they can cover the same footprint that they submitted in their original ReConnect application.
Being awarded the ReConnect grant is the ultimate goal – the one Wood called Plan A – because it provides most of the funding to take them to the maximum amount of coverage area. The news of whether the ReConnect funding was approved should come out soon, Wood said, but he wasn't sure when.
"I hope it is a positive response. If so that, combined with the Rural Digital Opportunity Fund, will get us a long way toward being able to serve that entire footprint," he said.
Even if the ReConnect grant is successful, Wood said they would probably still apply to the next round of Virginia Telecommunications Initiative (VATI), which extends broadband service to currently unserved areas. VATI funds will allow some level of state support in areas that received RDOF funds.
Wood explained that the state recognized the FCC's RDOF auction offered less funds than in recent years and additional support would be needed. He also pointed out that while any project built with the RDOF funds would have to be completed in six years, the actual fund distribution will be spread out over 10 years.
"If you are trying to build you like to have your grant money up front to offset your capital costs and not get it eight years from now, get another check," Wood said.
He pointed out that Firefly is only two years old so it doesn't have the capital to start the build despite having promised RDOF funding without other sources.
Wood also offered federal CARES Act funding and a federal infrastructure grant as other possible avenues to pursue if necessary.
He said that if the partnership receives the ReConnect grant on top of the RDOF funding it got in December, it would be within $1 to $2 million of what Firefly needs to serve the original footprint.
If the ReConnect grant is awarded, after filing necessary paperwork and doing an environmental review, which can take three to six months, construction could probably begin in late fall.
If the county does not receive the ReConnect grant, Plan B is to look at the RDOF area, which is mostly served by Southside Electric Cooperative, and the northern part of Powhatan County, which has roughly 300 Dominion Energy customers, Wood said.
While he doesn't know if the electric companies would be interested in partnerships, Firefly has made contact on the subject, Wood said. One option is to talk to Southside about using its overhead infrastructure to reduce time and costs.
"If not, we may look at doing underground construction in their area. Underground construction is more expensive. It costs 50% and often twice as much as overhead construction. So to cut your cost you can go overhead, but if things don't work out for us to get a cheaper overhead solution with Southside, we may have to go underground because we can move faster," Wood said.
He also talked about asking the board of supervisors to consider signing a memorandum of understanding (MOU) for a partnership with Dominion Energy if that became an option.
In this partnership, Dominion would build the "middle mile" fiber and Firefly would make the connections to the home, Wood said. Having an MOU from the supervisors saying they want to be part of the partnership would allow for a study to be conducted on what it would take to build fiber in the relevant areas of Powhatan.
This study would look at both what they need to get in terms of grant funding and where they would pursue those funds. If Plan B is successful, construction could likely begin in 2022, Wood said.
If the ReConnect grant is successful, Firefly would not use the Dominion project and would pull Powhatan out of the regional study it is already doing with Dominion in other areas and move forward with the ReConnect grant.
Evan Weiner, Port 80 managing member, gave the board an update on its progress on a county-led broadband project that saw fiber laid in parts of Districts 2, 3, and 5 with concentrated areas of homes.
The construction work on the project, which was funded with some of Powhatan's CARES Act money, was done by Hosted Backbone LLC between September 2020 and February 2021. The company laid 28 miles of fiber during that time despite incredibly cold and wet conditions, he said.
The Hosted Backbone project saw the county using $859,945 in CARES Act funds in two phases to reach 407 homes in the county, according to John Wood, the county's IT director.
Port 80, which started as a wholly-owned subsidiary of Hosted Backbone but has now split off into its own entity, is the internet service provider that is now completing the project by connecting customers, Weiner said.
Customer hookups started in fall 2020 and will likely continue through summer 2021, with roughly 20 to 30 new homes a week hooked up with broadband service, Weiner said. While he didn't share exact numbers, he added that, of the citizens who have expressed an interest in the project areas, the company has fully completed and brought online 34% of those new customers.
"We are really proud of what we have accomplished in just six months," he said.