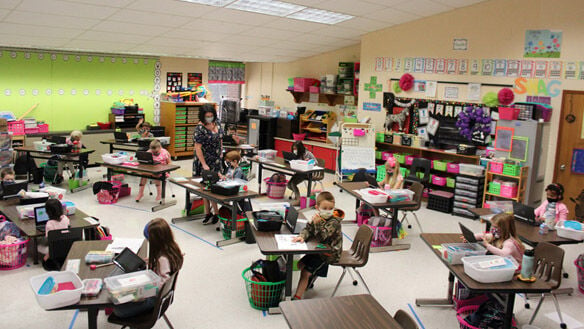 POWHATAN – Powhatan County Public Schools is calling the planned transition that recently saw 968 elementary students heading back to the classroom five days a week a critical step forward for the division.
Three weeks after PCPS opened for the 2020-2021 school year, all pre-kindergarten through third-grade students who were on the hybrid model transitioned from attending classes two days a week to five. The younger students were identified as the ones most in need of being taught in person as foundations are being laid.
Pulling off the transition took a huge amount of planning and hard work and continues to be a fluid situation, but the overall experience went "swimmingly," said Tracie Omohundro, assistant superintendent for instruction.
"While I said it went swimmingly, it didn't mean that there wasn't some anxiety from some of our teachers. They were nervous," she said. "They are very committed to the health and safety of their students and knowing how well it went in those first three weeks and the way they were distanced and able to practice protocols and things like that, they wanted to make sure they could equally provide for the students when they came back fully face to face."
Educators are constantly re-evaluating procedures to balance the need for creating an engaging learning environment and following health and safety guidelines to protect staff and students, she said. Whether it is school meals, physical activity, class sizes, transportation, or planning ahead, it is a process of slowly adding back ways to enrich and enhance the school day for students.
Because of the need for social distancing in classrooms, many rooms that would usually have a mix of seating options were reconfigured to have students sitting at standard desks, Omohundro said. To fit all of those desks spaced 6 feet apart, teachers had to purge their rooms of many furniture items to reclaim the space.
Collaborative tables and groupings of desks won't happen for the foreseeable future because of social distancing, she said. Teachers miss setting up stations in their rooms that promote movement and children doing hands-on activities, usually together.
"Now that they have 18 individual box desks set up for them it just feels different. I think that has been hard for some of the teachers to see it that way. But when you walk into the classrooms, it has been phenomenal to see that the kids have adapted fully to it and that they are still able to engage even though they are sitting in somewhat regimented rows and spaces," Omohundro said.
Jill Dewey, first grade teacher at Powhatan Elementary, was able to keep tables instead of fitting desks into her room. She said she recognizes she is very fortunate, having a class size of 13, which is on the low end for her grade level, in terms of managing student movement. It is also significantly less than some teachers in other grade levels, where average class sizes are closer to 16 or 17 in pre-K through third grade classes and 22 to 23 or higher in fourth and fifth grades (which are still on the hybrid model).
While some adjustments to her room were made, it was more in line with moving furniture against the walls that used to help create smaller specialized spaces within the room. Dewey said she also didn't have as much furniture that had to be moved out because she had pared it down the previous year to make room for more flexible seating options.
"I am aware that there were a number of teachers that needed to remove quite a bit of furniture to make room for the number of desks and students and accommodate 6-foot distances," Dewey said.
A good deal of furniture had to be moved out of Skylar Toth Hill's third grade class at Pocahontas Elementary, and she is adjusting right along with her students to having desks instead of tables and special stations. With 15 students in her class, Hill said she is basically right at her comfort level as far as class size in the space they have.
"In my room I don't see how I could keep them 6 feet apart if I had 18 or 19. We would to go down to 3 feet apart, but they would always have to wear their masks," she said.
Once the individual desks are in place, the question then becomes, how do you get antsy little bodies to stay in one place all day? The first few weeks were a big learning curve as they explored that question both with small everyday actions and planned physical activity, Omohundro said.
For instance, students have been eating snacks and lunches in their classrooms, although they are starting to allow more students to eat in the cafeteria, she said. When disposing of trash, should students take it to the trash can themselves or have someone pass by to collect it? Teachers faced with these scenarios have to figure out what works best for them, she said.
Enriching activities are a vital part of a student's education but they come with risks. To help reduce some of the risk, resource teachers such as art and music come to the classrooms instead of the students coming to them, Omohundro said.
"We are exploring different things kind of in baby steps just to make sure that we can continue to meet the safety and health protocols but also give students more opportunities for potential movement throughout the school day," she said.
Omohundro said she has heard repeatedly from teachers that they appreciated the transitional first three weeks to work on routines with smaller groups. Certain actions or activities that seemed to slow the pace of a day down even in smaller groups usually got easier and faster with repetition, and they have built on those foundations now with all the students together.
She also frequently heard that the smaller class sizes to start allowed the teachers to get to know the personalities of individual students more quickly.
The first three weeks allowed Dewey to connect with students, establish rules, and understand the process before she had her full class. She was excited to come back to the classroom, saying working from home during the spring, she only felt like half a teacher.
Dewey was nervous to start the new year but said teaching summer school let her dip her toe in the water. However, it was her her students this semester who helped allay her fears the most.
"The children came in and did exactly what we would want. They wore masks. They stayed away from each other. They understood the rules. They were role models, all of them," she said.
At the same time, because the social distancing standards are so opposite to the normal behavior of 6-year-olds, who she called "little bitty space invaders," regular reminders about certain procedures are necessary regardless of class size, she said. It could be something as simple as them taking a drink and forgetting to put their mask back or walking with their head down and bumping into another student when the line stops.
Going into the new year and starting it while pregnant, Hill was also nervous about how she and her students would deal with the new guidelines. Her feelings almost immediately began to shift in the first week of school from nervous to more excited, in part because she felt the division was taking the cleaning measures and social distancing protocols seriously. She was also just over the moon to be back in the class with her students.
"There is not a day a child doesn't tell me how happy they are to be in school, so I know they missed being here," she said.
Like Dewey, Hill agreed it was great having the first three weeks to get to know her students better and review classroom protocols before having a full class. It was also a needed transition time for Hill. For the last two years, she has been a team teacher who focused on language arts while a partner teacher focused on math, science, and social studies. This year, they are not team teaching to avoid cross-contamination in the rooms, so this is her first year teaching all subjects.
"I have more planning to do on top of new procedures. I feel as if our team and the school have really come together and collaborated and communicated amongst the grade level really well so it doesn't feel like I am overwhelmed and I can't do it," she said.
One of Hill's big challenges in the current setting has been keeping students engaged when they are in the same setting for most of the day. When eating lunch and doing resource classes like art in the classroom and not getting recess time until the end of the day, it can be a struggle for the students, Hill said.
She works in movement breaks that see them standing next to their desks and doing activities such as dancing while maintaining social distancing and wearing a mask. She also changed snack time, which used to involve students snacking while they worked, into a social time where they could eat and talk.
"They need to get up and take those breaks. They need to have a moment to talk to their friends 6 feet apart," she said.
At first recess was one of the hardest departures from what a traditional school year looks like, Dewey said. Children can only play with the students in their classroom instead of several classes coming together, as they have in the past. For the first few weeks, the playground equipment was also off limits.
Omohundro said last week they have heard the input about recess and it will continue to evolve. Administrators were exploring ways to open up the playground equipment for student use because they do realize that is an important component of a young child's day, she said.
Dewey said she was thrilled to learn on Friday that children could use the playground equipment during recess starting Monday.
Omohundro touted how creative the teachers have been about working movement into the day. She recently visited a Pocahontas Elementary preschool class where children were doing yoga in their classroom and were completely engaged.
It should also help that the gyms, which weren't open in the first three weeks, were opened again starting the week of Sept. 14. Small pieces of tape mark the floor to show how far apart students need to stand as they do exercises.
The transition was an important part of easing students and teachers into a routine, but having the younger students all back together makes it easier to assess where students may have experienced gaps or slides after school closures in March, Omohundro said. Instructional coaches have begun assessments to identify students who need additional supports or possibly instances where adjustments need to be made on a larger scale to core classroom instruction.
"By having the students in here daily, that allows us to get more students tested so we can make those adjustments sooner rather than later," she said.
While figuring out the logistics of having all of the pre-K through third-grade students back in classes was a huge undertaking, safely getting them there was just as tricky. Omohundro praised Brian Bartlett, interim director of transportation, and his department for working so hard on bus routes and making sure the buses are cleaned properly between runs.
In the first few weeks, many parents were comfortable driving their children to school two days, but once they were going back five days a week, the parents decided to have them ride the bus, she said. This involved not only extra effort at the division level but having the bus drivers work with parents to get routes and pick-up times straight.
The carpool lines didn't exactly double, but they did increase significantly on certain days, Omohundro said. She praised the school resource officers, who, aided by road deputies, managed the carpool traffic those first few days.
"If people are changing their plans for the buses, they certainly always have a right to ride the buses if they are sending their kids into school. But it does help us if they are making a change for them to contact their usual driver and let them know," she said. "Similarly, as we look at opening up potential for additional grade levels for schools that may open for more students for more days, it will be the same situation. We just have to be thoughtful about all of those components, transportation being one of them."
Looking to the future and the potential to bring more of the older students back into the classroom five days a week and on the buses, the key will be making sure the schools can still meet the existing health and safety guidelines before it can happen, Omohundro said. If the conditions can't be met, they will have to ask themselves what changes need to be made so it can happen.