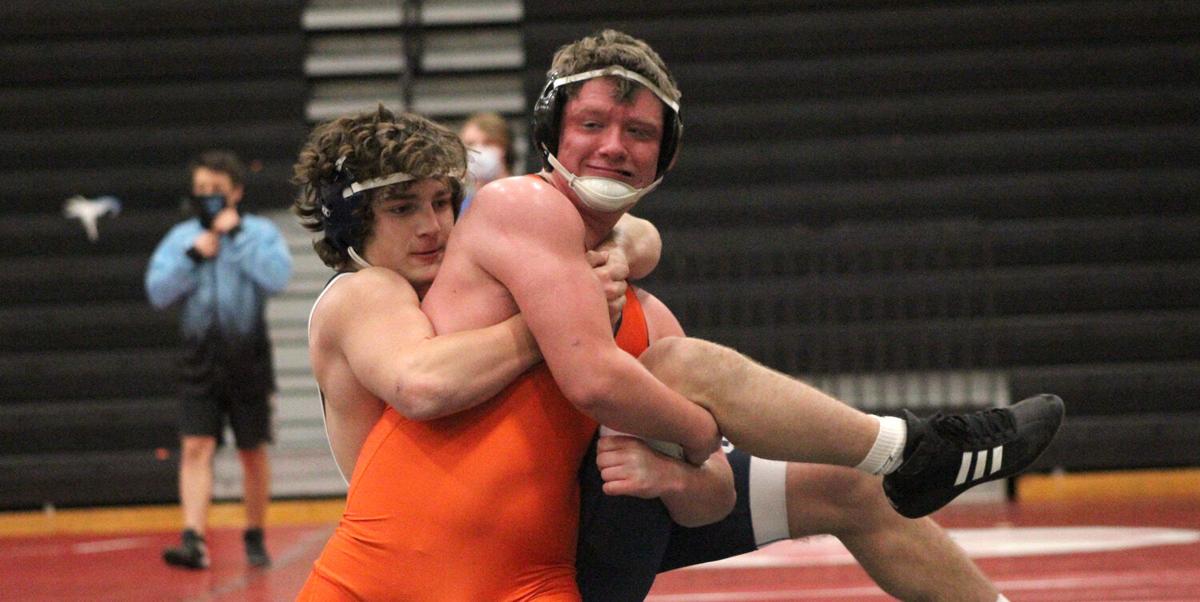 POWHATAN - While tradition has dictated that a high school team's last regular-season home match is that team's Senior Night, the last 10 months have been anything but traditional.
Because of the COVID-19 pandemic, high school athletic seasons have been cancelled, rescheduled, condensed or rearranged. Virginia's public school winter sports were delayed from their traditional start time in early December to late December and even early January for many schools. Some school systems have chosen not to play this winter. There's not even a guarantee that this season will reach its natural conclusion as the pandemic continues to grip the nation.
So instead, Powhatan wrestling chose to honor its senior class - a highly successful group that led last year's senior-less team as juniors - prior to the start of its first home meet of the 2020-21 season on Wednesday.
"It's a little emotional right now, now that it's all over...I'm just glad that we got it for them," Powhatan head wrestling coach Jonathan Tanaka said after the matches. "I just wanted them to have as much normal stuff as possible...to have it at home and to be able to get at least their parents and relatives in to help, it's just awesome. Senior Night's always fun. This one, it's different, unique, but still special in its own way."
The Indians never lost a match on the mat.
The limited crowd of fans in attendance were treated to an incendiary showcase from the home team, as Powhatan swept the quad meet 70-0 over Manchester, 75-0 over Monacan and 60-12 over Cosby. Both of the Titans' individual wins against Powhatan were by forfeit.
"To see what we think is a really good team on paper and then we go out there and kind of prove it...obviously we've had a little bit of motivation on Senior Night, being in our home gym but...I think it was a testament to our guys' hard work, and just to hopefully prove that they are ready to roll," Tanaka said. "I really can't wrap my head around the fact that we were so successful on the mat this evening, but I'll take it. I'm not going to complain and we're not giving it back. Just, man, that's a testament to our kids and to Coach (Zach) Olson and Coach (Rich) Fitzsimmons and our staff getting our guys ready."
Seven of the eight seniors who were honored - Sean Hall (132 pounds), Gavin Timmons (138), A.J. Gaskin (152), Anthony Bastiaensen (182), Hayden Fitzsimmons (195), Austin Walter (220) and Micah Holt (220) - all got to wrestle at least once, with Linwood Hill (170), currently working through an injury, still waiting to return to the mat this season.
Anthony Bastiaensen made the most of his match against Manchester, as he bounced back from a 4-2 deficit to pin Christopher Solomita in 1:12.
Bastiaensen, who is also fellow senior and teammate Sean Hall's cousin, was with the wrestling program in his freshman and sophomore yearx but got hurt in his junior year. Tanaka said his mom was really happy that he got to wrestle one more time, regardless of the situation.
Micah Holt and Austin Walter both wrestled Cosby's Ethan Murphy in exhibition matches. Walter has been around Powhatan wrestling for a long time. He started wrestling when he was 4 years old, and his dad, Mike Walter, was a major force and influence in not only Powhatan's wrestling program, but also in the community.
"Just super-glad that he came back out as well," Tanaka said of Walter. "He's just one of those kids that just loves being around these guys that he's grown up with - Hayden, Sean, Linwood, A.J. These are kids that he's gone and traveled the state and the country with, going to these random wrestling tournaments from a young age. I think it was really important for him to just come back and give it one more shot and be around his friends and just enjoy that one last season."
Holt started wrestling late as a sophomore and got hooked from there, Tanaka said. He was among Powhatan's state qualifiers in 2020. Holt, who is also set to play in a utility role for Powhatan football this early spring, gained 15 pounds to wrestle at the full 220-pound weight. While he didn't wrestle in a contested match for points on Wednesday, he was coming off of a big Saturday tri meet at Spotsylvania where he earned two pins in a combined 53 seconds.
Tanaka added that Holt and Timmons are among the most respectful young men that he's ever met.
"I know they'll be doing what they're supposed to do," he said, "and as a coach, that's a dream."
Every day, Tanaka said he loves Linwood Hill "a little bit more."
"I see this unique side of him, where every day, he shows me a different side that I haven't seen, and it's cool to see that other people see it, too," Tanaka said. "Last year I think he really turned the corner in the fact that he was the biggest cheerleader of every single wrestler that we had."
Tanaka has had multiple parents come up to him and compliment Hill, who at several different meets - including last year's regionals and this year's season-opening tri meet at Spotsylvania - could be seen cheering on his teammates during their matches. He also ran the team's live feed on Instagram for the opener, and Tanaka had at least four parents reach out to him to praise Hill's commentary.
Hill is hoping to attend and compete for Averett University, and he will look to build on his three state-qualifying seasons and reach the podium in his senior year.
Sean Hall, a three-time top-three state placer, a two-time state runner-up and three-time regional champion, pinned Nick Henderlic from Monacan in 28 seconds and Will Scott from Manchester in 1:50. He also secured a 12-1 major decision over Cosby's Kyree Burch for a 3-0 run in the quad.
Tanaka praised Hall, who this fall committed to Roanoke, as a "super-talented kid," and he spoke to being proud of the leadership that Hall has shown.
"He wasn't always super-comfortable in that position, and it was one of those situations where he had to understand that being successful is going to give him that position or perspective, and people are going to look to him in that manner, that he needed to be the one that led by example and was always doing the right things," Tanaka said. "I think that responsibility has been something he hasn't taken lightly, which has been really cool. Last year I think he really realized that he could take ownership of this thing and lead his guys."
In his two contested matchups, Gavin Timmons pinned Manchester's Eric Bowman in 28 seconds, and he all but pinned Cosby's Jackson Higgins, racking up two near-falls and routing Higgins in a 12-0 major decision.
Timmons, Tanaka said, is "just a hard-working kid - a kid that I feel like will never be unsuccessful in anything that he does, because he just doesn't know how to give up." Timmons, who moved from Abingdon to Powhatan and started wrestling for the Indians his sophomore year, is a three-time state qualifier in both wrestling and cross country, and he broke through for a sixth place finish in wrestling last year. Timmons showed initiative last year when he reorganized the 3rd Annual Powhatan Warrior Run into a virtual run during the spring and early June when almost all athletic events were shut down because of the pandemic.
"I'm just so hopeful - if he gets into the Air Force Academy, man, I'll be so happy and proud for him, and it'll be such a culmination of all the hard work," Tanaka said.
In his lone contested matchup in the 195 class, Hayden Fitzsimmons built up a sturdy lead before pinning Cosby's Cole Giegling in 3:25. Tanaka praised Fitzsimmons, who wants to go into the United States Coast Guard and also travel, as someone who works really hard and "has a good head on his shoulders."
"He's another one I think that really took the leadership responsibility that we placed on them last year, and...I think him getting on that state podium and placing fourth I think was, for him, just something that kind of reinforced that he is one of our leaders," Tanaka said, "and he is a stud in his own right."
For both Hayden and his dad, Powhatan assistant coach Rich Fitzsimmons - who also emceed at the Senior Night meet and was able to both introduce Hayden and stand with him - it was a cool night, Tanaka said.
A.J. Gaskin, the defending Class 4, Region B champion in the 152-pound class, also piled on two near-falls in his 14-2 major-decision win over Cosby's Jacob McCurdy, and he racked up three near-falls in his 13-0 major-decision rout of Manchester's Jacob Ambler.
For Gaskin, last year, Tanaka said, was "awesome."
"It was one of those things where, as coaches, we knew what the talent was, we saw the talent and it was just figuring out a way for him to put it all together, figuring out a way for him to just see what we see through our eyes," Tanaka said.
Gaskin has also committed to continuing his wrestling career at the collegiate level. He is all set to attend and compete for Ferrum, where he will join former Powhatan teammate J.D. McMillin, who won the 120-pound Class 4 state championship in 2019.
"It's a really good feeling for us to know that he's going to be able to chase his dreams," Tanaka said of Gaskin. "Couldn't be happier for him."
Powhatan juniors Tanner Palmore (heavyweight) and Adam Camp (170) both pulled off come-from-behind triumphs against Cosby. Facing Ethan Murphy, who had already won two exhibition matches against Powhatan, Palmore held out against a pin attempt until the first-period buzzer sounded, then worked off of an escape to rally for a 6-5 lead at the end of the second with a takedown and a near-fall.
"When it happened, I was just looking at the clock, trying to hold it there until that first period was up, and then after that, I don't know, I guess I was just mad about it and just going for stuff," Palmore said with a laugh. As for what led to him getting the initial takedown, he added that it seemed like his opponent was starting to get tired; Palmore struck from there. After he grabbed the lead, Palmore turned Murphy in the third period and secured the pin in 3:19.
"That one was pretty big for me, because he's beaten me before," Palmore said.
His teammate Adam Camp also avoided a pin from Cosby's Zack Keese by bridging up high, and Keese fell off of his hips, allowing Camp to flip from the bottom to the top and pin Keese in 2:28.
Earlier in the quad, Camp made quick work of his match against Manchester as he pinned Mason Bradley in 51 seconds.
Juniors Cade Van Buskirk (145 pounds), Andrew Cheatham (160) and Hans Rehme (182) were all dominant in their contested matches. Van Buskirk pinned Manchester's Seth Willis in 2:32 and Cosby's Logan Collins in 2:34, Cheatham pinned Manchester's Xavier Alan in 1:22 and Cosby's Cole Helmandollar in 2:03 and Rehme pinned Monacan's Jake Williams in 2:01 and shut out Cosby's Paolo Luvano in a 6-0 decision.
Junior Dylan Coward, who joined Hall as the only Powhatan wrestlers to compete in three contested matchups each in the quad, continued his transition from breaking out as a state qualifier in his sophomore year to opening his junior season with a dominant stand. He wrestled up at 120 pounds in his first match to pin Manchester's Ben Barnett in 2:40. Coward then returned to his designated weight class of 113 to pin Monacan's Cody White in 3:16. To end it all, he faced the very same wrestler, Cosby's Malik Williams, whom he had to beat last year to secure a narrow regular-season team victory for Powhatan over the Titans.
It was another nail biter. Coward and Williams each delivered a reversal and a near-fall to enter the third period in a 4-4 tie. Williams escaped to grab a 5-4 lead with under 1:15 remaining, but with less than 40 seconds to wrestle in regulation, Coward took down Williams to go-ahead on the two-pointer, and then nearly pinned Williams at the end to win the match 9-5 and join Hall in going 3-0 in contested matchups on Wednesday.
Freshman Talon Harness (120) also excelled, picking up his first contested wins of the season as he pinned Cosby's Lucas Wilson in 1:59 and battled past Monacan's Austin Jeffery with three takedowns and two reversals to win in a 10-5 decision.
For every single time that the wrestlers get down about something or get frustrated, Tanaka tells them to think about the nearby schools who are not able to compete at this time, and about the wrestlers who would love to compete, but won't get that chance - and won't get their senior night.
"I told them to just kind of appreciate it and understand that our county and our community is fighting hard for us," Tanaka said. "If our community is going to fight like heck to get us on our sports competition fields and be able to compete, then we've got to do our job and make sure that we're doing everything we can and being cautious. I really appreciate the support from our administration."
Tanaka also pointed to the support of Erica Fitzsimmons, Caryn Rehme and Tanya Hall for helping make Powhatan wrestling's Senior Night a special one.
Powhatan will next wrestle Monacan and James River at Monacan High School on Wednesday, Jan. 13 at 6 p.m.