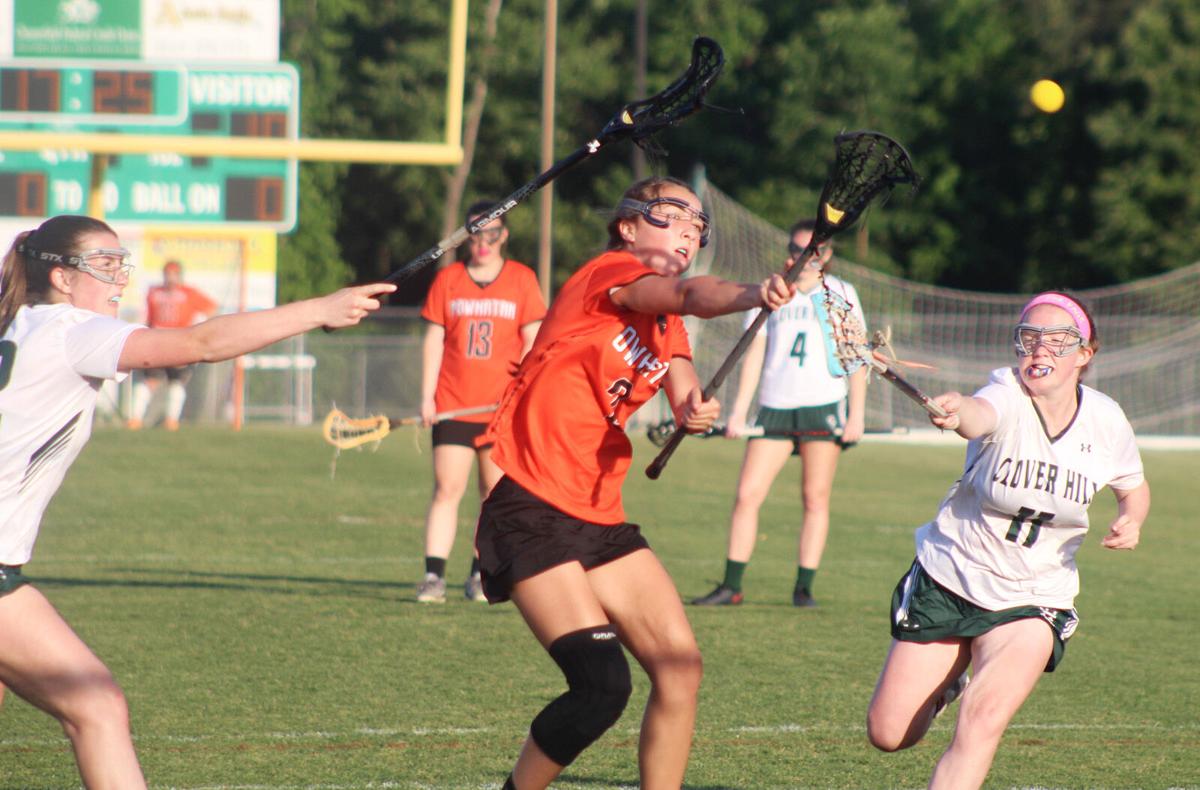 Dual-sport standout Jordan Krauss has quickly emerged as a leading contributor to her teams at Powhatan High School. She joined her former teammate Hailey Camp as one of the leading scorers on Powhatan's lacrosse team when Krauss was a freshman, and she holds the role of captain alongside senior Kaitlin Thompson on the field hockey team.
She's only in her junior year, but Krauss now knows where she will attend and compete collegiately. She recently made her commitment to the NCAA Division III school of Christopher Newport University, where she will play lacrosse and study physical therapy.
"It's kind of humbling honestly to be seen and recruited to play at the college level," said Krauss, who feels that she wouldn't be where she is today without her support systems, her friends, her coaches, and her parents.
The coaches of CNU's women's lacrosse team remind Krauss of her Powhatan lacrosse and field hockey coaches and her travel coaches, all of whom she loves.
"I really think that I thrive in those types of coaching environments," Krauss said, "and I could kind of get the sense that she was going to be like them."
She added: "CNU caught my interest just because of how pretty the campus was, and when I toured with the coach, I really, really enjoyed her, and I really enjoyed the campus and the athletic facilities, and I met a couple of the girls on the team while I was there, and it was really enjoyable."
She also didn't want to be too far from her family, and her mom, her dad, and her head lacrosse coach Laura Camp – who is also a really close family friend – all want to come watch her games.
"It was a good location for me to be close enough to my family, but still kind of away at college," Krauss said of CNU, "and they do have a competitive lacrosse program, which I enjoy, and…they have hospitals that are tied to their physical therapy program, and when I went and toured there, my tour guide…he was going to be a doctor, but he said he had a lot of friends that were taking the physical therapy route and how they really enjoyed it, and how many opportunities they had after college."
Krauss is currently looking at majoring in occupational therapy and minoring in psychology.
"I've really always enjoyed physical therapy, and that's always kind of been my thought after I had my knee surgery because I was so close with the physical therapist and I really enjoyed learning and doing more with them," she said. "That's why I've chosen physical therapy as my track."
Krauss started playing lacrosse in sixth grade when she was living in Loudoun County because one of her best friends at her school at the time had gotten into the sport. Krauss joined a rec league, did a couple of winter practices, and joined a sixth-and-seventh grade mixed team that played games that following spring.
After those games, she knew she wanted to play lacrosse when she got older.
When Krauss and her family moved from Northern Virginia to Richmond in the summer of 2016 between sixth and seventh grades, there were limited travel teams, and so she didn't play that summer. But the next summer, she tried out for Storm, and she really enjoyed playing for them for the next couple of years. She ended up getting knee surgery the summer of her ninth-grade year, but she would return to Storm the winter of her sophomore year.
"I've always loved those girls," she said. "It's so fun to play with them."
She's also really enjoyed playing for Powhatan lacrosse. She joined the varsity team her freshman year, which was also her first year attending school in Powhatan.
"I loved that team; it was so much fun," Krauss said. "That was the most fun experience with that team, and just playing with all of them felt like…playing with all my sisters."
As a freshman, Krauss contributed to Powhatan girls lacrosse's winningest season to date (9-6), and this past summer season, she and Storm went undefeated in all of their games. They also only lost one game this past fall, and they went undefeated in a 7v7 tournament a couple of weekends ago.
In addition to the friendships she's made through lacrosse, Krauss loves the sport's competitiveness.
"I feel like lacrosse is the sport where…it's more like mind games…you could be super athletic, but you have to be very smart and know the field and know the players to be good at lacrosse," she said, "and I enjoy that about lacrosse, because it's harder to get better at it because you have to understand where everyone needs to be...that's why I love playing."
Krauss has also emerged as a standout on Powhatan's field hockey team. She first started playing field hockey when she was in seventh grade while attending Steward, and she spoke to playing it because it was what her friends were doing at the time.
"And then when I came to Powhatan in ninth grade, my mom wanted me to try out for this team," Krauss said, "and then I just fell in love with the coaches and the team, and I've kind of taken it on as my second sport now. I wouldn't want to trade it for anything else."
Through playing field hockey, Krauss said "it opens your mind to see the field and the positioning and everything so much differently," but it's also a sport that you can relate to lacrosse "especially with the cutting and the movement and where you need to be on the field at a certain time."
"And I think that when I came into field hockey here at least, having a background of playing lacrosse helped me a lot, because it kind of gave me the foundation that I needed for playing on the field to know where to cut at a certain time, and to know that I need to get back to help my midfielders who have been running the whole game," she said. "I think that playing both sports have definitely benefited me in the best ways possible." 
Krauss praised Powhatan's field hockey and lacrosse coaches for "keeping me disciplined and giving me what I need to know in terms of playing on a team and always having each other's back."
And when it came to the recruiting process, she described how her mom would stay up with her late at night, writing the emails with her to the college coaches, as well as helping her make her recruiting videos and helping her circle herself and zoom in on herself in these long films of full-field games where they'd have to find when she did a play.
"Your film has to be perfect because coaches can't really see you play in person, so the film is the only thing that they're kind of going off of, so you have to have your film perfect for them to see," said Krauss, who added of her mom: "She definitely helped me get to where I am today."