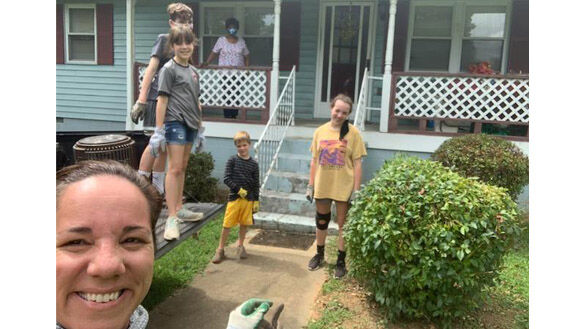 POWHATAN – The connection was an unexpected gift.
When Heidi Golden volunteered through Powhatan County Social Services to deliver boxes of necessities to local seniors who lived near her and couldn't get out during the pandemic, she remembers the unexpected joy of meeting Mary Eggleston, 83, of Powhatan.
When Golden and her children delivered the boxes of goods, she knocked on the local woman's door and introduced herself. She asked if Eggleston needed anything else, and when the latter mentioned drinking water, Golden offered to buy her some bottles. She proceeded to do so over Eggleston's protests that she didn't want to be a bother.
It could have been a fleeting, one-time meeting, but Golden said Eggleston was so kind and loveable that she and her children found themselves wanting to keep the connection.
"We were kind of endeared to her. She is so cute," Golden said.
Then the Golden family signed up to participate in social services' new Grandpals program, an effort to connect younger school-aged children with the local senior population. The family got a list of names where the children could write letters to let local seniors in isolation because of the pandemic know someone was thinking about them.
Having already met Eggleston, they were glad her name was one of the four they received, Golden said. They were warned in advance that some of the seniors they wrote might not respond. As it happened, Eggleston was the only one to write back.
Eggleston remembers receiving that first letter from 10-year-old Charlotte Golden.
"She sent me a little card and she drew a hamster. She asked me my favorite color. I said I like purple," Eggleston said fondly.
Charlotte has continued to write to her and ask Eggleston to share more about herself, including memories from her own childhood. Eggleston said the question had her taking a walk down Memory Lane and thinking about making mud pies as a child.
Golden said all of her children look forward to the letters coming in the mail, and they hope it brings Eggleston joy to receive Charlotte's letters.
Not wanting to overstep her bounds after she spoke with Eggleston and learned a little about her, Golden called Jayne Lloyd, transportation coordinator for Ride Assist Services, and asked if her family could offer to do a few small jobs for the senior.
Lloyd, who sees the rampant need of Powhatan seniors every day, was quick to advise Golden she could proceed. At that point, it was out of the scope of the Grandpals program and was simply a family reaching out to a fellow community member, which she appreciated.
"Really that connection is a model. It is an inspiration and we need a lot more of it because so many of them don't have that connection with neighbors or loved one," Lloyd said of the seniors she helps.
The list of things Eggleston agreed to let the family help with was small to Golden. Some items needed to go to the convenience center. A railing needed to be painted. One of the outside steps needed to be covered.
It was a whole family affair, with her, her husband, Jeff, and their children, Lillian, 15, Connor, 12, Charlotte, 10, and Thomas, 7, making quick work of the tasks.
"They just love her. When we were painting her railing she stood inside the screen door and watched us the whole time and kept calling us little angels. You kind of want to go give her a hug but we can't right now, so that is kind of hard," Golden said.
Eggleston, who lives with her daughter, said she felt so much love from the family.
"I said I am so blessed and God is really taking care of me. It is an awesome thing that Powhatan has," she said.
Golden said she continues to check on Eggleston and simply calls to chat, since she knows it has to be lonely for the senior not getting out as much. Plus, chatting with her is fun, Golden said.
Having moved to Powhatan three years ago, Golden's family doesn't have many long-term relationships here yet, especially with local seniors. She wanted her children to see the value in making those connections and developing those relationships as well as appreciating how important it is to help others.
Doing one concrete thing – whether it is writing a letter or painting a railing – simply felt good to them, she said.
"It has been a strange thing with the pandemic. When there is a hurricane or an earthquake, you get out and you help your neighbors. You go cut some trees down and you get out and help. Right now we are told to stay secluded and be 6 feet apart," she said. "It is so contrary to what we want to do, so this felt good to the kids. They could actually help with something."
Lloyd said she is still looking for ways to spark community mindfulness about the needs of local seniors and taking into account that their need goes beyond financial assistance. They need to be connected with and remembered, she said.
"It has increased a sense of community for the seniors and for the people reaching out. There is something there and a common ground they can connect on that wasn't there before," she said. "I think it gives the seniors a greater sense of how they are valued and a greater sense of belonging in our community."