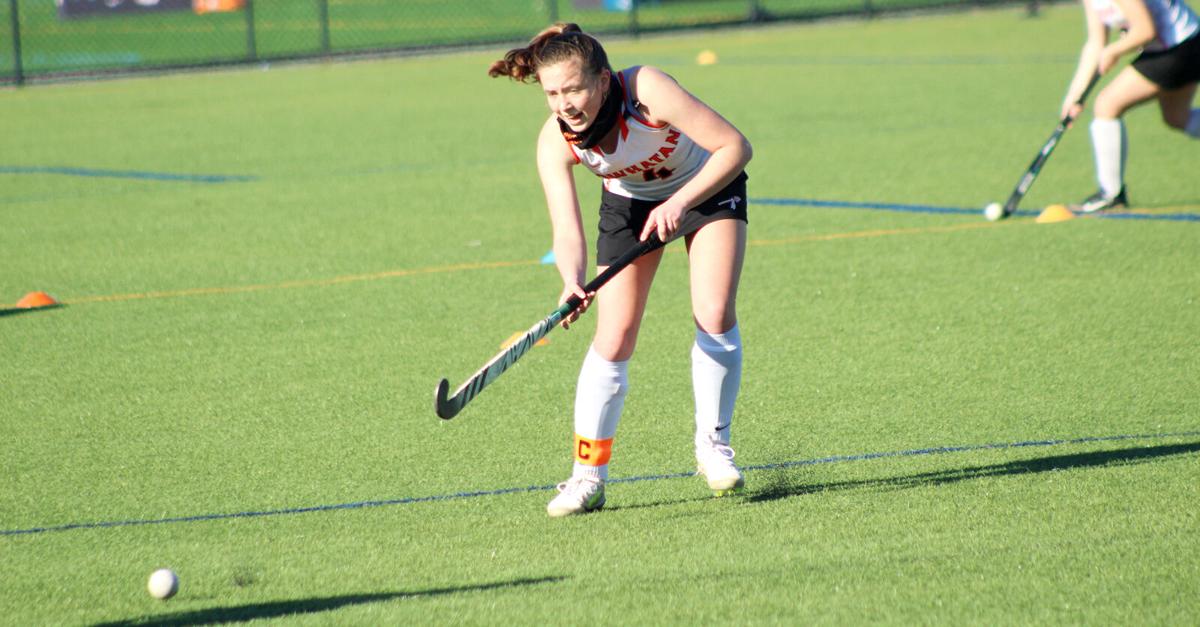 Monacan was one of the teams the Powhatan Indians had struggles against last season, as they lost to the Chiefs in the Region 4B quarterfinals in 2019.
After taking a narrow 3-2 loss to Monacan earlier this season, but then winning four of their last six heading into Tuesday's game, the surging Indians needed to defeat the Chiefs to keep their postseason hopes alive.
And they did so with command.
Facing Monacan at River City Sportsplex, Powhatan's varsity field hockey unit won via a 3-0 shutout to improve to 5-4 with one game left in the regular season. Depending on the outcomes from teams in the Bay Rivers and Capital districts, the Indians could land a spot in Region 4B's top four and advance to the regional tournament. Powhatan coach Caryn Rehme noted that it's looking good for the team so far.
"We keep getting better, we keep getting stronger," Rehme said Tuesday night. "We keep capitalizing."
Senior Kaitlin Thompson put the Indians on the scoreboard with a direct shot off of a penalty corner, and Kate Adams and Joy Johnson each scored insurance goals to grow Powhatan's lead. Lexie Campbell also had an assist.
Rehme praised the team effort on defense.
"We've spent a good deal of the practice yesterday really working on defensive skills, working on making sure they're picking up, and when to come out," Rehme said. "I think it all came together today with the defense and the offense."
Junior goalie Peyton Tuttle racked up eight saves, and the defenders played well in front of her.
"Peyton Tuttle had a great game, very aggressive back there. Savannah Johnson stepped up. We worked on a lot of things with her: kind of not staying back, coming up through the defense, and she did a great job doing that," Rehme said. "Catherine Griffith is always solid back there, and Hannah Johnson, she's young, but she really stepped up today."
Offensively, Jordan Krauss had a great game, with Rehme complimenting her pullback moves, her play on the right side, and her reads of the opposing defense.
Rehme also praised what she said was an incredible, "another-level move" from freshman Casey Grell, who, while possessing the ball, baited a Monacan defender to the left with what Rehme described as "almost like a slow-motion bait to the left," then picked up the pace with a pull dodge back to the right to bypass and clear the opponent.
"Just really incredible to watch and to see: 'Hey, they really are getting this,'" Rehme said of the players. "We are now entering another level of hockey, and that's I think what we work so hard for as coaches."
The Indians did have two opportunities to score on penalty strokes, but Rehme said they did not capitalize on them.
"We'll get better at that," Rehme said. "That's certainly something we're going to be practicing tomorrow."
Powhatan will play its regular-season finale versus L.C. Bird on Thursday at River City Sportsplex in Midlothian at 3:45 p.m.
"We're peaking at the right time if we make it into postseason," Rehme said.
Tuesday was also an emotional day, as the girls came together to celebrate the life of Henrico student Lucia Bremer, who was tragically shot and killed last Friday in the Gayton Forest West community, just behind Mills Godwin High School. Bremer was a close friend with one of the coach's families, and she attended a Powhatan field hockey summer camp in Powhatan County in 2019. The day before, the girls after practice put together signs and decorations, and they released balloons at the end in Bremer's memory on Tuesday.
"It was hard for some of them, but they just really came together, and they had a purpose," Rehme said. "This team is special in the sense that, each game, we get stronger, we get closer. They really like being around each other, and it really showed the past couple of days of all of them working together to pull this off and make this happen…a special, emotional day."