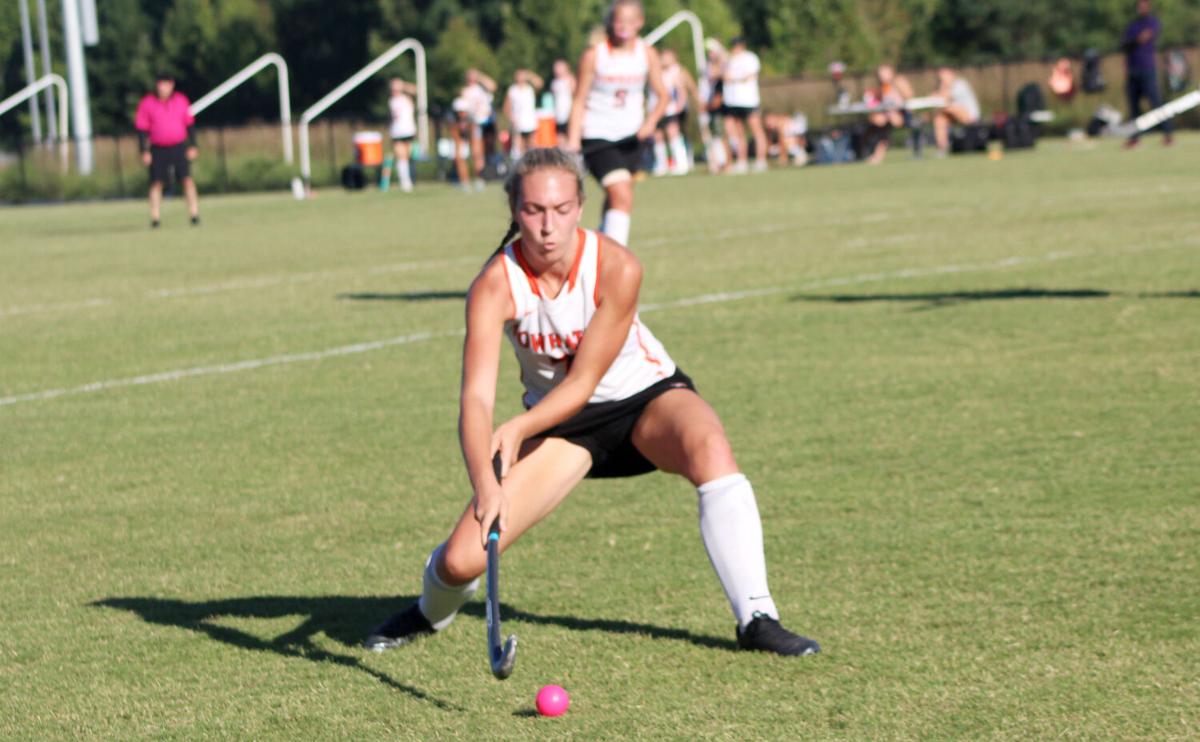 POWHATAN -- In another clash between two Class 4, Region B rivals, Powhatan emerged ahead by 1 goal once again to fend off Monacan 1-0 on Wednesday and complete its regular-season sweep of the Chiefs.
"This was a great game to see everybody coming together offensively and defensively," said Powhatan coach Caryn Rehme.
This time around, the Indians were able to secure the win in regulation. Earlier in the year, the two teams had battled all the way into shootouts, with Powhatan also winning that contest 2-1.
At halftime on Wednesday, Powhatan switched from three forwards to five after Rehme consulted with team captains Catherine Griffith and Jordan Krauss.
Immediately, Powhatan's offense, with the ball in its possession, stormed into Monacan's territory. At the apex of the rushdown effort was junior Lexi Campbell, who drove the ball into the visitors' cage to lift the Indians into a 1-0 advantage a mere 19 seconds inside the new half.
Savannah Johnson, Izzy Carson and Griffith, who was playing further up the field, provided stout defense along with senior goalie Peyton Tuttle, who drove out a shot by Monacan off a corner to end the first half. Tuttle and Carson also combined for a huge stop on a big strike by the Chiefs at the end of the third quarter.
"They just held down the fort," Rehme said, adding: "Monacan always gives us a fit. They're a good team. They're strong ... I think Monacan's our rival, they really are. We get excited about that team and they give us a hard game, and they're in our region ... it's a fun little battle that we have."
Tuttle played the full game in goal for the shutout.
Freshman Erica Krauss had several tremendous downfield drives, and she was able to weather aggressive pressure from Monacan's defenders and draw the fouls. Erica also had the assist on Campbell's goal.
Erica's older sister Jordan shined at moving and passing the ball - including when she drove it through a defender's legs and into Campbell's possession - and freshman Chloe Holt consistently interrupted Monacan's drives as a stopgap at midfield.
Rehme noted that Kate Adams had a good game, and Emilee Taylor at left midfield continued to provide steady play. Taylor also intercepted Monacan's possessions.
"We worked on some double-teaming yesterday at practice, and I think that really, really helped us today," Rehme said. "I saw a lot of it going on - was super proud of them, a lot of them trying it - and it helped us on a lot of stops over on the sidelines."
Powhatan field hockey's stellar season continues, as it improved to 8-1 with Wednesday's victory. The Indians will play Midlothian tomorrow at the River City Sportsplex in Midlothian at 3:30 p.m.