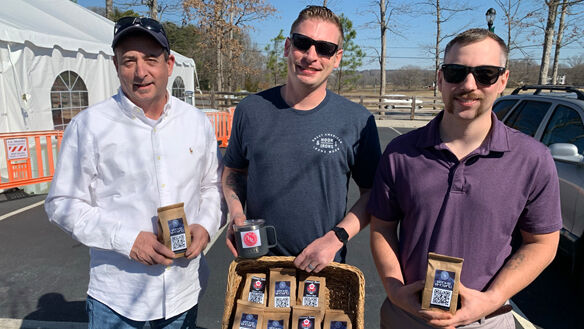 POWHATAN – The three Powhatan firefighters behind the newly formed Triple Tap Coffee plan to live up to their company's name.
When a firefighter hooks three hoses up to a fire hydrant, the goal is to maximize water flow to create high performance hydrant operation, said Jeffrey Wallace, a career lieutenant paramedic with Powhatan County Fire and Rescue.
In the same way, when Wallace and his co-workers, Art Tate, career firefighter EMT, and John Menc, career firefighter medic, decided several months ago to start Triple Tap Coffee, they wanted to have the same approach.
"That is the best we can do. It is going all the way for us," Wallace said. "If someone triple taps a hydrant, that is the most effort involved. It is not the easy way; it is the complex, hard way."
It helps out that there are three of them, too, agreed Menc with a smile.
"The double meaning is a constant reminder of the product we want to create," he said.
The three men launched their new business on March 5 as a part-time job separate from their full-time work with Powhatan County. Since all of them at one time in their careers have simultaneously worked full-time and part-time jobs in different localities's fire services to make ends meet, they are loving the idea of having a new endeavor that is something completely different but still a shared passion.
"One thing that we all agreed on was that the fire service puts a lot of mental stressors on us. It is important to have an outlet that is not the fire service," Wallace said. "I think this was something the three of us could do. We all thought this was a great way for us as individuals to get out of the fire service, gives us something to do on our days off, and gives us joy."
Coffee is generally an important part of the fire station tradition, Tate said. Often the morning transfer from one shift to the next starts with the firefighters sitting around a table together discussing what was done the day before and what needs to happen in the day ahead, he said.
"One of my biggest things about this is to instill conversation because I think it is really missing in our society today where we actually sit down and have a conversation," he said.
Coffee can also be a decompressor for the men and women who sometimes deal with intense and distressing situations, Wallace agreed.
"After a bad call it is has been common for decades that we sit down at the table, brew a pot of coffee, and just talk. Coffee has always been that thing that brings guys in the fire service together to talk. We all think that conversation is super important," he said.
Tate said the idea to do something like this had been bouncing around in his head for a while, but the timeline for the creation of Triple Tap Coffee is surprisingly condensed. In December 2020, Tate reached out to Wallace by text one night with a simple idea – "How about we make coffee?"
While both men liked to drink it, they agreed that neither knew much about making it. But that didn't stop Tate. He began mentoring with a friend who does coffee roasting in Richmond, and reading and watching everything he could on the subject.
"It was exciting to see him roll. I was trying to find my place in it because he was on a roll," Wallace said.
When Tate did his first solo roast, he called Wallace and asked him to sample it. Wallace agreed and they asked Menc, who they call their "resident coffee connoisseur," to try it as well.
"We had low expectations for the first roast but it was actually really good," Wallace admitted. "After that it was a natural fit to have John help us out with this. John knew coffee better than Art and I do. So the two of us decided right then that it was a natural fit to add John in on this with us."
Menc said he had briefly heard about what his two friends were thinking about doing right before he took his first sip of Tate's first attempt so he didn't have much time to process it.
"I was enthusiastic about it. I love supporting local business especially in the time of the pandemic. I was really enthusiastic about their vision and mission to create coffee for consumption in the firehouse," he said.
The short months that followed have been filled with Tate perfecting the coffee he wants to create while Wallace focuses on labeling and sales and Menc does design work and marketing.
The fledgling coffee company currently has two Brazilian bean products, the Command Roast, which is a medium roast, and Smoke Showing, a dark roast, Tate said. The last several months have had their share of trial and error as they figured out the roast they wanted to share with customers. He would create small batches and often bring them to be taste tested by their fellow firefighters and EMTs.
"If you want feedback go to a fire station because they will be glad to tell you anything that is wrong that," he said with a laugh.
The trio agree that the process, while involved, is also something they see as being a healthy move for themselves and their families in the long run. They each run their parts of the business from their own homes on their days off. They are hoping to eventually stop their other part-time jobs and have more time at home with family, Menc said.
"The fire service takes up about one third of your life away from families. It is very rough on families," he said. "Anything we can do to keep us home with our families longer is something we are looking to do."
The mental health of public safety employees is important to the three men, which is why they also committed to donating 10 percent of their annual profits to Checkpointe One, a nonprofit based in Doswell that provides equine therapy to firefighters, EMTs, law enforcement, and 911 dispatchers, Tate said. The nonprofit closed in 2020 because of lack of funding but managed to come back with reduced hours to provide its free services for those who need it.
"I know people who have been in the program and it is has changed them from being depressed. Suicide in public service is huge. If we can get these folks help so they are able to be a functioning part of society, that is huge for us," Tate said. "It may happen to one of us where a call goes bad and we are not able to handle it. At least we know there would be a place to go if we needed help."
For now, the trio is mostly selling their coffee beans online, but they are also reaching out to stores and restaurants about creating partnerships.