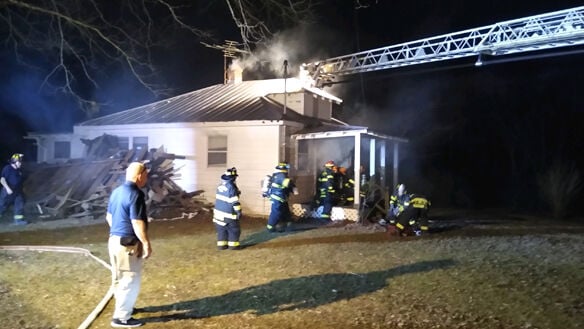 POWHATAN – Time is running out for a house in the 3000 block of Anderson Highway, but its last weeks will have a lasting impact on the county.
The house, which is on land owned by Evergreen Community Church, is being used by the county's public safety personnel for training purposes before it is torn down later this spring to make way for construction on the property, said Pat Schoeffel, assistant chief.
The church reached out to Powhatan Fire and Rescue with an offer to let the county use the house for training purposes, he said. Because there wasn't an immediate deadline on when the house has to come down, the structure has turned out to be an invaluable resource for additional training of career, volunteer, and future firefighters.
"We are using this house for non-live fire training. We will eventually burn it down when we get done with it," Schoeffel said. "The companies can go up there individually and we will also do some multi-company training there as well."
The house became available for training on March 8 and was immediately booked for use by different groups, Schoeffel said. Between March 8 and 17, the house was used by 96 firefighters to do 37 hours of training.
Leon Sydnor, assistant fire marshal, said the house is proving to be a priceless instructional tool. He teaches both a Firefighter I class at the high school with 10 students and a night academy with 19 students, and both will be using the house for training while it is available.
"They were really excited to be able to go somewhere other than the classroom to do training. They got to go into a smoke filled environment – theatrical smoke – versus using a blacked out mask," Sydnor said. "It gives them an awesome, realistic feel of what they have to really deal with."
Schoeffel will continue to schedule the house for different groups that want to train there through sometime in May, when the department is planning to hold a live burn to bring down the building – an event that will also be used for training, he said. The date will be dependent on when the church needs the building to be cleared for its building project.
Some of the drills the different teams have worked through so far include search and rescue, ventilation, ladders, and hose line stretching, Schoeffel said. During the search and rescue drills, a smoke machine brings visibility in the house down to almost zero, which makes the training as "close to live fire as you can get without burning something."
Schoeffel stressed several times how much of an asset it was to have a house like this donated for their use for a few months. The closest burn building the department has access to for similar training is in Blackstone and requires special arrangements. Having a structure in the heart of the county that can be used all week with only a little notice has been extremely helpful.
Added to that, the home has a layout that is different from established burn buildings and better simulates what they might find rolling up on a random fire at a home in Powhatan, he added.
Having units train at the house even had a surprise side benefit following one particular training exercise. Company 4 members had finished training at the house on March 14 and were driving back to their station when they got a call for a garage fire at a house they just passed, Schoeffel said. They were able to respond immediately and shave several minutes off a normal response time out of the station. The fire was quickly contained and caused minimal damage, he said.
The fire department has previously had houses donated for temporary training use, but they haven't worked out this well in several years, Schoeffel said. Some houses that are offered are unusable because of asbestos levels while others may not be structurally sound enough to do much interior training.
The Rev. Robert Barnes, pastor of Evergreen Community Church, said his congregation is planning to construct their first building on the land once plans go through the approval process with the county. One of the church's deacons is a former volunteer firefighter who suggested checking to see if the local department could use a house on the land that was going to be torn down.
Barnes said it has been exciting to visit and see the firefighters at work.
"We are very excited to see the firefighters and the high schoolers that are also being trained have the chance to improve their skills on our structure," he said.
When the church reached out in February, the house had to be evaluated to make sure it met the National Fire Protection Association's Standard 1403 for live fire training evolutions, Schoeffel said. That was done fairly quickly, enabling them to begin scheduling.
In addition to the fire department, the house has been used once for training by the Powhatan County Sheriff's Office, is scheduled to be utilized by the Chesterfield Police Department twice in April, and will serve as a training ground for Chesterfield's arson dog at least twice, said Leon Sydnor, assistant fire marshal.
Powhatan doesn't have its own arson dog, so it relies on other jurisdictions, Sydnor said. The dog is trained to search a property for possible origins of an accelerant. That training can occur both before the house is burned down in a simulated drill and after the live burn.
Sheriff Brad Nunnally said his office used the house for training for its special response team, which is made up of deputies that work in various parts of his office. The team gets practice in maneuvers such as breaching doors, approaching discreetly, and searching in a house setting similar to what they might find if they responded to an emergency.
"It is beneficial for us and other agencies to have actual homes, not mocked up houses and anything we have tried to construct," he said.