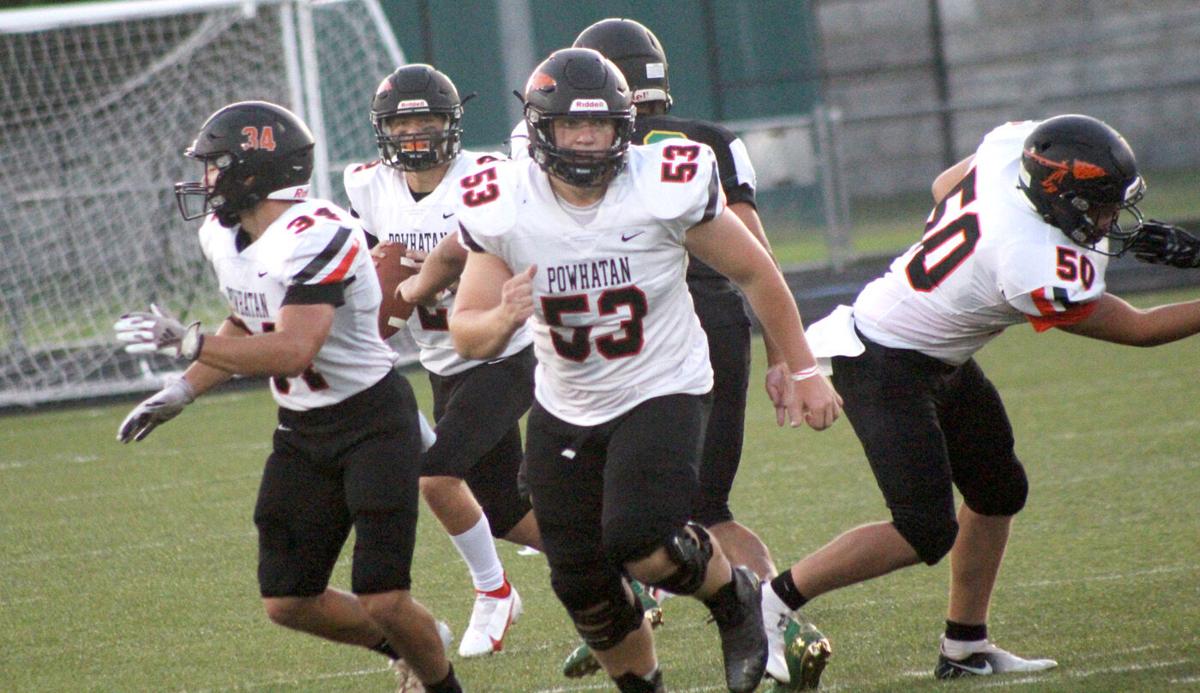 MIDLOTHIAN – With the help of junior quarterback Dylan Trevillian's arm, key receptions on both sides of the ball and timely plays on defense, Powhatan bounced back from last week's loss against James River to overtake Clover Hill 36-20.
"Every time we play these guys, no matter how good or bad we are and how good or bad they are, it's going to be a good ballgame; it just seems like you can throw the records out when these two teams play," Powhatan head coach Mike Henderson said while adding: "We continued to play tough and hard and battled, but we've really got to clean up some of our self-inflicted mistakes."
For the second time in the last three years against Clover Hill, the Indians battled their way out of a 13-point deficit. But unlike 2019, when Powhatan overcame the Cavaliers' lead in the last 5 minutes of the game, the visiting team seized a 14-13 advantage mere minutes before the half.
Powhatan cut into Clover Hill's lead on senior running back Mitchell Johnson's 3-yard rushing touchdown, and then 9 seconds after the Indians' defense held the Cavaliers in check to turn the ball back over to Powhatan's offense, Trevillian put the ball in the hands of Fisher Hamersley for a game-tying touchdown down strike. The PAT kick gave Powhatan the lead.
Clover Hill, however, would take it back. In the third quarter, the Cavaliers assembled a long drive that was kept alive when Powhatan ran into the punter after it forced a series-opening three-and-out, resulting in a penalty and an automatic first down for the Cavaliers. The home team capped the drive with a 13-yard touchdown rush.
"We have to clean those things up to be a better football team as we continue to play more important games as the year goes on," Henderson said. "But Clover Hill's a good team. They have a really good running back, they've got a Division-I Power 5 defensive end. They've got some really good players, so we're happy with the win."
Trevillian gave his Indians the lead for good on a 44-yard touchdown pass to Ethan Dowdy before the end of the third quarter, and Jason Worthington quickly returned possession to his offense when he caught an interception in the first play of the fourth.
"Jason Worthington's probably the most underrated player on our football team," Henderson said. "He calls all the defensive signals in the backfield, gets us lined up right, plays every play pretty much on offense and defense…he's tremendous."
Powhatan capitalized on Worthington's interception in one play when Trevillian found Dowdy once again, this time on a 33-yard touchdown pass, to grow Powhatan's advantage to 28-20.
Hamersley had missed the first few games after suffering a broken finger in the scrimmage, and he played the next few games with a cast – and still caught the football. Last night marked the first regular-season game he played without a cast on this fall. Hamersley gave his team an insurance score when he returned an interception seven yards for a pick-6.
Dowdy added an interception earlier in the contest.
"Those two guys are quite a duo out there – they really are," Henderson said of Dowdy and Hamersley. "And they play both sides of the ball. They're two starting receivers and they're our two starting corners. They had a handful of snaps off the game here and there, not a whole lot, so they really are something else."
Senior lineman Tanner Palmore was crucial to Powhatan's victory on both sides of the ball. Palmore went up against Clover Hill's Division I defensive lineman, and Palmore more than held his own blocking him. Palmore also played on the defensive line in key situations when they knew Clover Hill was going to run the ball. Despite playing 12 to 15 snaps, he came up with three key tackles in key situations.
"He's every bit as good as anybody around," Henderson said of Palmore.
Trevillian, who stepped into the role of starting quarterback at the beginning of this season, continued to deliver big results as he threw for three touchdowns in the victory. He's also taking tremendous care of the ball in his first full varsity season as the signal caller. He's scored 14 touchdowns and has thrown just two interceptions in seven games played.
"He's really settling in – he had a great week of practice, worked on a few things that he'd struggled with the week before, and he was able to correct those things and really was a huge difference maker for us last night – I think he's been a huge difference maker for us all season," Henderson said of Trevillian. "His decision-making just keeps getting better and better. Last night…we had pretty good protection, but he was calm in the pocket…I thought last night might've been the best game he's played for us, and he's had some good ones."
In addition to the turnovers it generated, Powhatan's defense was able to get timely stops, and it kept its team in the mix during the early stages on Friday.
"They provide a solid presence each and every week – they come to play," Henderson said, pointing to the unit's bounce-back effort after the loss to James River. "We did a much better job…we still have room for improvement. I don't think anyone is satisfied with how we played last night, but we certainly improved. We did miss some tackles last night, and I don't think anybody on the defense will tell you that we were happy with our tackling, but our overall intensity and scheme and being able to get some stops when we needed them was vastly improved. But we still have some work to do."
Powhatan (5-2) will look to keep the momentum rolling with Friday's upcoming 7 p.m. home game versus L.C. Bird.
"Last week…it was a tough loss for our program, playing a team (James River) that we should've at least been competitive with and it wasn't that way. But to get down 13-0 (against Clover Hill), it would've been easy to have some doubt creep into your mind, but we didn't. We knew we made mistakes, we knew it was on our end, and the guys just kept playing, and we've kind of told them: Just keep playing – good things will happen.
"To see that come to fruition was big," Henderson said. "I said last week: last week's game…how we respond to that game is going to kind of define our season, so getting the win last night, getting back on track, it truly – every time you win a game, it makes the next week's game that much bigger."