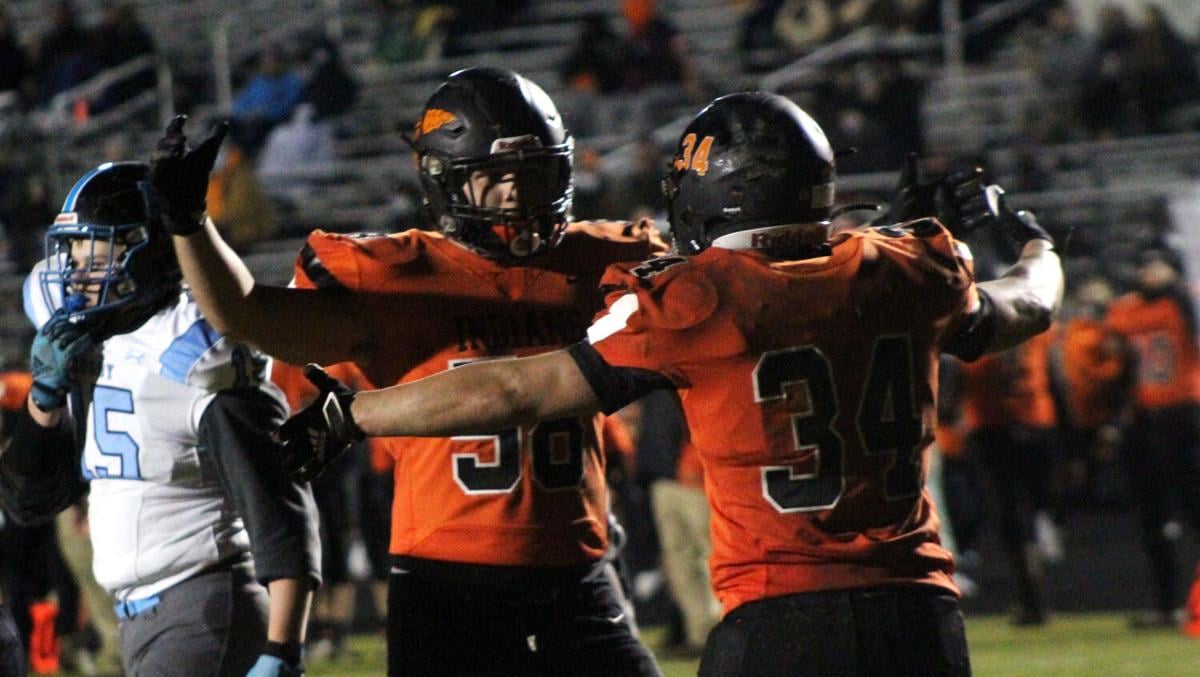 POWHTAN -- Wyatt Lowe was at the gym when his head varsity football coach Mike Henderson called him to let him know that he had been named to First Team on the Richmond Times-Dispatch's prestigious All-Metro Football team for linebacker.
"I was excited – it meant to me that all the hard work is definitely starting to pay off and people see what it takes," said Lowe, a rising senior at Powhatan High School. "I was definitely glad."
Lowe, described by the Times-Dispatch as a "physical, downhill run-stopper and pass rusher," delivered 65 tackles (35 unassisted) in the six-game 2021 regular season and also had two sacks, a forced fumble and a fumble recovery. He even scored a rushing touchdown at fullback in Powhatan's season-opening 16-0 win over L.C. Bird.
He had 15 tackles in that one game alone, and that was in his debut at the linebacker position.
"I think it was a good change, I definitely wanted to do that – I would've been happy playing wherever. It doesn't matter to me, as long as I can play the game," Lowe said, "but it's been better – I think I can be a better contributor because I can move laterally and make plays all along the field and not just at D-tackle on the inside and on the edge…I think I can be a bigger contributor during the game at linebacker."
Before this spring, Lowe had played on the defensive line his first two years and made Second Team All-Region at lineman his sophomore year.
He has played in every game for the Indians since his freshman season – a feat that, for him, comes down to work ethic – to the willingness to get up early and work out and do what is needed.
"It takes a lot of mental stability and strength to be able to put in what it takes," he said.
When it comes to the conditioning that's kept him in every play on defense in every game, he pointed to power-related training, and to eating properly and drinking a lot of water.
"I think the hydration and the good diet plays a big factor."
He attributed his contributions and All-Metro achievement to hard work – to his efforts in the offseason, in the gym – and to his teammates and his coaches.
"I've had – all throughout since back when I started playing – I've had what I thought have been the best coaches that I could get – just the best guidance," Lowe said. "Especially these last two years… Coach Henderson and Coach Derby and all of the coaches, especially the defensive coaches, have just taught me the best that they can teach me."
Lowe has been playing the game since flag football when he was around 7 years old. A lot of the players he met back then and has grown up with are now his teammates on varsity.
"We have a unique bond for sure," he said.
Those friendships and bonds he created with his teammates have been a key part of his journey and his love for the game. Football taught him a lot of lessons about life – the importance of not giving up, of hard work.
He shares the honor of starting in every Powhatan varsity football game since freshman year with his longtime teammate, fellow linebacker and rising senior Chase Gayness, who was one of four Powhatan varsity football players to receive Honorable Mention on this year's All-Metro football team.
"He has been my brother since flag back when I started," Lowe said. "Chase and I at linebacker are just in sync back there, and it's just because we have played together for so long, and we just have a great bond…we're watching film all week and we're meeting up after school watching film and just studying it, asking each other questions and talking to Coach Derby about all those things, and it means a lot to be there with Chase."
Also receiving Honorable Mention from Powhatan were JaySun Carroll (defensive back), University of North Carolina Pembroke signee Bradey Lindhjem (offensive line) and Tanner Palmore (offensive line). Carroll has received offers from several schools including Division I schools Norfolk State University and the Virginia Military Institute. Palmore received an offer from Hampden-Sydney College in June.
Carroll, Gayness, Lindhjem, Lowe and Palmore all helped a Powhatan football team that was stacked with depth and talent achieve a winning record of 4-2 in the condensed 2021 season.
"I was just glad we got to play some games – I know a lot of people didn't get to play," Lowe said. "I'm looking forward to the 10-game season coming up."
For Lowe, his All-Metro First Team honor pushes him to really show people that the award was not for nothing.
"They're not just throwing awards out there – it's really: I want to come out this season and show people that I really am a First Team All-Metro guy," Lowe said. "I'm excited."
As for this coming season, he added of his Powhatan football team: "We're coming to earn our respect this year for sure."