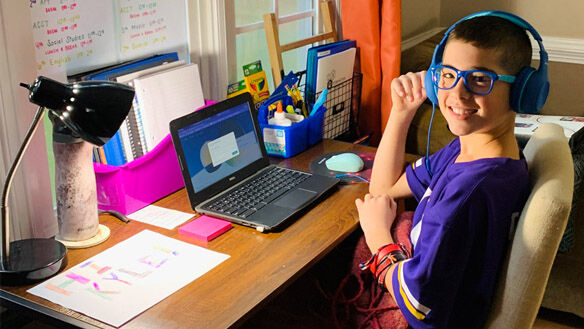 POWHATAN – Almost everything about having 20 percent of Powhatan County Public Schools students receiving their education virtually has been a learning experience on all fronts.
As the division ended its first nine weeks of the 2020-2021 school year last week, administrators are realistic but also optimistic about how the experience is going, said Dr. Cheryl Thomas, director of elementary education. Everyone in the schools wishes there wasn't a need to have the virtual option and acknowledges how much of a challenge it has been to offer a viable route in a county where reliable internet access is such an issue.
As of Oct. 21, Powhatan County schools had 352 elementary, 238 middle, and 317 high school students enrolled in the fully virtual pathway for the first semester, Thomas said. Of those, about 70 students in kindergarten through 12th grade transferred into the virtual model after the school year began.
Facing the reality of the situation all school divisions find themselves in and realizing that they must play the hand they have been dealt isn't easy, Thomas said. Staff acknowledges there are kinks that need to be worked out, but she also points to the monumental strides they have made.
"It was an adjustment in the beginning, and anybody who says other than that, they probably aren't being forthright," she said. "It definitely was an adjustment, but we have worked out many of the kinks. We are at the end of the first marking period. While I am getting phone calls and emails about 'how can my child get support,' I am equally getting feedback about how things are working."
The school division wants the feedback about both the challenges and the successes in the hope that they can continue to improve the learning environment for youths and their families, Thomas said. She added that the level of grace so many Powhatan families have given educators as they worked through issues has been phenomenal.
"As a result, because we came together as a community to make this work, I feel like we are getting a better result," Thomas said. "I can't say enough about our parents, the community, and the support we have felt from them as we have tried to embark on this completely different journey."
Every challenge that teachers normally face trying to get students engaged and excited about their subjects is made even more difficult when you add in distance, issues with unreliable internet connections, and adjusting to new software, as both families of younger students and their teachers had to do when Schoology was adopted districtwide.
Other significant issues the district faced included working to get class sizes manageable as the virtual vs. hybrid numbers really settled down; reaching out to parents when issues of work completion or subject comprehension become an issue; providing some direct instruction time with teachers on Wednesdays to assist students with their learning when they have to be independent; training substitutes who are capable of filling in for all-virtual classes, and setting up a pick-up and drop-off system for sending home resources and manipulatives when visitors aren't allowed in the schools.
But rather than only talking about broad topics, the Powhatan Today spoke with several PCPS fully virtual families about the experience their children have had in the first nine weeks of the school year.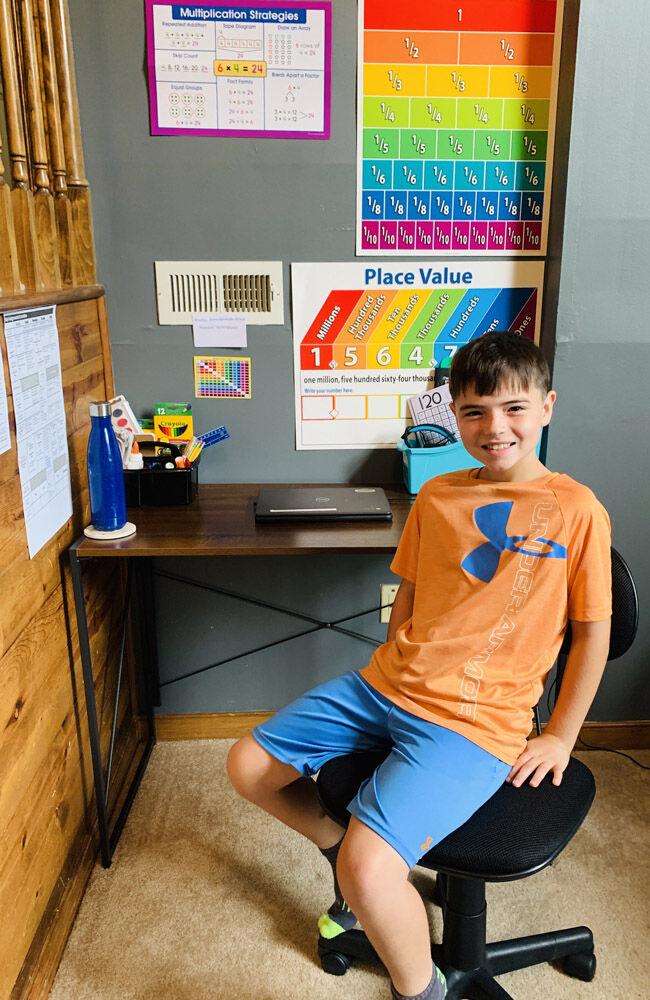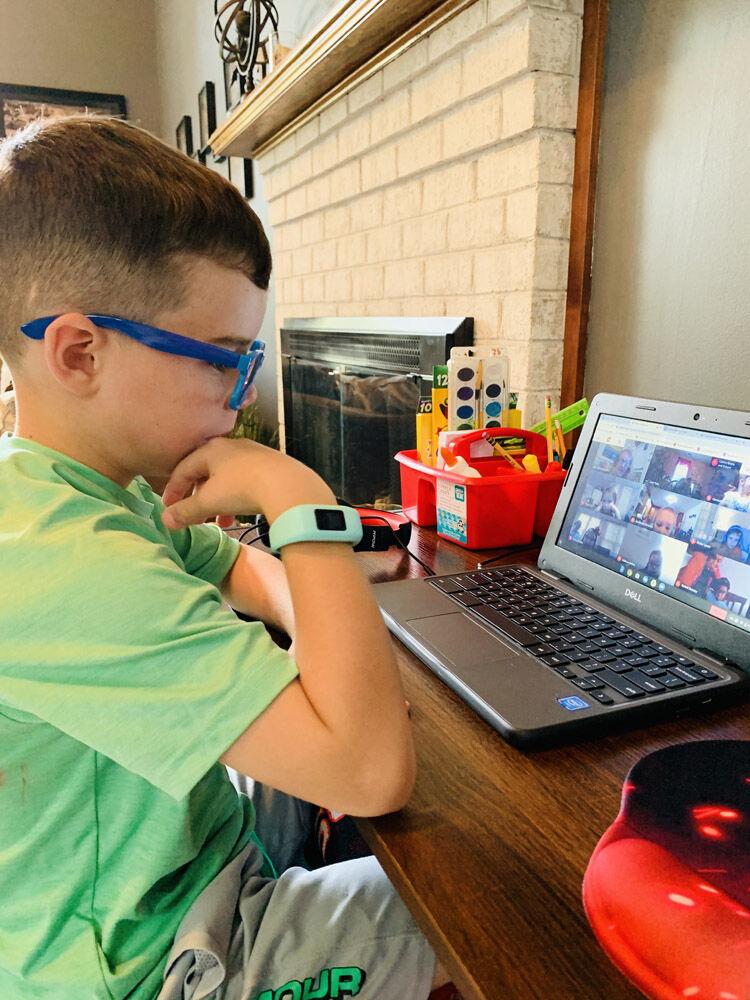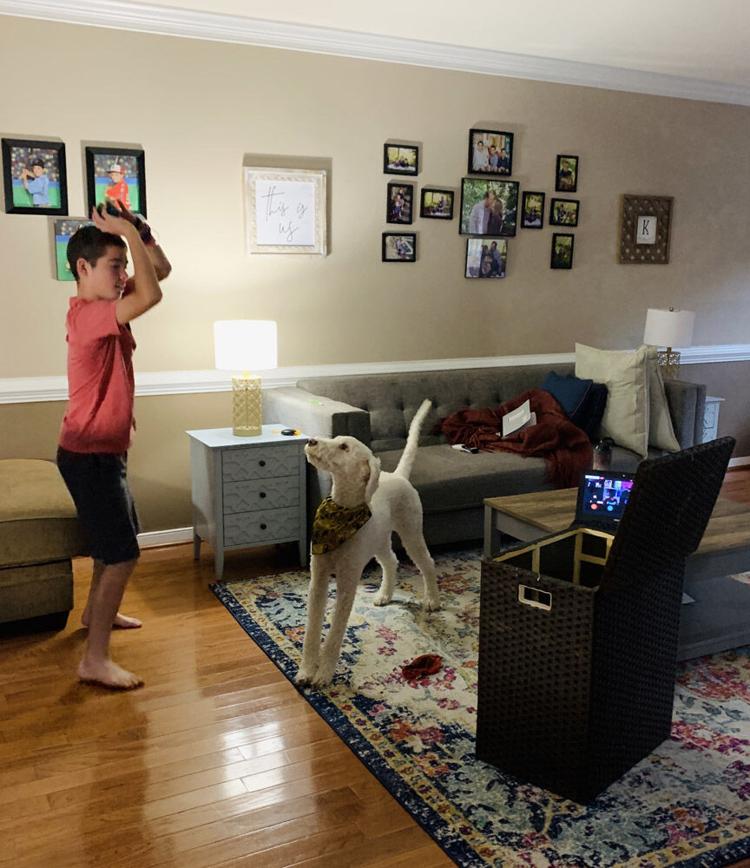 Heather and Tommy Kerns made the choice for Heather to leave her teaching job to stay home and facilitate virtual learning with her three sons so they could have consistency. In the first nine weeks of school, she has been amazed at the relationships her sons have developed with their teachers and classmates.
"I can't even count all of the times that the teachers have exceeded my expectations. From meticulously organized binders of work made for each child, pajama days, pie your teacher in the face, class dance parties, showing up at my child's baseball game, and remembering special things about my kids, the teachers have absolutely made this experience incredible," Kerns said.
"Mrs. Brooks' class is so much fun! I love it," said Landon, age 6.
Braxton, 8, said, "Mrs. Hylton is awesome! Especially when she got pied in the face by her husband when we did our pronoun competition!" 
"All of my teachers are awesome, and virtual school is a lot more fun than I was expecting," said Peyton, 11.
Technology issues and being unfamiliar with the learning platforms definitely caused stress in the first couple weeks of school, Kerns said. She feels the virtual teachers were not given enough time or training to master the platforms before the start of school, so there was a huge learning curve for the students, families, and the teachers. They worked together to resolve most of those issues, she added.
"My children are becoming proficient in all of the learning platforms, and even my 6 -year-old can now effortlessly navigate through his virtual assignments. It took a few weeks to get the hang of all the different programs and apps," she said.
Communication and daily/weekly calendars and assignment lists from all of her children's teachers have been invaluable, Kerns said. They know ahead of time what needs to be accomplished for a particular week or day, so the boys have no issues completing assignments, staying on task, or asking teachers for help.
Kerns said they are not worried about isolation, both because they realize this a temporary situation that will hopefully end soon and her sons have truly made many connections with their classmates in virtual school. The teachers have gone out of their way to have the students get to know one another. 
The three boys will remain virtual for the 2020-2021 school year at least, Kerns said. Her children feel safe at home and don't have to worry about getting sick or infecting someone else while at school. 
The Kerns have also experienced advantages they never even considered, such as extra family time and a more laid back entry into the school day.
"During break times my kids are able to go outside and play baseball or ride bikes in the middle of a school day. Our school day ends early and we are able to do family bike rides or walk through the neighborhood, visit grandparents, and relax," she said.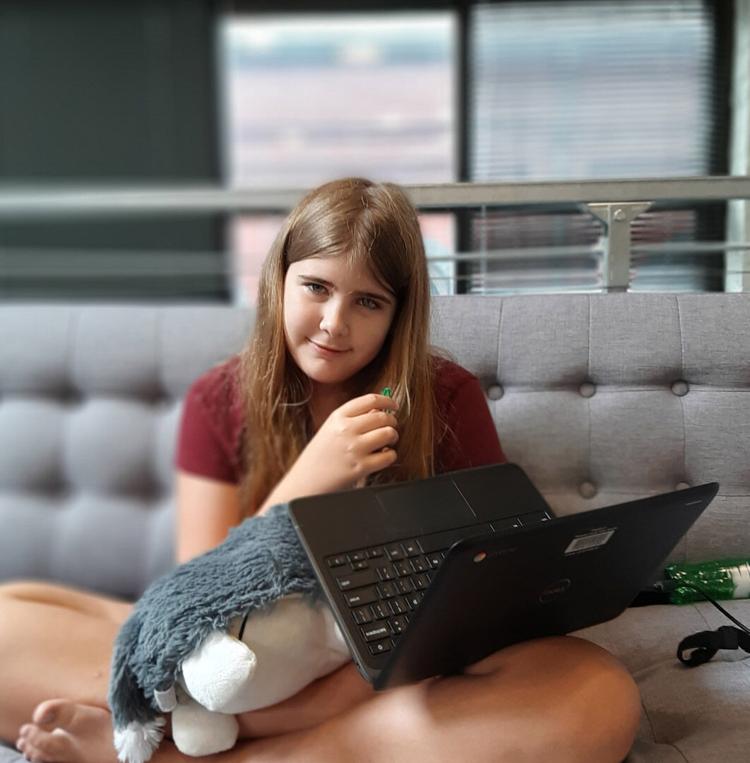 Kristine Hagy said she and her husband, Ronald, had already been making changes in their lives that allowed them to choose full virtual for their daughter, Charlotte "Charlie" Hagy. Since she thrives on structure and routine, they felt the virtual pathway would be more consistent. They also worried about her feeling intimidated and stressed by a hybrid atmosphere with masks, social distancing, and remaining in one room all day.
Initially, the biggest hurdle for the Hagy family was internet, but small everyday hurdles have also been daunting, Hagy said. Part of the adjustment was being patient while teachers still new to the virtual model navigated communicating and using different software.
"A lot of time initially was spent sitting in front of laptops while teachers struggled to present the material and students just waited. The virtual environment seems to diminish the authority a teacher has to a certain degree," Hagy said. "To date, we have seen the teachers improve and streamline.  There is more consistency but the occasional snag.  You can tell the 'snags' are more accepted and less frustrating for the teachers than they were at the beginning of the year."
Charlie is with adult supervision during the school day three days a week and two days a week she navigates solo. On a typical virtual day she interacts with four to five teachers. She has been slowly making connections with them and learning their personalities, and of course has "favorites." Currently that is Paul Webb, her English teacher.
"He incorporates music, humor, and some silliness when he meets online," her mom said.
Although she does sometimes require prompting to get her work completed, Charlie has been looking into her schoolwork a little more efficiently than last year, Hagy said. She always had access, but she definitely checks more since it is the only access to this information. Still, the family feels there is definitely a level of disconnect with the material that teachers would have been better able to surmount in a classroom setting.
When asked by her mom if she is learning more or less in virtual school, Charlie's response was "less, significantly less." Her mother said that was significant "coming from the kid who enjoys getting half dressed and brushing her teeth around 10 a.m."
The deficit in socialization is something Charlie's parents worry about "every second of every day." A few friendships have survived and communication is by phone or through online game play. 
"We feel like our child, who normally shies away from crowds, would love nothing more than a giant festival swarming with people. Our hope is that she'll ease back in and there are not any permanent repercussions," Hagy said.
As parents, the Hagys feel somewhat selfish that they reap benefits out of virtual learning, such as avoiding the morning rush to the bus and gaining more glimpses into the personalities of Charlie's teachers.
"On the days we are able to attend all day, we can sometimes give our opinions as to why a teacher said what they said, or translate what they mean in a way we know our child will best digest the information given.  Of course, more time spent with this awesome kid has been an ongoing goal, and virtual schooling has added to that time," she said.
As much as they love the extra time, they want Charlie to return to an in-person learning environment and are willing to send her back with restrictions and distancing, Hagy said, adding they will feel better when the middle school students go back full time and would be extra fulfilled when they can move around more physically.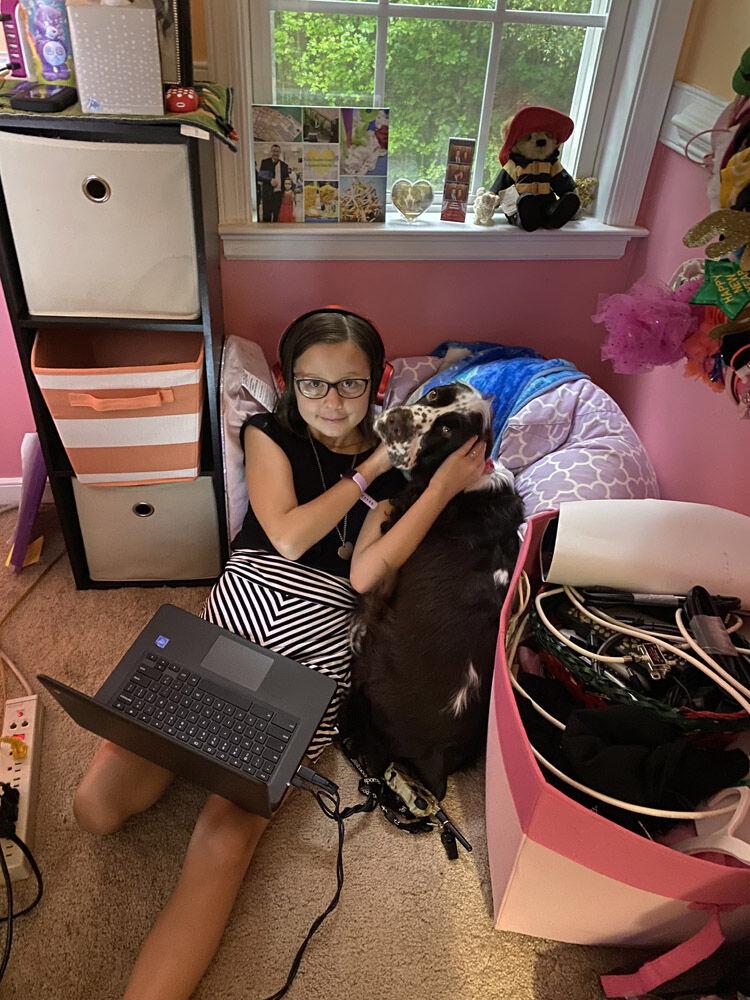 Several factors influenced Christy and Tom Berry's decision to have their daughter, Gracie, become a full virtual student at the start of the new school year. The health and safety of their family and community was the No. 1 consideration, Christy Berry said. Gracie is immunocompromised, and after going over the return to school plan with her doctors, the risks outweighed any benefits, especially since middle schoolers change class so often.
The family converted a bedroom into a classroom for Gracie and a workspace for Berry, who is working from home. Sharing has been "unique," the mother said, but they make the best of the situation by decorating for different holidays. Berry feels fortunate that she can stay home and provide a safe atmosphere for Gracie and said her "heart hurts for those who do not get the choice."
"I'll be honest, I was scared to death. I have worked outside the home for 19 years and didn't know how I was going to be able to balance work and school," she said. "These fears were put aside within the first few days of school. The teachers and staff are so reassuring, and, in the end, I know we are all in this together."
Gracie interacts with four to six teachers each day, depending on her schedule. Berry said she absolutely feels Gracie has been able to develop a relationship with her teachers, who have been amazing.
"Gracie has a visual impairment due to an autoimmune disease, and, quite honestly, we were worried how this all would work. But Gracie's teachers, along with the county's vision specialist, have made this work. She needed a larger periodic table and, BAM, we got one! I can't say enough about the teachers! They are amazing, on the frontlines, making this work."
Technology was the biggest hurdle at the start, but the school division worked to overcome those obstacles, Berry said. Schoology was new to Gracie so there was a learning curve, but by the end of the first week or so those issues disappeared and they have fallen into a consistent schedule.
Berry was shocked and pleasantly surprised that even without the structure of classroom teachers who can push her through such an intense workload, Gracie has adapted well. She asks for help when needed, tracks and checks off completed assignments, and makes sure teachers have received them.
Gracie said the "best part of virtual school is being able to talk with my teachers one-on-one without being in a rush." She also loves petting her dog Gatsby and running with him on P.E. breaks.
"The worst part of virtual school is when you forget to unmute yourself or your dog barks and everyone hears it," she said.
Socialization is a huge concern, especially for an only child, Berry said. Gracie attends dance virtually and in person, and they have been making treats for friends and leaving them on their doorsteps.
"That's not to say we don't have lonely/sad days, but we are very honest with Gracie about the risks and the short-term sacrifices we are making with staying at home. She knows this isn't forever," her mom said.
The decision of when Gracie can return to school is a tough one that will include research and monitoring the current health climate, Berry said. Having a vaccine or an effective treatment would make them feel more comfortable, but they aren't in a rush to send her back.
As a positive side effect, mother and daughter are getting to know each other better. Berry was surprised to hear that her daughter has a belly laugh she never knew existed. Gracie has learned about her mother's "boring office job."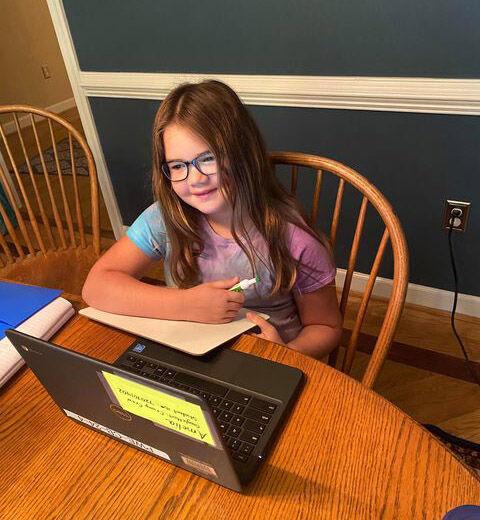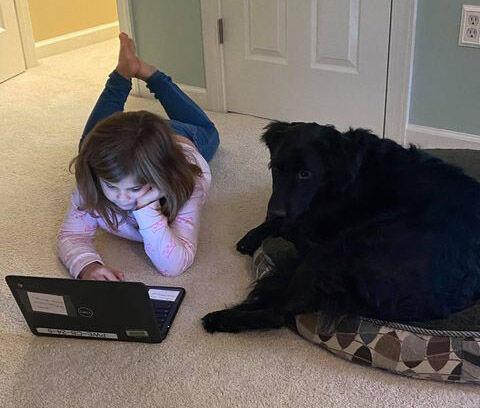 Kate and Martin Chavez decided to have their two daughters, Amelia and Cici, attend school virtually for several reasons. They had the ability to do so, and that helps keep other children whose parents don't have the same option safer, Kate Chavez said. The family is following all guidelines at home, which keeps not only them but a large extended family living nearby safer.
Amelia is in Carla Crump's third grade virtual class, while Cici is a first-grader in Lori Couch's class. Chavez praised both teachers and the hands-on ways they are having her daughters interact through the computer, both in whole groups and in small groups.
"The girls are making words out of playdough and holding them up to the screen, they have white boards, and "yes, no" signs and a whole bag of manipulatives that the teachers are using daily," Chavez said. "Every day these two engaging teachers push my children. It is not an easy job, but it is a blessing. They are kind, approach things with grace and understanding."
Chavez has been working remotely for four years as an instructional designer so internet wasn't an issue. However, it was a huge adjustment to fit the girls' schooling into her work life, Chavez said. She said she relies heavily on the weekly calendars to help structure her meetings to best provide time for the girls. They have also set up a school area in her office allowing all of them to work at the same time, using headphones when needed.
Chavez feels grateful that the girls have learned to be more independent and handle much of their interactions themselves. The teachers have been the driving force behind this, she added, pointing to how Crump spent the first few weeks teaching students netiquette, how to send a message/email, and how to advocate if they need help.
"My girls are great with computers. This is awesome to watch and will only serve them well in the future as we move to a more technology-based world," she said. "Additionally, we have more time together as a family. We eat meals together, bike ride together, and read more together."
When her mom asked Amelia her thoughts on being a virtual student, the little girl said, "Virtual school is just like regular school."
Being in virtual school doesn't mean that the family is totally isolated, Chavez said. Both girls are in Girl Scouts, swimming, and see a select group of friends on the weekends. Additionally, the sisters are close in age and like to play with each other.
While Chavez overall has great things to say about virtual school, it has been hard to juggle it all, she said. Having the girls back at school in-person would make life easier, but they are not sure when they will feel comfortable and are giving themselves time to track cases in the county and see if a vaccine is developed.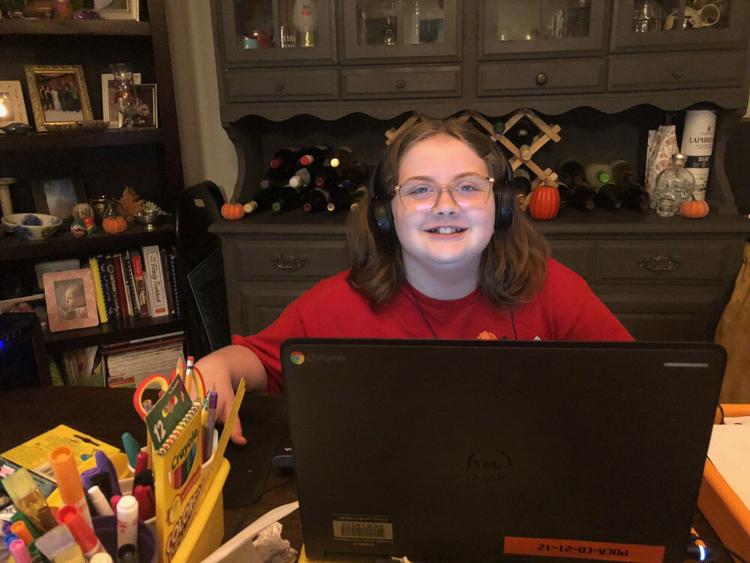 Alicia and David Amos chose virtual for their daughter, Beauly, to protect her grandparents' health, because mom Alicia can currently work full-time from home. Also, there is one less child in the schools possibly spreading the virus since some families have no choice, she said.
Although having reliable internet means that isn't an issue, learning how to use several new programs has been a work in process for the family, as has overcoming glitches in communication with the teachers, Alicia Amos said. Most of the hurdles have been overcome, but she thinks technology will continue to be a sore point.
Another hurdle is Beauly feeling like she is being heard. Her class sizes has varied from 26 to 29 students, which can make class really confusing.
"It seems that a lot of time is spent getting the students to the right place (the right link, program, etc.) and not enough time spent on individual instruction. This size I believe also impacts the ability of the teachers to form those relationships with students that can be so critical to ensure successful learning," Amos said.
Beauly started with one teacher, but then the virtual fourth grade teachers split up the responsibilities so she now has three. She doesn't feel like she has a really good relationship with any of them yet, but she does say they're all "nice" and "great teachers."
One of Amos' concerns has been equity in education for all students in Powhatan.
"I worry about if our virtual students are getting the same opportunities and attention that our hybrid or full-time in-person students are," she said. "I'm not sure how to ensure that all students are on an even playing field, but it often feels like our virtual students are an afterthought and all conversations focus on the in-school students."
Still, while Powhatan has relatively low COVID-19 numbers, Amos said she doesn't know when thy will feel comfortable having Beauly go back to in-person instruction.
Socialization hasn't been too bad since Beauly can attend outdoor Girl Scout meetings and video chat with her friends. Her mom is happy they have become closer because of the extra time together.
Beauly appreciates that she doesn't have to get up early to catch the bus, so she gets some more time in bed each morning.
"She loves getting to wear pajamas all day. Seems silly, but it's a small win for her for sure," Amos said.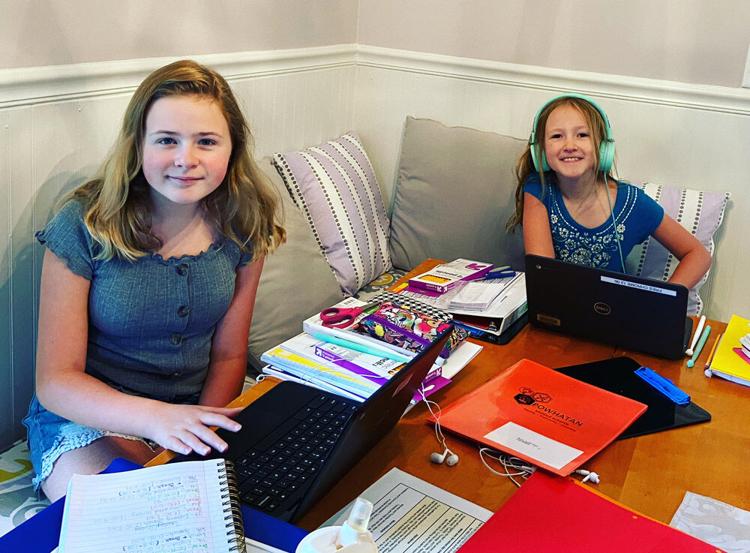 Eleanor and Brian Ross chose virtual school for their daughters Lyla and Kinley because there were too many uncertainties with COVID-19 to feel comfortable sending the girls back for face-to-face instruction, Eleanor said. She is a stay-at-home parent, so the logistics of keeping them home were easy.
"We chose virtual from the start simply to provide the safety and the consistency.  To us, hybrid sounded like it had the opportunity to present more challenges, risks, frustrations and distractions," Ross said. "Virtual allows my girls to have a set schedule and they actually see their teachers for each day and/or class period they have versus where hybrid students have more independent learning for their home days."
The start of the school year was awkward as Flat Rock taught students etiquette, such as staying on mute and waiting to be called on by the teacher. It was a learning curve for sure, but as the days went on, it has evolved into a wonderful classroom environment, Ross said.  
Kinley's teacher, Ms. Hylton, has taken the time to get to know her students and allow them to interact with each other.
"They have a morning circle time where they get to share what's on their mind, what they ate for dinner, what they did fun over the weekend, etc.  They get to see their peers, learn about them and they get to connect, tell stories, and laugh together," Ross said. "They have dance parties, they have Fun Friday's. Their teacher even rewarded them for a week of achieving goals she had set for them, and they got to watch her get a chocolate and whipped cream pie to the face four times!"
Keeping an 8-year-old focused can be challenging because of daily changes in mood and focus. Hylton structures the day accordingly, with the main learning content focused in the morning, before lunch, and  small groups, independent work and resource in the afternoon, which allows them to be more focused in the mornings with her direct curriculum instruction.  
Virtual has helped Lyla learn how to speak up and advocate for herself; she has to be "heard" virtually, to earn her class participation, her mom said. There have been instances of missing assignments she knows she turned in, so she has to advocate for herself and show she did the work. Other times missing work was a reminder to the seventh-grader of the importance of using her planner to keep track.
Socialization has been mostly virtual for the girls, who have been allowed more screen time to stay connected with friends. They have each other to play with, which is good, and staying isolated allows them to safely spend time with their grandparents.
"Sometimes I miss my friends, but I am thankful that I can continue learning safely," Lyla said.
Ross said the girls will stay virtual the whole school year, because for her to feel comfortable, the risks of COVID would need to be greatly reduced by a widely available and effective vaccine and a proven effective treatment for the more serious COVID-19 cases.
On another positive note, Ross said they used to feel the normal school day was getting the best part of their children's days, and they would come home hungry and emotionally and mentally tired.
"By having our girls home for virtual school, we are getting some bonus time with them that has been really, really nice," she said.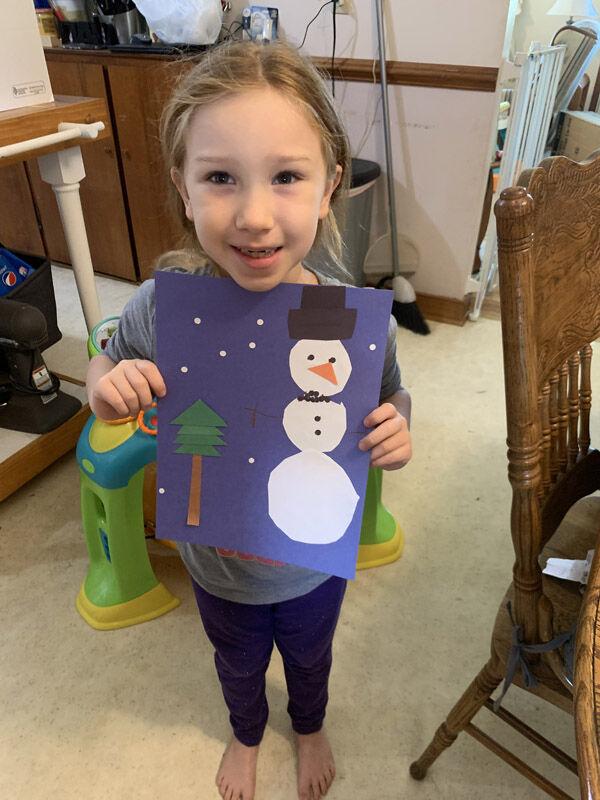 In addition to their daughter Savannah, Crystal and Chris Corcorans have an 11-month-old with a heart problem history, so they wanted to limit her exposure to possible health risks, mom Crystal said. Having gone through quarantine and testing after a possible exposure, they don't want to do it again. Since she can stay home with the children, it has been possible.
Technology has been the family's biggest obstacle, but it has gotten easier the more familiar they have gotten with it, she said. The computer has helped Savannah gain some independence. She wants to log on by herself and do things without her mother right beside her. 
Corcoran praised her daughter's teacher, Melinda Brooks, who has made connections with each child and makes all of them feel included. Having Savannah participate in soccer has also helped with socialization.
When her mom asked Savannah how she feels about virtual school, the little girl said she likes it and is learning so much.
"It has been a huge positive. I feel like I am getting to watch her flourish! I am also getting to see her interact with her sister. We also love getting out at a good time and having time outside," she said.