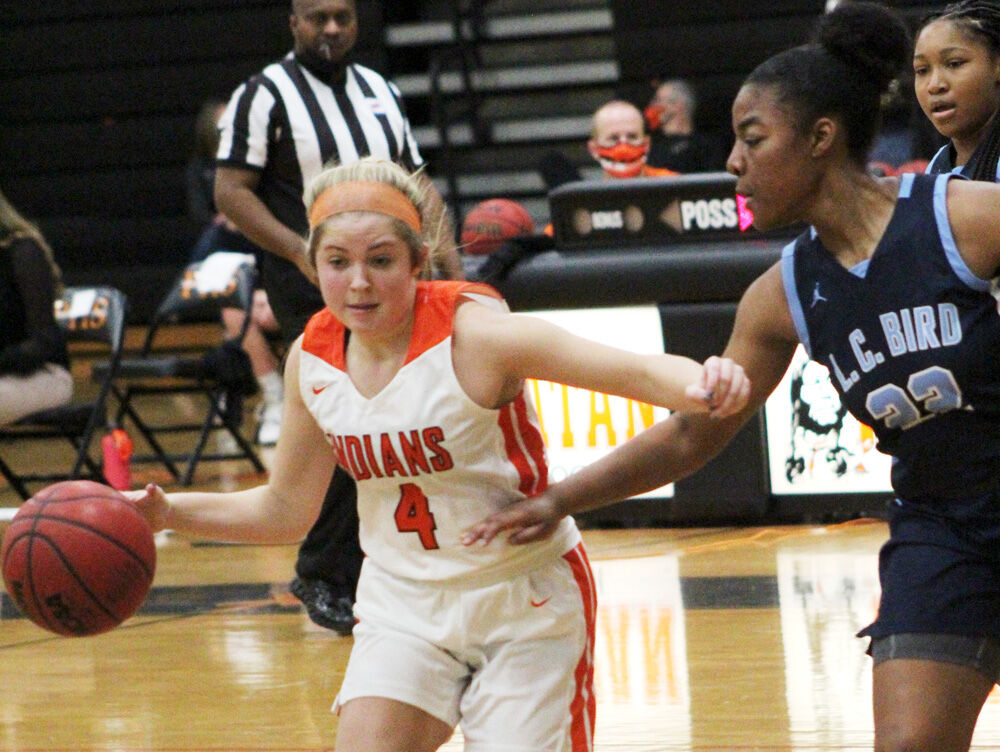 Regardless of the result, Powhatan's varsity girls basketball team accomplished a major mission Saturday night.
After the winter season initially appeared in doubt because of the ongoing COVID-19 pandemic, the Indians are now playing. They were able to kick off their 2020-21 campaign on their own home court against L.C. Bird.
The opener was also Powhatan's Senior Night, as the program honored the contributions and efforts of its lone senior Jillian Ratliff, who chipped in 2 points, made multiple stops on steals and rebounds and delivered strong guarding up front on Saturday.
"Jillian is one of the greatest young ladies I've had the opportunity to coach in all of my career," said Powhatan girls basketball head coach Kristy Henderson. "She is smart, intelligent, driven, a leader. She cares about others. She puts the team first. I'm really going to miss her. She did a great job tonight."
Although the Skyhawks won the game 56-35, it was super exciting for Henderson and her players to get this game. She noted there were a lot of nerves, and it was almost like a scrimmage game for them in a sense because they hadn't gotten to play five-on-five basketball prior to their opener.
The team was also quarantined from practices, so they didn't practice for 14 days. They practiced Thursday and Friday and then played Saturday.
"I'm super proud of them; there's a lot of things we need to work on obviously, but the effort was there. Enthusiasm was there," Henderson said. "We just need to get a little quicker while we're making adjustments and step up to those adjustments."
Junior Faith Henderson netted a team-leading 22 points, including 18 in the first half when the Indians trailed L.C. Bird 27-20. Faith closed out the first half with a bang when she converted back-to-back steals into breakaways and easy layups to cap a 6-0 burst for Powhatan.
Behind Faith, freshman Katherine Cerullo contributed 8 points.
"Katherine Cerullo is going to do a great job for us. She sees the court well. She can score offensively. She's strong, she's aggressive," coach Henderson said. "She's going to bring a lot to us this year, so I'm excited for her."
While this year's team is not very big – opposing L.C. Bird appeared to have the advantage in size – Henderson feels like Powhatan is quicker this year, so they have to use that quickness to their advantage.
"Tonight they did some things defensively we didn't counter offensively; we got into a rut," Henderson said. "Turnovers hurt us with missed shots – opportunities that I felt like we should've scored and we didn't, but again, first time, five-on-five, game speed, I thought tonight was moving in a positive direction."
While Powhatan is young in game experience, and also in playing together, Henderson hopes that, "in a few more games, we'll be rolling."
Powhatan will host Monacan on Monday at 6 p.m., play at Midlothian at 7:15 p.m., host James River on Thursday at 7:15 p.m. and rematch L.C. Bird in Chesterfield next Tuesday at 7:15 p.m.