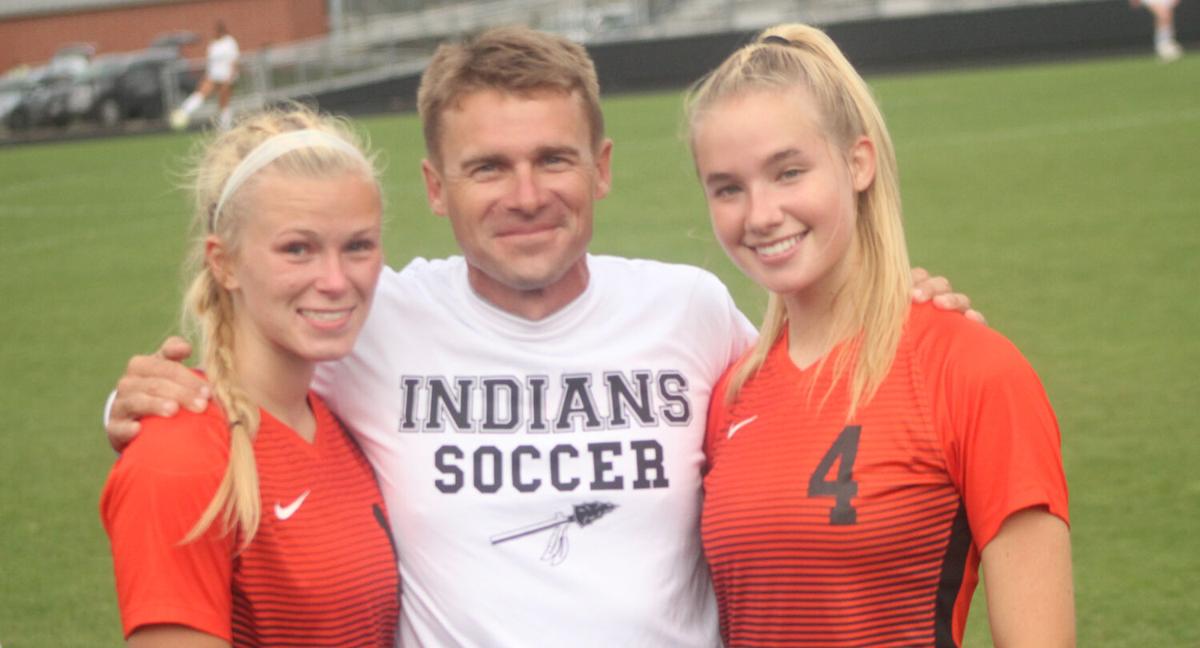 POWHATAN -- Cosby's girls soccer team not only entered Thursday's match at Powhatan High School on an unbeaten record, but it had only given up goals – two total – to just one team this season: James River. Seconds before the end of the first half, Powhatan became the second team to score on this year's Titans.
Taking hold of a free kick, Bella Russell smashed it in an upward trajectory, and Cosby's goalie got an outstretched hand on it…
…only to deflect it higher and into the top-shelf netting, propelling the Indians into a 1-0 lead.
Ultimately, the stunner would not happen. Ella Knight hit a game-tying goal 12 minutes inside the second half, and Abbey Muir notched the go-ahead shot with 5:30 to play, ultimately pushing Cosby past Powhatan 2-1 and keeping the Titans undefeated going into the playoffs.
But the result didn't keep Powhatan's season finale from being a strong end to the very young team's strong debut in the formidable Dominion District.
For both senior captains Sarah Amiss and Sarah McFadden, it was a season to remember.
"I'm just really glad we were able to play this year," said McFadden, who had come back from an injury to contribute to Powhatan's standout showing in its finale. "It's been incredible. I've been on this team for four years, five years now. I'm just happy to be here."
"I think everyone left it on the field, and this was definitely the best team I could ask for, and Sarah could say the same for our senior year," Amiss said. "We really went out with a bang."
"This was definitely our season," McFadden said. "I'm really happy with how it went down."
In its challenging district, Powhatan's young team – featuring at least eight sophomores and five freshmen – swept James River 2-1 and 1-0, defeated Clover Hill 3-1 and blanked both L.C. Bird 10-0 and Manchester 5-0.Three of the Indians' five losses were by 1 goal, including two narrow 2-1 setbacks to Region 4B opponent Monacan.
When it came to challenging Cosby in Thursday's home match, McFadden was really happy with how they played the Titans.
"Especially being a young team…we've improved so much," McFadden said.
To Amiss, everyone was there for the team.
"And there were so many bonds created," Amiss said, "and I definitely think this is the tightest team we ever had."
"I'm just happy to be connected," McFadden said. "I don't even care how the score went down. I made so many good friends here. I'm really happy with how we connected. It's amazing."
Powhatan head coach Jared Rottmund praised this year's senior leadership, calling it phenomenal.
"These ladies stepped up with the most ninth graders – I mean it was a young, young team," Rottmund said, "and these ladies made just everything fun…they will be missed."
"It was such a great opportunity to take them under our wings," Amiss said.
"I feel like they have so much experience now just from where we started (to) where we are now," McFadden said.
"I can't wait to come home and see what they're doing," Amiss said of their younger teammates. "It's going to be great."