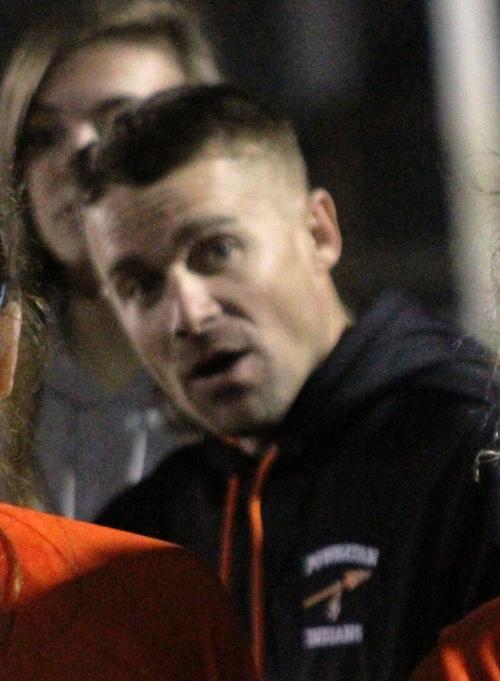 It wasn't the soccer season that he, or anyone else, would have wanted.
Jared Rottmund expected 2020 to be a great year for his Powhatan soccer team. The girls who were eighth graders in the program when he first took the helm of the varsity unit had become his senior leaders.
He had partnered with a new assistant coach in Varna Redlich.
A blend of experienced players and young talent created excitement for the season that was around the bend.
Powhatan never even got to play a single regular-season game. The ongoing COVID-19 pandemic led to a silent spring as high school leagues in Virginia cancelled their athletic seasons.
But the impact Rottmund had on his players did not go unnoticed.
Announced by the United Soccer Coaches via SoccerWire.Com, the Powhatan girls soccer head coach was one of 41 individuals to have been nominated for, and receive, the Fourth Annual High School Coach of Significance Award.
The recipients hailed from 40 different states and one U.S. military base in Japan, with Rottmund representing Virginia.
It wasn't something he was expecting.
"This was a shock to me when I read it," he said while adding: "It makes it all worth it . . . it makes you feel like you're doing the right thing because somebody else is recognizing it."
According to SoccerWire, the award honors members who make an impact within their schools and communities beyond their teams' win-loss records – who use the soccer field to teach life lessons at the high school level.
Players have the chance to learn those lessons through Rottmund's team-building exercises, which, as he tells the team, are "life-applicable." In the players' and coaches' first two weeks together, their focus is on how they're going to function as a team – how they're going to build each other up.
One of the exercises that they'll do together is sit in a line, lock arms, lay back and do 10 sit-ups.
But with their arms locked together, they can't do those 10 sit-ups individually – they have to do them in sync, or they cannot be done, Rottmund said.
His message to the team has been: You're going to go into the workforce someday, and you're going to have to function on a team.
And with ninth and 12th graders on the team, Rottmund stresses to the 12th graders that, whether or not they have the captain's "C" on their arm, they are still leaders to their younger teammates.
As for the players who are interested in becoming team captains, Rottmund has them read "The Captain Class" before the season begins; from there, they'll determine whether or not the role of captain is for them.
"I'm not choosing them for popularity," Rottmund said. "I'm choosing someone who's going to go out there and lead a team and . . . just be that extension of a coach."
He recalled how Class of 2019 alum Katlyn Hicks – who along with 2019 Powhatan soccer teammate Jeanne Wolkiewicz were nominated for the Lexus of Richmond Leadership Award scholarship in different years – had said that being a captain on the Powhatan girls soccer team really impacted her.
One of Rottmund's leaders for next season, Sarah McFadden, is coaching a U10 team for Powhatan.
"That's going to make her a better player because she's going to see . . . how to relate the different functions on the soccer field," Rottmund said, adding of his players who have gone on to coach Powhatan rec soccer: "You hope you impact their lives in some way that they want to give back like that."
When it comes to academics, Rottmund will tell the players: if you're struggling with something, you've got 18 different teammates who can help you.
"If you're not getting the best grade there, make sure you reach out to them, because – I'll tell them, that's number-one, is you need to do well with your academics," he said. "I make sure that they know to reach out – that's what their teammate's there for. Nobody's going to look down on you if you're struggling with a certain subject."
Learning to show up, be on time, have the right attitude and work with their teammates – those are all traits that can follow players from the soccer field to their jobs, Rottmund emphasized.
"I like coaching high school because you've got different girls in different stages, and it really adds a neat mix," Rottmund said. "The biggest hurdle for a high school coach is taking all of those girls that are extremely talented and getting them to work as a team – that is by far the toughest thing, because you've got the talent pool, Powhatan has phenomenal players – and what the girls need to learn from Day 1 is you're not going to carry this entire team. You're just not. You need your teammate.
"That's the big thing that we try and get across," he said. "I just tell them: that's how it is in life."
When Emma Barnett committed to Roanoke College in April, she called Rottmund "the best coach I've ever had," and senior Emily Matthews said she looked forward to going to soccer practice and games after school every day.
"It was always my favorite part of the day," she said, adding: "I truly enjoyed every moment I had as a player for the coaches."
"The Powhatan High School girls are just a super respectful bunch of girls," Rottmund said. "Every group of girls brings something new and exciting to the field."
And they want to be there.
"They want to play for you," he said. "The passion that I've seen at Powhatan with the players . . . it's unreal."
Throughout it all, Rottmund has been surrounded by strong support. He praised assistant coach Redlich, JV head coach Gene McFadden and Powhatan High School athletic director Tim Llewellyn.
The honor for Rottmund is also recognition for the county, the high school and its girls soccer program.
"I think it's a great honor for Powhatan – I think it really puts us on the map that we do have good people in all the sports, good coaches," Rottmund said. "I think our programs are really growing."