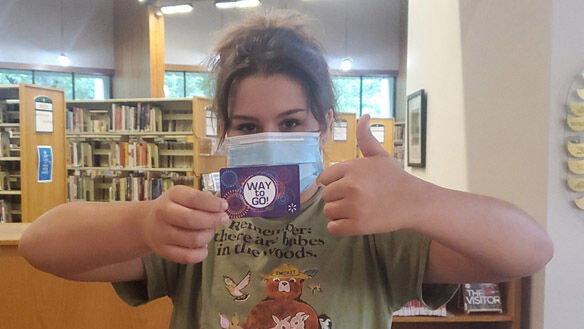 POWHATAN – Despite the unique challenges of 2020 and operating in a pandemic, Powhatan County Public Library was still able to successfully offer a modified Summer Learning Program for children, adults, and teens.
In the midst of dealing with closures and the slow return to limited services amidst COVID-19 precautions, the library's interactive summer reading program with all of its in-person group events simply wasn't a possibility this summer, said Caroline Shoenthal, youth services librarian.
But because of a collaboration between the library and its partners – the Powhatan Cooperative Extension Office, Powhatan Friends of the Library, and the Powhatan County Public Schools' Parent Teacher Organizations – they were able to pivot this year's program into a virtual model.
Kits for children were distributed from the library, Feeding Powhatan, and the Powhatan Food Pantry. Each kit contained a challenge sheet with summer activity ideas, an age-appropriate book selection, and the supplies needed to complete fun art and science projects. In spite of the COVID-19 limitations, the library is proud to report that 750 Summer Learning Kits were distributed to Powhatan families, Shoenthal said.
Library-based summer learning programs prevent "summer slide" or the loss of reading and academic skills, which may occur in elementary students who do not spend time reading during the summer months. This was especially important with the school closures and troubled distance learning that ended the 2019-2020 school year.
During the summer, the library team continued to offer virtual learning events including Storytime on Facebook Live and teen events on the library's Discord server, Shoenthal said. Virtual programs offered the opportunity for the library to connect with younger patrons and their families.
"The library is always thankful for the great community partners we have at the school and extension office. While this year was definitely untraditional, our patrons were happy to have access to books and activities, and library staff enjoyed providing something uplifting to the community," she said. "We look forward to the 2021 summer learning theme, Tails & Tales, and hope it brings some more traditional summer learning opportunities."
Whitney Berriman, library director, commended the partners for coming together to create a program that was such a different experience from what they are used to creating each summer.
"I was really proud of everybody coming together to collaborate on the project to make it fun for the kids – actually fun for all ages. We had some teens who participated… and then we even had some adults who participated," she said. "I know it wasn't what we typically have, and that was a little sad, but at least we were able to offer something. And we are hopeful for next summer that it will be even better than it was before."
While the children received kits, Summer Learning 2020 for adults and teens focused on patron-provided reviews of library materials. Summer learning participants of all ages were entered for chances at grand prizes, donated by the Friends of the Powhatan Library, which tied in with this year's theme, Imagine Your Story.
This fall, the library is excited to continue to offer virtual programming. Facebook Live Storytime is available on Tuesdays and Wednesdays at 10:30 a.m. Each session includes singing and rhymes in addition to stories.
During October, the library's Teen Tuesday Advisory Group will host a Teen Game Jam, to work together designing a new video game. Registration information is available on the library Facebook page www.facebook.com/powhatanlibrary/.
For the most part, the library will be status quo for the fall as they operate with fewer hours and staff, Berriman said. Staff will continue to monitor how people visit and use the library in the next few weeks as they re-evaluate fall programming.
She said it has been hard for library staff to have services pulled back so much because the library is so patron-oriented. In-person programming has taken the biggest hit, and with resources so thin, they are not planning too far ahead. She added that the library has a suggestion box and is open to patrons offering ideas for activities.
Berriman isn't sure how many people realize that the library re-opened this summer and has been offering a wide array of services, including books, movies, audiobooks, and more that people can check out; computers they can use; a limited amount of seating where they can sit and work, printing services, and more.
"Our goal is to provide library service – everything we have always done. I know a lot of our patrons are enjoying being able to come back in, browse for themselves, and pull what they want. Then we have another bunch who still like the books to go service," she said.
For more information, contact the library at 804-598-5670.