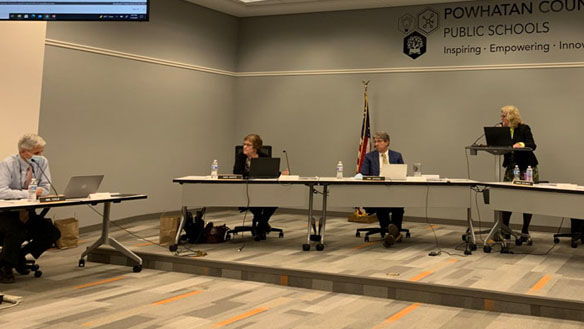 POWHATAN – Powhatan County School Board members took a tentative step toward a decision to make masks optional in the near future if the change in state leadership yields the pulling back from mandates that many parents are hoping for in early 2022.
James Taylor, who represents District 4, added a discussion to the board's meeting on Tuesday, Nov. 9 about the division being proactive in case Gov.-elect Glenn Youngkin rescinds the health orders issued by Gov. Ralph Northam this summer.
A few board members made it clear when adding the discussion item that they didn't want to take action that night without the public knowing what was happening.
Taylor said he wasn't proposing an immediate mask change, which is what several of the community members who spoke during the public comment period asked for or demanded earlier in the evening. Instead, Taylor said he wanted the board to be in a position where it had thought out its options and made a decision of how it would handle the situation if and when a change happens at the state level.
"This has never been about let's change the mask mandate now. I think we are all in agreement that everything we are told is that we have to follow the directive coming from Governor Northam's office through the health department, and we have been doing that," Taylor said. "This is about being proactive so that if and when Gov.-elect Youngkin rescinds that health order and makes masks optional, which is his stated position throughout his campaign and I believe remains the same, we are in a position to do what we want to do, whatever that decision will be."
Taylor said he and many other families were happy when the school division announced this summer that masks would be optional in the 2021-2022 school year and disappointed and angry when the governor "made the decision to mask everyone up, taking our choice away." He advocated making masks optional for students and staff as soon as Youngkin rescinds the health order, if that is what he does.
Susan Smith, who represents District 2, said she thinks people need a "light at the end of the tunnel" to look forward to if there will be some relief from the masks. She said the parents and students need to know the school board understands the "heavy burden they have carried through all of this," talking about both the physical and mental toll it has taken on everyone.
"So many teachers have also shared with me how concerned they are for their students and what this has done to them emotionally," she said.
The general tenor of the discussion that followed seemed to be that the other board members were open to making masks optional again so that those students and staff who still want to wear a mask may do so.
The board decided to hold an official discussion and possibly make a decision in December about how they would act should that change be an option.
In the meantime, Smith asked Superintendent Eric Jones to advocate at the state level to reinstitute mask breaks to bring relief to students and staff.
"I think this would be a good faith effort on our parts that we understand both sides of this situation – those who feel like they need the masks, they want the masks, that it protects them, and also for those that feel like they are being constrained," Smith said.
Jones said he has been advocating with the local health department and at the state level for flexibility with masks but will bring up the mask breaks specifically.
Jones also mentioned the vaccines that are now available for 5- to 11-year-olds and a vaccine clinic that the Chesterfield Health District gave on Nov. 8 for those who wanted the opportunity. If the board waits to take action on making masks optional until January when Youngkin takes office, parents who are still concerned would have time to have their children vaccinated with both shots in that timeframe to allay some of their fears, he said.
"I think it does flow nicely with the timeframe of the political change that will occur, but I don't see any change from the current administration or from the medical experts until those vaccinations, people have had the opportunity to select them," he said.
The board also had a discussion about the possibility of facing legal action or insurance issues if they went masks optional. Jones said he would further investigate the issue.
The issue of masks has been a very emotional one, with community members expressing a wide range of emotions, including a great deal of anger, at the schools for masking their children.
Several community members addressing the board last week asked or demanded the school board make masks optional again. They talked about the physical and emotional toll it is having on children, the ineffectiveness of masks, and the belief that making an immediate change would have little impact given the outcome of the Nov. 2 election.
Jacqueline Anderson said the mask mandate has never been about the health of Powhatan's children "but has always been about money and control. Northam no longer has the power to eliminate your funding. Our children eat lunch together and are unmasked in P.E. classes without any substantial spreading of COVID," she said.
Vicki Hurt asked the board to make masks a parents' choice and said the board shouldn't worry about losing federal grant funds if they don't comply with the CDC, pointing out that other states have not had an issue receiving their funds without complying.
She also pointed out the very low risk of children dying from COVID-19, saying more children die in a car accident each year but that doesn't mean children shouldn't be allowed in cars. She also said masks are ineffective unless people are using an N95 mask.
Brad Melton, who later stormed out of the meeting when Jones mentioned the vaccine for children, talked about how disappointed he was when one of his children had to be masked first in summer school and then this new school year. He said Youngkin's victory was because of "parents who are fired up who want choices in their schools."
Allison Dunaway said she was opposed to the immediate revocation of the mask mandate and didn't like how the agenda was amended, believing the board might take a vote on the issue right away.
Matt Etheridge said he has three children in school district and the masks are infuriating to him, adding the board wouldn't be meeting if they were really afraid of a virus. He said the mask issue is about power and tyranny, but the results of the election show the people who want the masks off won and they need to come off now.