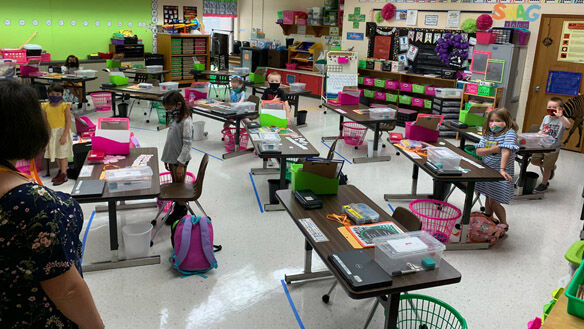 POWHATAN – Powhatan County Public Schools was a hive of activity last week as the division returned for the first week of the 2020-2021 school year.
With 80 percent of returning students in the hybrid model split between Monday/Tuesday and Thursday/Friday in-school schedules and 20 percent experiencing school virtually only, the first week made for a variety of experiences, said Tracie Omohundro, assistant superintendent for instruction.
But while there were hurdles the schools and staff members had to overcome, it was overall a great start to a very unusual school year, Omohundro said on Friday, Aug. 28.
"There are always going to be challenges when you start something new, and we certainly had some challenges. However, we appreciate the patience of our parents and the innovation and the hard work of our classroom teachers to make this work. Under all of the challenging circumstances, it has been a tremendous first week of school," she said.
One of the chief concerns going into the week was always going to be he health precautions regarding COVID-19 with students and educators once again sharing space.
Omohundro said the schools did a great job embracing the health plan to try to keep students and staff as safe as possible. The schools saw "tremendous compliance with students wearing masks" and had good instruction on social distancing and sanitizing as they went through the week.
Powhatan High School and Powhatan Middle School employed one-way hallways in many areas in the transitions between classes and kept reminding students of the need for social distancing. Elementary students don't change classes as often, so those schools haven't needed to implement directional hallways, she said.
"The teachers did a great job marking off spaces in their classrooms to make sure the desks are appropriately distanced. Then in the hallways there is signage and all hands were on deck as far as staffing to make sure students were maintaining social distancing," Omohundro said. "Certainly there were times we were working on one-way hallways or understanding the traffic flows out of certain classrooms or areas where we had to make a few adjustments, but, overall. students were responsive when we asked them to separate a little bit more or change course as they walked down the hallway."
Outside of in-person instruction, one of the next biggest issues was ensuring quality education virtually in a county where internet connectivity is a huge issue for many families.
As information comes to the schools from families who are having connectivity issues, staff members are troubleshooting and trying to find ways to make the situations work for those students, Omohundro said.
One solution will be to send home paper packets for students. Another will be to use thumb drives that the division purchased to send content home with hybrid students.
"If the student is a hybrid student that needs to take some work home for the three days they are at home, they can check out a thumb drive, download it before they leave school for home, and then they can have that work available to them at home. We have not seen widespread use of that at this point, but it is available," she said.
The school division is also in the planning process of identifying locations for families to come in either during the day or in the evenings so they can access the internet in a PCPS building. Staff has created a draft schedule that should be released by mid-September after working out some details on elementary access. Especially once the younger students return to classes full-time, making sure there is room and proper safety and cleaning measures in place for those spaces is critical, she said.
As part of the attendance policy for students when they are at home, the schools are monitoring when they are accessing Schoology, which was a program used at the secondary level and has now been implemented at the elementary schools.
Getting used to the program proved to be one of the most significant challenges for the fully virtual teachers and families during the first week as they were getting used to how it works, Omohundro said. That meant some students might be logged on while others weren't there yet, which throws off the rhythm the teachers try to develop with a new class.
"I just think overall there was a learning curve with some of the new systems we had in place," she said. "One thing we have all learned is how to be problem solvers. So, a challenge would happen, and then we problem-solved and moved on to the next thing. And if another challenge came up, we problem-solved it and we moved forward. It really has been such a team effort, and I am really thankful for the team we have in Powhatan."
While learning procedures and protocols, especially regarding the health plan, and learning new programs were big parts of the first week, Omohundro added that teachers at every level have already started teaching content.
As far as assessing any gaps that may have occurred in learning during the spring 2020 semester when schools were shut down and the division rushed a distance learning program, instructional coaches and specialists will be assessing students in the coming weeks to see where they are and what areas they may need additional help, she said.
Omohundro pointed out that while there may have been some hiccups, the entire division pulled off a major feat in getting the hybrid and virtual models ready to launch on Aug. 24. School administrations and transportation specialists usually have months to work on schedules and bus routes, but once the school board made its decision about the models, staff had only weeks to make it happen. Similarly, teachers are usually making minor tweaks to their classrooms and content, but they were extremely busy learning and incorporating new techniques immediately before the semester began.
"I am just very proud of the work we did in a short amount of time to be ready for kids," Omohundro said.