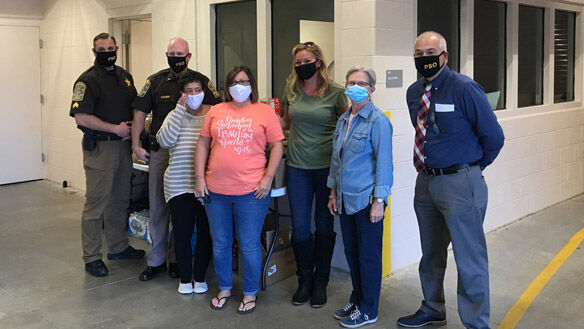 POWHATAN – The gifts are an unexpected treat; the sentiment behind them is a much appreciated acknowledgement, Sheriff Brad Nunnally said.
A group of local women who are part of an online group called the Powhatan Sisterhood of the Traveling Spirits and Treats recently dropped off a care package for the Powhatan Sheriff's Office. It contained a tall pile of donated snacks and drinks, homemade cookies in the shape of badges that read "Thank you," hand drawn cards made by local children, and a $25 gift card for every deputy and Virginia State Police trooper who works in the county.
The group called it their "Dust the Blue" effort – a play on their mission of surprising friends and strangers alike with small gifts dropped off at their homes, which they call dusting.
"Those were a small token of appreciation for how much law enforcement means to us here in Powhatan," said Jessica Wilkes, the group's founder.
The gifts, while a surprise at the time, are not surprising in and of themselves, Nunnally said. He readily admits his office is "spoiled rotten" by the Powhatan community, which keeps finding new ways to show their support.
In August, Kelin Flowers and her sons, Noah, Owen, and Jaxson, visited with baked goods and homemade cards the boys made to show their support.
"In light of all the negativity in the world, we wanted to show our unwavering support for our local men and women who make sacrifices to keep our community safe," she said.
In July, John Tiller and his son Eli brought cinnamon rolls to the sheriff's office. The duo loves to show their support for local first responders whenever possible because they helped save Eli's life when he had a tragic accident at age 3. On their visit, they felt fortunate to reconnect with deputy Matt Baltimore, who responded to Eli's accident 18 years ago, "and other deputies who stand ready to serve us whenever we need them," John Tiller said.
Earlier in the month, Dogwood Brewing and Jerry Fortenberry of Powhatan surprised the office by arranging lunch from Mission BBQ and gift certificates from local restaurants. In recent months, different families, churches, and groups brought snacks, cards, and meals. And those are just the people who allowed the sheriff's office to share their information. Many more are camera shy.
More than once, Nunnally has come to work and found a check for $200 or $300 on his desk with the simple instructions to "use this for the deputies." Every year, Greenbrier Baptist Church in Powhatan makes a sizeable cash donation to the sheriff's office with similar instructions for it to be spent on the deputies.
So that is what Nunnally does, paying for fun things like birthday surprises and the annual Christmas party or professional needs like tactical team equipment or special training that just aren't in the budget, he said.
"They come in and just want us to know that the law enforcement personnel here in the county are appreciated. With a lot of the negative talk in the media about law enforcement these days, they wanted to make sure deputies understand that people in the county do appreciate the job they do. They just wanted to make sure they show that," Nunnally said.
Law enforcement across the country is under a great deal of scrutiny right now, and the level of negative feedback the profession as a whole often sees can be demoralizing for law enforcement who are genuinely trying to serve their communities, Nunnally said. While he can't say his deputies aren't touched by it, seeing how the Powhatan community supports them is great for their morale.
Detective Emma Barden said not a day goes by on the job that she doesn't have someone want to treat her in some way or simply stop her and say "thank you for your service."
"It definitely reminds us that we are appreciated and supported. I think the majority of our community stands behind us and what we do to make sure this community stays safe. It definitely reminds us there are people out there who care," she said.
While support is good, there is nothing wrong with people believing that law enforcement needs some reform and accountability, Nunnally said. Just like there is nothing wrong with law enforcement taking a step back on a regular basis, looking at policies and procedures, and adjusting them to suit, to a certain degree, what the community expects from them, he added.
"We are here to serve the community; we should know what the community expects from us in return," he said. "People who are donating are simply saying we support you. They are not saying we don't recognize sometimes that there are places in the country where law enforcement can do a better job. They just appreciate the fact that we are not seeing the same issues here."
In Nunnally's first four years in office, he said his office received almost 14,000 calls for service that required some kind of enforcement action such as a ticket or an arrest.
"But we had zero use-of-force complaints," he emphasized. "That doesn't mean we couldn't have one tomorrow. But we strive to make sure that we police our community in a respectful and equitable way. I think the support we get from the community reflects that we are doing a pretty good job at it."
But to be clear, there is a difference between not liking the way a deputy spoke to you and a deputy using excessive force, Nunnally pointed out. His office does receive complaints and takes them seriously, but they often tend to be more about a personality complaint with a deputy or a lack of understanding about why they were enforcing a particular code section. However, equitable service is a right people should always expect.
"One of the things I tell every guy in every interview before they get hired here is that I want them to police this county like every encounter you are dealing with a neighbor. You treat every person out there like you are dealing with one of your neighbors. Just remember every once in a while we have to arrest one of our neighbors," he said.
Nunnally said his staff enjoys working with the community, not just making arrests all the time and they "like to think we work with Powhatan more than we work against it."
While he feels his office is meeting the expectations of the Powhatan community in its operations, the sheriff added he and his staff are open to answering questions and hearing suggestions from citizens.
Communication solves many problems because not everybody understands police procedures and why certain steps are taken, he said. If they are open to have the relationship with local law enforcement and learn about the job, it can clear up many misunderstandings.
"The biggest problem with police right now is communication in their communities. I don't think they are communicating well and taking the time to legitimize people's concerns," he said. "Change or reform is not all a bad thing. Police work is supposed to evolve to meet the expectations of the community it serves. We either say that or we mean it. I think here the county knows we are not just talking. We are actually putting these changes and expectations into practice. And that is a good thing."