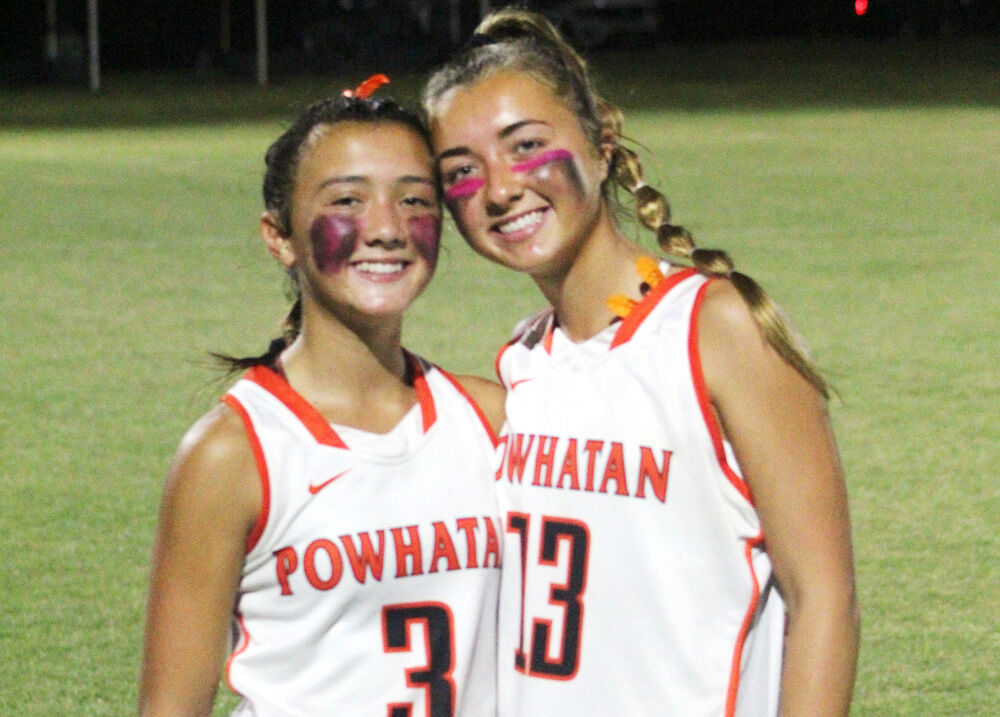 POWHATAN – Sisters and multisport athletes Jordan and Erica Krauss have grown up playing sports together – they would always practice together or pass the ball to each other in their backyard – but because of the age difference, they never played on the same field in the same game with each other.
That all changed with the first game of Powhatan field hockey's fall 2021 varsity season, when Erica, a freshman at Powhatan High School, and Jordan, a senior and a captain, got to be teammates.
"This year was a whole new experience for us, and it's so fun," Jordan said. "This is probably my favorite season of field hockey because I have her out there with me."
In more ways than one, it's been a special year. Not only are the sisters getting to share the varsity field together for this one athletic year, but they're both making a tremendous impact. Through its first 14 games, Powhatan field hockey held an 11-3 record, and both Jordan and Erica were among the top three scorers on the team. Behind junior Lexi Campbell's 20 goals in that stretch, Jordan tallied up 8 goals and Erica scored 7.
Their unselfishness is reflected in their team-leading assists. Through the first 14 games, Erica led the team with 15, and Jordan had 11.
"They're two phenomenal field hockey players, just two phenomenal athletes," Powhatan head field hockey coach Stephanie Tyson said, "but they're also just awesome kids; I can count on them to do whatever I ask them to do…they're both unstoppable."
"I think we both help each other get better because we motivate each other," Erica said, pointing to how Jordan would bring her to the field at Powhatan High School and how they would work out and do fitness activities. Erica was new to lacrosse two years ago, and it was her sister who helped her build and improve her skills. That's held true for field hockey as well.
The sibling dynamic between the two is centered on cooperation as opposed to competition. They never compete with each other unless it's for fun or it's necessary that they do so during practice, and there's no sense of "I need to be better than her or she needs to be better than me," Jordan said.
"That's what I love about her," Jordan said. "We get each other so well because we're so close that we know there's no need for that."
When she sees the two sisters out on the field with each other, Tyson notices how they support each other – they also don't ever really get mad at each other. When Jordan didn't play in Powhatan's Oct. 6 home match versus Clover Hill because she was sick the day before, Erica played in Jordan's position, and Tyson heard Jordan "cheering for Erica louder than anybody else."
"We understand each other so well to the point where we don't even need to communicate," Jordan said. "I know her body language and her facial expressions on the field, and I can react to that, and it makes it really easy on the field to have someone like that, and we work so well together because we can read each other like that."
Jordan first started playing field hockey in the seventh grade when she was attending Steward, and Erica picked up the sport this past year, playing for the Panthers last fall and also for Powhatan's JV team this spring as an eighth grader. Field hockey is both sisters' second sport – they also both play lacrosse, with Jordan having committed to Christopher Newport University – but they've both excelled at it. Jordan is a two-year captain and has been instrumental in the team's winning seasons in both her junior and senior years.
Erica instantly shined in her debut at the varsity level when Powhatan took on Monacan in its season opener.
"She is so good and has gotten so good so fast that it just motivates me like: Wow, she learned this so quick – I think I can do that, and then we can work really well together in the game or do this in the game," Jordan said. "She is so determined – if she sees something and wants to do it, she'll be out in the backyard practicing it over and over again until she does it."
Erica has a stick work routine that she does for her travel team, and around three to four times a week, she'll ask Jordan to go outside with her and practice that routine so she can improve.
"And I love that about her," Jordan said. "I love how determined she is to get something when she sees something."
When the season opener went to shootouts, Erica's coaches trusted her with the task of leading off Powhatan's five players in the 1v1's, and Erica delivered by scoring. Jordan did as well. Powhatan went on to fend off Monacan 3-2 in the shootouts for the 2-1 victory, setting the tone for the team's dominant regular season.
"The team and the aspect of everyone helping each other, it just brings us up," Erica said.
The bond that Jordan and Erica share as sisters is representative of the overall family-like relationship that Powhatan field hockey's teammates share with one another.
"I think when we win, we all win as a team," Erica said. She loved how they stormed the field and embraced their teammate Carsen Hogston after she recorded her first shutout win in the goal versus Clover Hill when keeper Peyton Tuttle was out.
"I think our family dynamic on this team is so good … I feel like I'm as close as I am to Erica as I am to Kate Adams or Lexi Campbell on the team," Jordan said. "We're so close with each other and I think that's what builds our chemistry on and off the field."
After the field hockey season concludes, Erica and Jordan will get the chance to play another sport together as teammates when the lacrosse season begins this spring. As Erica sets her sights on beginning play at the varsity lacrosse level, Jordan will look to put the exclamation mark on arguably one of Powhatan High School's greatest athletic careers. Since her freshman year, Jordan has been a leader on a lacrosse team that went 9-6 in 2019 and 7-3 in 2021.
"I'm so unbelievably excited to have her and then also Caroline Camp come up and play with us," Jordan said. "Our team chemistry is so good on field hockey and there's a lot of the same girls play field hockey that play lacrosse, and I think we'll have a really good season this year."
"I'm really excited for lacrosse season because lacrosse is definitely our main sport," Erica said, "and I think we'll have a really good dynamic and honestly telepathy – we'll know where each other are."
Jordan and Erica gave thanks to their mom Kelli for pushing and encouraging them along the way.
"I think it always benefits us in the long end," Jordan said. "Her and my dad (John) – they always look out for us."
"Their parents are awesome – they're so supportive, they come to every game, they do mission trips together," Tyson said. "You couldn't ask for a better family. I'm super proud of them, super excited for them."