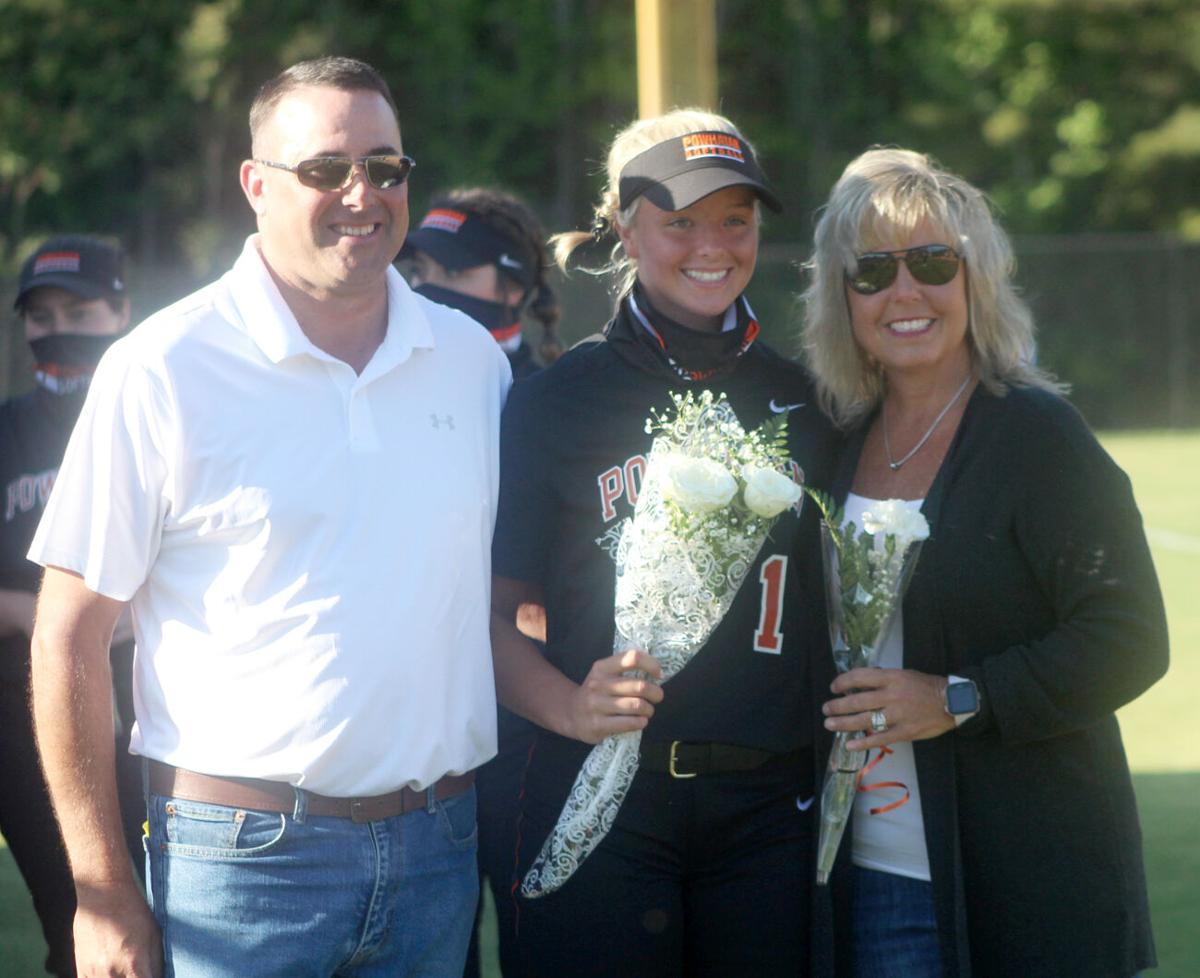 Across her standout softball career, Powhatan High School Class of 2021's Sarah English contributed to tournament triumphs in travel ball, to Powhatan Middle School winning the 2016 and 2017 conference championships, and to Powhatan's varsity softball team achieving a combined record of 23-9 across the last two seasons.
Her impact and successes in her senior year helped her make the Richmond Times-Dispatch's prestigious All-Metro softball First Team for utility in 2021.
"When Coach (Marie) Crump called me to let me know that I had been selected for First Team All-Metro, I was honored to be selected for this," English said, adding that it validated that all of her hard work, and the extra training she had done throughout her high school career, had finally paid off.
"I have always taken so much pride in representing my county on the softball team," English said, "and being part of the legacy."
Her trademark versatility shined once more in her final season on the varsity diamond as she helped lead Powhatan softball to an overall 8-3 record in 2021. She was able to play wherever she was needed on the field, whether it was at first base, in the outfield or in the pitcher's circle, in which she assembled a 5-3 pitching record. Her fielding percentage was .973.
English was also a leader on offense, batting a fiery .571 with 15 RBI, nine runs scored, three doubles and five triples.
English contributed to arguably two of the biggest wins by any Powhatan varsity team in the 2020-21 athletic season. After Kayla Davis, who received All-Metro Honorable Mention, had hit a game-tying double in the bottom of the seventh inning against two outs, English completed Powhatan's rally out of an 11-6 deficit by hitting the game-winning extra base hit over the right fielder's head.
English' clutch play to bring home Davis propelled the Indians past James River 12-11.
"Being able to come through for my team in a high-pressure situation is something that I will forever remember."
Powhatan later in the season found itself trailing Manchester 3-1 in the top of the seventh, but six hits by the Indians in the inning - including the go-ahead, 3-run home run by Jillian Ratliff, a follow-up single by English and a two-run homer by Savannah Johnson – catapulted Powhatan into a 7-3 lead, which it preserved through the bottom half-inning to defeat the Lancers.
English called the late rallies against James River and Manchester "a prime example of how much heart this team has."
"We never gave up even when we were down," English said. "We all contributed to the games any way we could."
After English and her teammates lost the 2020 season due to COVID-19, and after "not knowing for sure if we would ever play again together," this year's team meant a lot to her.
"Most of us have played together since middle school," English said, "and have developed a bond on and off the field, which made my senior season even more memorable."
English feels that the pre-season workouts they did as a team, as well as her own training, helped her prepare for school ball and for the University of Lynchburg, where she will attend classes in the fall and play college softball.
"The coaches really challenged us," English said, "and made sure we were in the best shape we could be in so we could be prepared for the Dominion District."
For English, to be able to play one last time for Powhatan softball meant so much to her.
"Powhatan softball has always been a legendary sport in our county," English said, "and to be able to say I played for Coach Crump and Coach (Linda) Farmer is something I will forever be grateful for."
According to the Times-Dispatch, coach Crump – a Virginia High School Hall of Famer who has led Powhatan varsity softball as head coach for 40 years and is the winningest softball coach in Virginia High School League history – said English is one of the best offensive players she's ever coached.
To English, that is the biggest honor of her entire high school career.
"Coach Crump has coached a lot of talented athletes over the years," English said, "and to be put in that category is amazing."