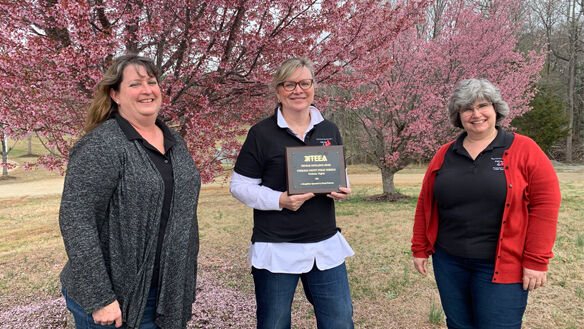 POWHATAN – Powhatan County Public Schools Elementary STEM Program was honored internationally last week with a Program Excellence Award.
Outstanding technology and engineering programs from around the world, including Powhatan's program, were honored by the International Technology and Engineering Educators Association (ITEEA) at its 83rd annual Conference held March 22 to 27, which was held virtually.
Twenty technology and engineering education programs at the elementary, middle, and high school levels received ITEEA's Program Excellence Award, according to a release from the association. Sponsored by ITEEA and Paxton/Patterson, the Program Excellence Award is one of the highest honors given to technology and engineering education programs in recognition of their outstanding contributions to the profession and students. The award provides public recognition at the local/state through international levels.
The Program Excellence Award program is designed to recognize superior K-12 technology and engineering education programs from around the world. These award-winning programs serve as a standard for comparison and models for the development of other programs. Therefore, it is essential that each program selected and recognized reflects contemporary technology engineering education.
Awardees serve as models for their colleagues, inspiration to their communities, and leaders in their region, province, or state as proponents of advancing technological literacy for all.
Dr. Philip A. Reed, ITEEA president, shared, "The award winners exhibit so many high-quality programs and activities occurring globally in technology and engineering education! It is inspiring to learn from these leaders, and we should all feel proud to be connected with these colleagues."
In addition to the divisionwide recognition Barbara Adcock, instructional STEM coach, learned during the closing session that she had been honored with the ITEEA Elementary STEM Council Mary Margaret Scobey Award. In announcing the award, Thomas Roberts, the council's president, highlighted some of her accomplishments, including being a recipient of the Presidential Award for Excellence in Mathematics and Science Teaching; being a dedicated employee with PCPS since 1988; her instrumental role in founding and building Powhatan's STEM program, and her involvement in local, state, and national organizations to further STEM education.
Adcock said she didn't know anything about the award or that she was being considered for it until her name was announced during the ceremony. She added she was amazed by it, especially after seeing the names of people who have received it previously.
"I'm grateful to PCPS for allowing STEM to flourish. STEM in our county has always been a team effort, and being a piece of it has been a blessing for me," she said.
Powhatan's science, technology, engineering, and math (STEM) program was first honored last summer when it was named the Virginia Technology and Engineering Education Association (VTEEA) 2020 Elementary Program of the Year. Winning the 2020 award at the state level qualified Powhatan's program to be submitted to ITEEA for review for its 2021 Program of the Year.
Winning the award was based not on a few activities or a few outstanding teachers but on the entire division's dedication to creating opportunities to engage students in STEM education, Adcock had said previously.
Adcock said she is proud of Powhatan teachers, especially the "early adopters" and those who stepped out of their comfort zones to provide students with strong foundations in engineering and technology.
"I am so grateful to our administrators who supported the program. Being recognized at the international level for a program of excellence is way beyond what I ever thought possible; however, this year has especially taught me that PCPS teachers and students are capable of anything," she said.
Libbey Kitten, science and STEM specialist, said the ITEEA award arrived at the perfect time.
"In this crazy COVID year, the prep work needed to ensure both our virtual and in-school students were still getting to learn by doing has been brutal. To be recognized as an exemplary STEM program at the international level is an affirmation of the work we do," Kitten said. "I am grateful for the commitment PCPS has made to STEM education. The teachers and STEM coaches did the work to make this happen, but we could not have achieved this level of success without the support of Dr. (Eric) Jones, the school board, and our elementary school administrators."
It is such an honor to be a small part of the award-winning elementary STEM program in PCPS, said Lisa Brown, instructional STEM coach. The program is not just one person or even one school, but is the result of the efforts and commitment to excellence starting with teachers in the classrooms and reaching all the way to central office administration, she added.
"The award is for everyone! I feel fortunate to have a supervisor, Libbey Kitten, and a colleague, Barbara Adcock, who believe that same way that I do. We think STEM education should be a part of every students' daily life," Brown said. "For us, STEM is part of our culture in Powhatan, which inspires and empowers our students to reach their full potential. The ITEEA award simply recognizes what we know - PCPS schools are amazing places to work and learn."
The STEM coaches acknowledged the lead STEM teachers at each elementary, who are a big part of making the program work: Sandy Morin (Pocahontas), Jill Dewey (Powhatan), and Mary Lisa Watts (Flat Rock).
Students had so much of their spring 2020 semester disrupted because of the onset of the pandemic, the decision was made to focus content at the beginning of this school year on language arts and math and put more emphasis on science and social studies in the second semester.
Dewey, a first grade teacher, said having the emphasis on science back in the classroom has made a huge difference for her students. The STEM coaches put together STEM kits to go with each science unit that includes hands-on manipulatives for the children to use.
In the lower grades, science isn't directly linked to students' reading level or mathematical abilities, so often it gives them an opportunity to be successful even if they struggle in other areas, which acts as a confidence booster.
"It broadens their day and a lot of kids live for the content, I have to be honest, the 45 minutes we do. And it is fun things. It is things they know – plants, animals, or understanding movement," she said.
Dewey added that she wasn't surprised to see Powhatan's elementary STEM program honored with the ITEEA award because of the dedication of the STEM coaches as well as the efforts the division has made in recent years to emphasize the program's importance.