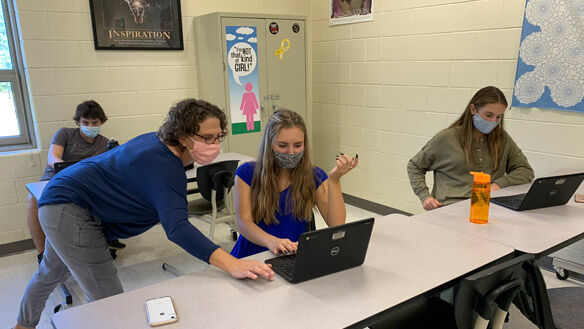 POWHATAN – Powhatan High School teacher Blythe Samuels was recently announced as the winner of the Richmond Technology Council's Innovation in Education Award.
Samuels, a computer science and mathematics teacher, was announced as the recipient of the award at the councils' 25th anniversary "Academy Awards" of technology, which was held on Wednesday, Oct. 7. The council is a member-driven association of businesses and organizations working together to ensure the continued growth of Greater Richmond's dynamic technology-based economy, according to its website.
Because of COVID-19 restrictions, Samuels said she watched the awards ceremony live online.
One of three finalists, Samuels was up against Eric DeBoer, a middle school robotics teacher, and Demetria Richardson, an accomplished teacher she works with at CodeVA and knows is a phenomenal educator. When her name was announced as the winner, Samuels said she and her daughter started screaming in surprise.
"The competition was definitely stiff. I wouldn't have had my feelings hurt if I didn't win to either one of those people because they are also phenomenal teachers," she said.
During the awards ceremony, Jen McKeon, Richmond branch manager for Trillium Technical, announced the award, which her company has sponsored since the award's inception. The Innovation in Education Award is presented to the educator or program that provides exceptional technology leadership and encourages students to pursue higher education or training in science, technology, engineering, and math.
During the presentation, Samuels was recognized for working to prepare her students to achieve their dreams. In addition to her work at PHS, she works part-time as a lead facilitator for CodeVA, a nonprofit that partners with schools, parents, and communities to bring equitable computer science education to all Virginia students. She develops and provides training that prepares teachers to teach a high school elective computer science and/or advanced placement level courses.
In a pre-recorded acceptance speech in case she won, Samuels thanked her family and friends as well as her colleagues at CodeVA and PHS, especially Nancy Taylor and Jennifer Kramer.
"They are two teachers who have helped me continuously throughout my career, and I wouldn't be the teacher I am without the two of them," she said.
The day after the awards ceremony, Samuels said she still doesn't know who nominated her for the award, but she is grateful. The Richmond Technology Council reached out to her in March to let her know about the nomination and ask her to submit an application detailing her work. While she finished the application in the spring, the deadline was actually extended because of the pandemic.
When she was notified on Sept. 17 that she was a finalist, Samuels was excited about the recognition - a feeling that only intensified when she was announced as the winner.
In her application, Samuels talked about the wide spectrum of courses and activities she has been involved with, including the Computer Science Road Show the high schoolers hold for fifth-graders; the summer camps she has led, such as Tech Divas and Game Design, and how she created a computer science pathway of courses at the high school.
The school was offering an Introduction to Computer Science or Computer Programming class in 1999. Now with the help of fellow teacher Sharon Shadrach, the school offers five different computer science course, including the newest offering, Cyber Security.
"That is a lot for a rural high school. To even offer one is a big deal," Samuels said.
Computer science is a growing need in the job market as there are not enough computer programmers in the workforce, Samuels said. She has long recognized the power of knowing how to program a computer to do something as well as how people can utilize technology to be creative.
"The reason why I wanted this program is I wanted to show students this is not a scary content. Computer science doesn't have to be intimidating. Ultimately we wanted to provide our students with a pathway to be successful when they get out of high school," she said.