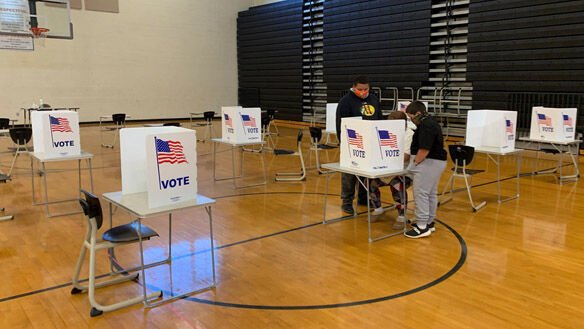 POWHATAN – When Sarah Selz sat down in a voting booth on Nov. 3 to cast her ballot in the 2020 General Election, the weight of her actions was brought home by the small bodies crowded around her.
Her youngest, 4-year-old Phillip, sat in her lap, while daughters Emma, 8, and Abby, 7, stood on either side while she cast her vote for Donald Trump. Rather than being a last resort because she couldn't find a babysitter, the action of bringing her children was an intentional and joyful experience both she and they look forward to every year.
"It is just important for them to understand how to exercise your right to vote and that, as Americans, we all have the opportunity to be friends and get along and exercise our opinions. The only way we can do that is if every single vote counts," Selz said.
Shortly before Selz cast her ballot at the Graceland precinct, first-time voter Holten Langston came through the line. The 21-year-old, who voted for Trump, said he wanted to be part of the change that is going on and be able to look back and say he was there for those momentous occasions in history.
"It is my very first time voting and I am very happy about it. Honestly, I wish I had done it sooner," he said.
Langston considered going to early voting, but said that, in his mind, he couldn't escape the thought that "you always vote on Election Day." He was pleasantly surprised that the process was both quick and easy with almost no lines.
"I thought it was going to be busy, but I came at the right time I think. It was super-fast, super easy, and very clean," he said.
Matthew Fore of Powhatan cast his ballot at the Bethesda precinct temporarily relocated to Red Lane Baptist Church. Despite mix-ups with notifications about the location change, Fore said he wasn't confused and that the entire process went without incident.
"It was really smooth. I think the early voting definitely helped keep the numbers down, which is good to keep people separated," he said.
Fore voted in his first election since 2012 and said 2020 has been an interesting election year. He said he typically votes republican but chose to vote for Joseph Biden in this election.
"I wasn't super sold on either candidate in 2016. I was kind of surprised that Trump won, to be honest, because all the polls had him losing. I felt like voting this time because I have not been super happy with how things have been going and I felt it was time for a change," he said.
Steve McClung said he spent a great deal of time this year campaigning for Trump and for people to get out and exercise their right to vote. He said he knew at least 27 people of all ages who were going to be first-time voters this year, which he was very happy to see.
McClung said he always knew he was going to be voting on Election Day because it is a tradition. He purposely avoided the early morning rush so he didn't have a long wait and found the process on Election Day without issue.
"If it wouldn't have been for early voting and absentee voting, I think the lines would have been really long. It was kind of refreshing that the lines weren't long today," he said.
April Harris voted at Powhatan High School with her sons Zachary Harris, 16, and Jaylen Flowers, 8, watching. She originally wanted to do early voting but worked. She works for the school system and was off on Nov. 3, so she voted on Election Day and was happy to have her sons watching.
"I wanted them to see that it is important to get out and vote and voice their opinions. I grew up believing that it wasn't important to vote, and now I am seeing that it is. I want them to see the same thing," she said.
Harris, who voted for Trump, said she was worried about the aftermath of the election and the way national media was hyping potential violence from people who aren't happy with the results.
Regular voter Alyssa Regula said on a scale of one to 10, the importance of voting for her was a 10 on Election Day.
"The world is a dumpster fire. I think it was very important in such polarizing times to make our voices known on either side," she said.
Regula said she choose to wait for Election Day to cast her ballot because she likes the vibe of the day and finds it more exciting. Walking out of the polling place after voting for Biden, she said it was a great voting experience.
"I feel good, I feel optimistic and glad that is over – or glad that it will be over, fingers crossed, in a few days," she said.