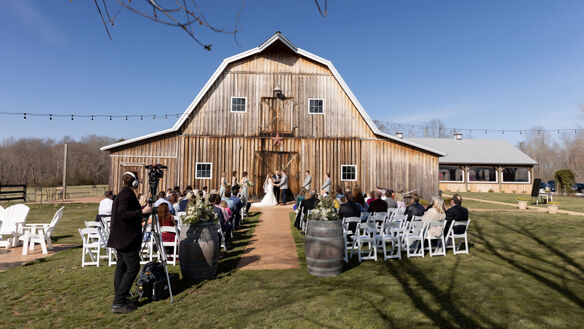 POWHATAN – Despite a slight easing of capacity limitations on social gatherings in Virginia, some local wedding industry professionals feel like they are still being unfairly singled out.
Governor Ralph Northam recently announced several new COVID-related measures that went into effect on April 1, including an increase in the number of people allowed to attend social gatherings.
According to the new guidelines, the maximum number of individuals permitted in a social gathering increased to 50 people for indoor settings and 100 people for outdoor settings. This was an increase from the former restrictions, which limited gatherings to 10 people indoors and 25 people outdoors.
But for many in the wedding industry, including wedding venues in Powhatan County, the numbers seem arbitrary, not taking into account the individual size of the businesses or their capabilities to put adequate safety measures in place, said Kim Moody, a Goochland wedding venue co-owner who has become involved in a growing movement among wedding industry professionals statewide seeking relief.
Added to that, when compared to some of the much higher capacity limits the governor has recently allowed, such as for graduations, sporting events, and concerts, the much tighter restrictions on some event venues denotes a distinct lack of consistency, she said.
For many, continuing to have such tight restrictions on wedding and event venues and loosening them on other kinds of organizations or businesses feels like the state doesn't trust the former's ability to responsibly hold events, Moody said.
"That we couldn't do it safely is basically the perception, which is especially insulting because our industry is really built on safety, protocols, and practices," she said.
Debora Gordon, co-owner of Fairview Farm Events in Powhatan, said it feels like the wedding industry is being singled out by the governor.
"He said recently we just can't do larger groups because there is hugging and kissing, singing and dancing. … Bars can stay open until midnight as well as large outdoor concerts can take place, so they don't sing, dance and kiss? Graduations and proms are being allowed," she said. "Our weddings are better 'behaved' in most cases and respect the mandates in place, and we can't have a wedding last beyond 11 (p.m.)."
Part of the problem, as they see it, is that the wedding industry does not have strong lobbying power with the General Assembly to make their voices heard, Moody said. Outside of major hoteliers, if you think about the majority of businesses involved in the industry, it is "Mom and Pop" operations, such as photographers, caterers, bakers, florists, videographers, lighting technicians, transportation businesses, party rentals, photo booth rentals, bridal shops, cleaners, tailors, tuxedo rental shops, landscape and maintenance workers, and many more niche businesses.
Weddings are a multi-billion industry in Virginia that contribute to the even larger state tourism revenue dollars, Moody said. The state needs to seriously consider the economic impact at the local and state levels not just for the short-term but the long-term as more and more businesses fail because they can't work.
"They have created this extreme case of desperation with the clients who don't want to be told what to do anymore. They have been respectful for a very long time, as have all of the vendors," Moody said. "What is happening, for better or worse, is that our border states have been gaining the Virginia wedding business this entire time."
The localities are missing out as well, said Lisa Benusa, co-owner of The Mill at Fine Creek in Powhatan. Every service her venue offers has sales tax charged on it, "and that is money back in Powhatan's pockets that they have been missing out on."
Industry professionals aren't railing against any kind of restrictions; they are just asking for equitable treatment and the same opportunity as others to put forward helpful ideas about safely reopening or increasing services, Moody said.
For instance, if the wedding industry still really needs to be under restrictions, guidelines based on a percentage of each individual venue's capacity would be more realistic and recognize that they are not all the same, Benusa said. One catchall number of 50 or 100 people doesn't take into account a venue' size, the number of bathrooms, or the amount of space available to spread out.
In the governor's recent plan to allow in-person graduation ceremonies, he capped outdoor ceremonies at 5,000 people or 30% of the venue capacity, whichever is less, and indoor events at 500 people, or 30% of the venue capacity, whichever is less.
"I do wish that he would have done a percentage instead of 50 people. We have 6,500 square feet. You can easily separate 50 people," Benusa said.
Those kinds of realistic limitations based on a venue's size and amenities, when combined with good safety measures on the venue's part and personal responsibility by the guests, should carry some weight as far as the ability to safely hold an event, she said.
Fairview Farm has a large outdoor pavilion that can also be closed in now and most of its weddings are outdoors, Gordon said. Also, they just found out that properties that have weekend accommodations are not restricted as to gatherings, and they can accommodate up to 50 guests on property for a weekend.
When restrictions began to lift in summer 2020, the venue operated at 50% capacity, or a maximum of 122 guests, until the governor tightened restrictions again in late November, she said.  
"We are a weekend destination venue and had to move 26 weekends, so that has greatly affected us as we had to move those weddings to 26 weekends we can no longer book," Gordon said.
She hopes that the governor will change restrictions to at least allow wedding venues to operate at 50% capacity or higher since vaccine numbers are now increasing rapidly and will soon be open to all adults.
She added that Fairview Farm is only now starting its season, which usually begins in early March. The venue has had one small wedding in March and one scheduled for April.  
Ashley Welch, co-owner of Lakeside at Welch Estate, said her venue moved more than 32 events from 2020 to either 2021 or 2022. Some purposely held off until next year because they were nervous COVID-19 would interfere with their plans again.
Like the other businesses, she was hoping the wedding venues would have the same 50% capacity guidelines they had when restrictions briefly lifted at the end of summer 2020 and into the fall. Welch said she feels the success wedding venues had with those events shows they are capable of holding events safely.
"We followed up with all of our couples after events and we didn't have any issues with anyone getting sick at any of the events. We staffed extra people to keep things wiped down and sanitized," she said. "We are planners by nature, so obviously we are able to implement things and do them pretty well. I do wish that we had been given the ability to follow suit with some of the other entertainment venues versus having different guidelines."
Lakeside has an engineered tent that is fully enclosed in glass for temperature control, but they can be removed to become an outdoor venue, Welch said. They didn't plan on having to use that open air feature, but it has been a blessing.
They also implemented measures such as meeting with couples two weeks before an event to go over current safety mandates and making sure their guests are fully aware of them. The venue offers sanitizing stations, has extra staff members to sanitize, and seats families together.
"All of those things seemed to have worked great and all of our couples have been on board to do that," she said.
Because of the way they planned for the future and have related on-site businesses – a brewery and guest cottages – that fared better in the pandemic than the wedding venue, Benusa recognized that Fine Creek hasn't suffered as much as others in the industry. Her venue is booking weddings in 2021, 2022, and 2023, so she knows "people are looking beyond COVID."
At the same time, right now, one of the biggest hurdles in an industry that sees clients planning so far in advance is the sheer uncertainty of what comes next, Benusa said.
"These are people who have planned an event a year, 18 months, or two years out. So to have to change what they were going to do is a little different than changing a dinner reservation," she said. "So that has been a challenge because you are not just talking about the event. You are talking about people's emotions and a bride's dreams that have been going on since they were young sometimes, parents' expectations, and travel."
Benusa said she regularly gets calls from worried brides asking what to do as their scheduled wedding dates approach, and it is difficult to not have definitive answers for them.
Gordon said she has experienced the same fears from the couples wanting to get married at Fairview Farm. The venue attracts not only local couples but people coming from across the country, with guests sometimes coming from around the world.
"Couples want to get married and are frightened that there will be another shutdown," she said.
All of the venue owners pointed out that in the face of these worries, they have to do what they can to be flexible and resilient and help their couples get through it and still have an event that brings them joy.
Benusa said that she and her staff approached the last year as an opportunity to rise to the challenge.
"We decided if we were allowed 50, we were going to make it the best 50-person wedding a person could have, or (the same) if it was only 20 people. Our goal was to get to the point where the bride said, 'it wasn't exactly what my dream was, but it was even better.' That is what we strived to do for that year," Benusa said.